When I'm in a rush at the grocery store, I often forget what produce is best when bought organic vs. what's "more" ok to buy non-organic.  My preference is to steer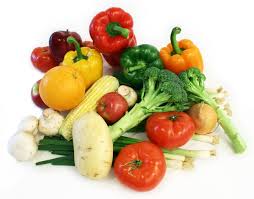 clear of any produce that has GMOs and to buy organic versions of those items on the EWG's Dirty Dozen+ list.  This year, their list includes an extra two crops (kale/collard greens and summer squash) that don't quite make the criteria for the DIrty Dozen but that have shamefully earned honorable mention because they "contained residues of harmful organochlorine pesticides that were phased out of agriculture in the 1970s and 1980s but that linger on some farm fields."  Yikes. Here's the list:
Apples
Celery
Cherry Tomatoes
Cucumbers
Grapes
Hot Peppers
Imported Nectarines
Peaches
Potatoes
Spinach
Strawberries
Sweet Bell Peppers
Kale/Collard Greens
Summer Squash (zucchini, crooked neck yellow squash)
Luckily you won't find too many GMO crops in the produce aisle.  If you want to avoid all GMOs in fresh produce, buy organic varieties of:
Hawaiian papaya
Corn
Zucchini
To make produce shopping easier, I made a little list that's about the size of a credit card that I can keep in my wallet.  I've shared it with you so that you can print it, cut it and keep it in your wallet.  It ain't fancy but it'll get the job done.  Times like these make me wish I had a laminator.  Hope it comes in handy!
Download it here: Organic List