So this post is about a year late but I figure the timing is still right.  Miss K's taste in costumes has become increasingly more complex over the last several years.  When she was 10 months old, I decided she would be a flower for Halloween.  At a year old, I decided she'd make an adorable elephant (she did).  At two years old, SHE decided she wanted to be an alligator princess.  Luckily Carter's made an alligator costume that year so I pinned a crown on it and called it a happy Halloween.  Last year, at three years old, she said she wanted to be a "half rainbow, half Anna and Elsa butterfly."  Sigh.  Seriously?
After thinking about it a bit and coming across some super duper cute costumes, I (skillfully) suggested that it would be fun to be the beautiful butterfly from The Very Hungry Caterpillar and to make things better, her sister could be the caterpillar!  It was so. stinkin. perfect.  Super S WAS a very mobile, hungry little girl and she was at an earlier stage than her big sister, who was actually very fluttery (and of course beautiful).  So she agreed.  But then I realized I needed to get costumes.  Couldn't find any that I liked so I took a dive and decided to just make them.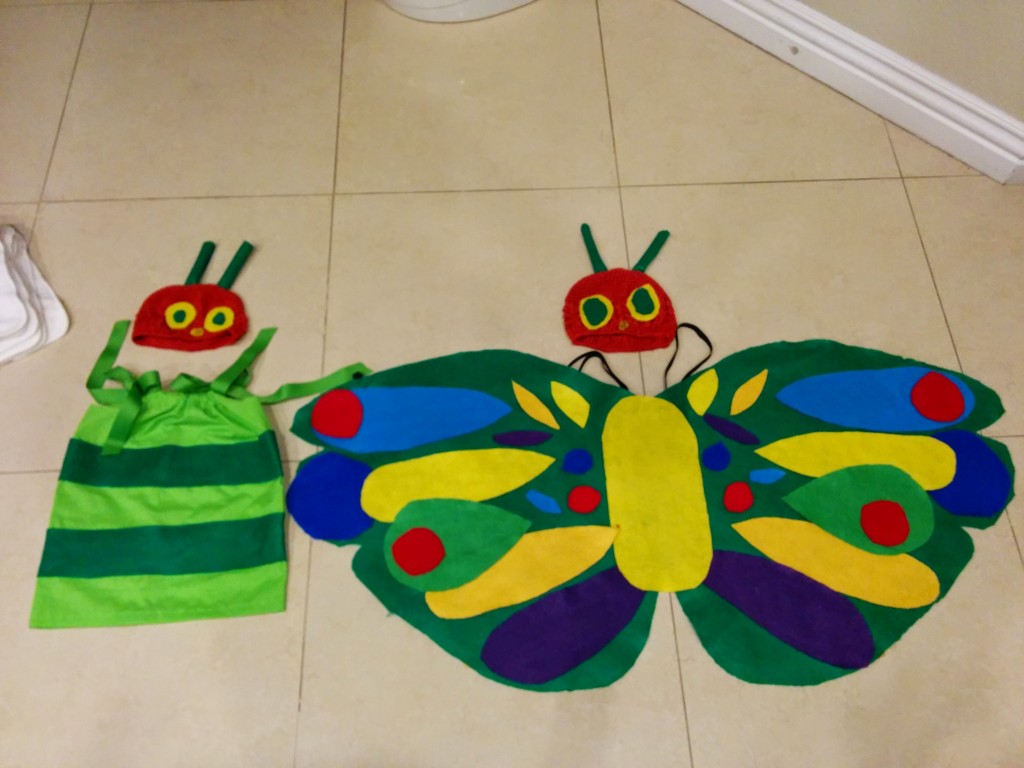 It was actually fun putting them together.  They weren't perfect but my kids enjoyed helping and I was proud and they loved wearing them.  So all in all, it made us happy.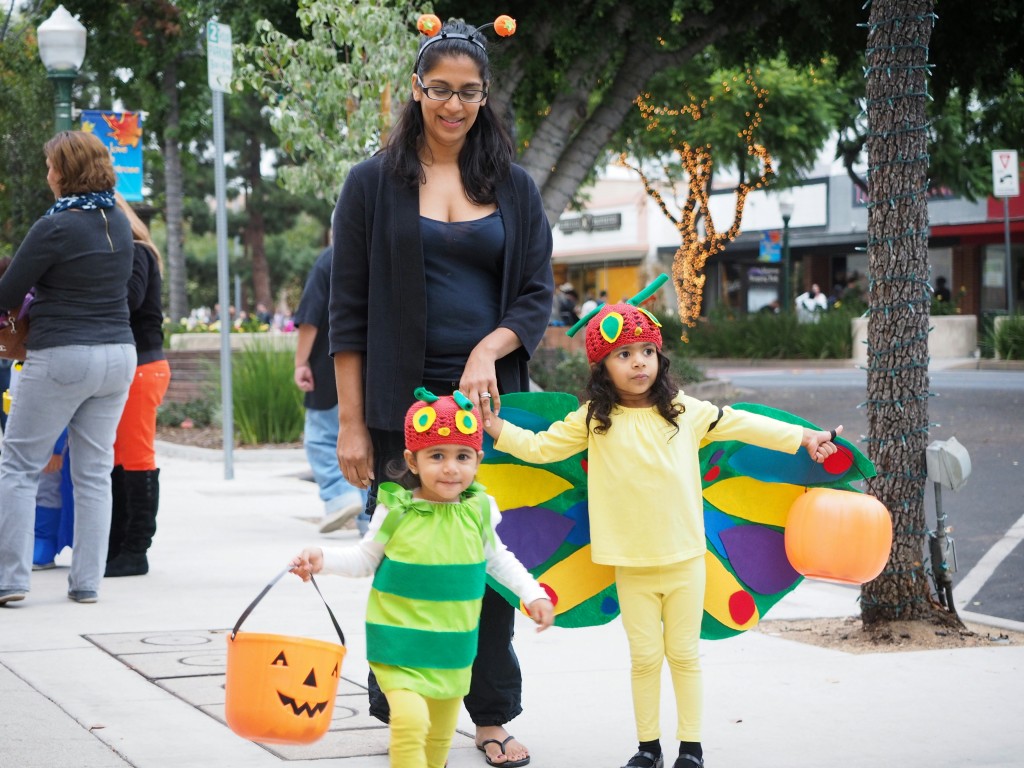 The Very Hungry Catepillar
Materials:
-Green Felt
-22″ x 24″ in of green fabric
-Red Beanie
-Yellow Felt
-Yard of Ribbon
-Green Thread
-Scissors
-Fabric Glue
Using this post as inspiration, I used this tutorial as a guide to put together the dress.  I could try and spell it all out for you but she does a much better job than I could ever do.  I didn't even bother using my sewing machine, though.  I just made hand stitches (there are just so few) and then cut pieces of green felt for stripes and sewed those on as well.  I think it took an hour, tops, and I don't even really know how to sew.
I had considered making my own beanie but then spotted a crochet hat at Joann Fabric and decided that, for my first foray into costume making, I should keep things as simple as possible.  I simply cut out some yellow and green circles for eyes and used some fabric glue to attach them.  Also made a little bitty nose and colored it brown. The best part about these costumes is that Eric Carle's art doesn't have perfect lines; they feel a little messy or imperfect.  Good thing messy and imperfect are areas that I have extensive expertise!  Back to what I did…I then rolled up two pieces of felt and sewed them into the beanie.  This was the part of the costumes that I was most bothered by. I couldn't get the antennae to stand up straight.  They didn't bend but kept flopping over.  If anyone has suggestions on that, PLEASE comment below.
I picked up a pair of bright green tights from The Childrens Place and the Hungry Little Caterpillar was set!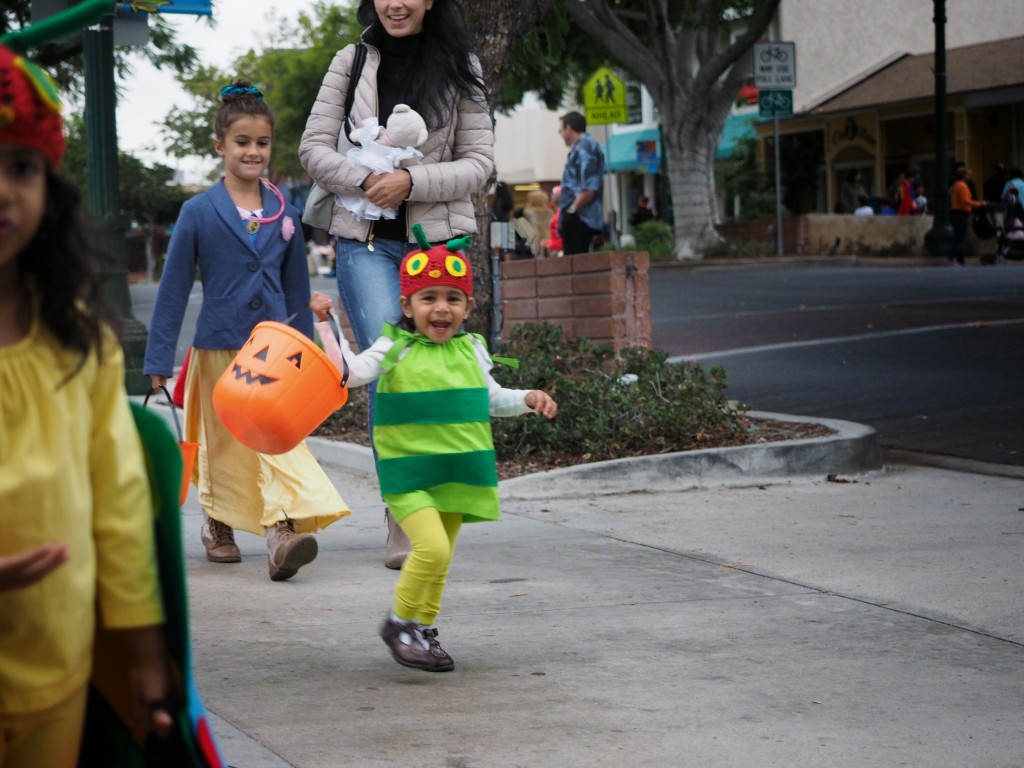 The Beautiful Butterfly
Materials:
-36″ x 36″ piece of green felt
-10 pieces of felt in various colors (be sure to include yellow and green for the hat)
-Elastic
-Pins
-Needle/thread
-Paper/pencil
-Fabric Glue
-Scissors
-3/8 inch wide elastic, cut into two 15.5 inch long pieces and two 4 inch long pieces)
-Yellow shirt
-Yellow tights
-Red Beanie
For this costume, I used this tutorial as a guide but decorated the wings differently and also didn't bother making a stencil.  I measured her wingspan from wrist to wrist and made sure my felt piece was the same width at the widest part.  I just drew on the piece of felt and "winged" it (see what I did there?).  Same with the pieces that I attached to decorate the wings.  I kept the book open in front of me and tried to best reproduce some of the designs/patterns. It's pretty tough to recreate due to the shades and shapes of the actual picture but I did my best.  I made circles, tear drop shapes, and used scraps to fill in the empty spaces.  I actually cut four of the same shapes and glued the pattern on both sides of the wings so that Miss K would look good from the front or the back.  I'd suggest laying out your pattern first and then gluing down.

I used the same process as above for the beanie.  I had a hard time finding yellow leggings so I took a pair of $4 leggings from  Target and dyed them with Rit dye.  I was so excited to see that the color matched pretty darn close to the yellow shirt she had in her closet!  She LOVED being the butterfly for Halloween.  Even when we were handing out candy, she would spread her wings dramatically once we had opened the door so she could show the trick-or-treaters.  It was awesome.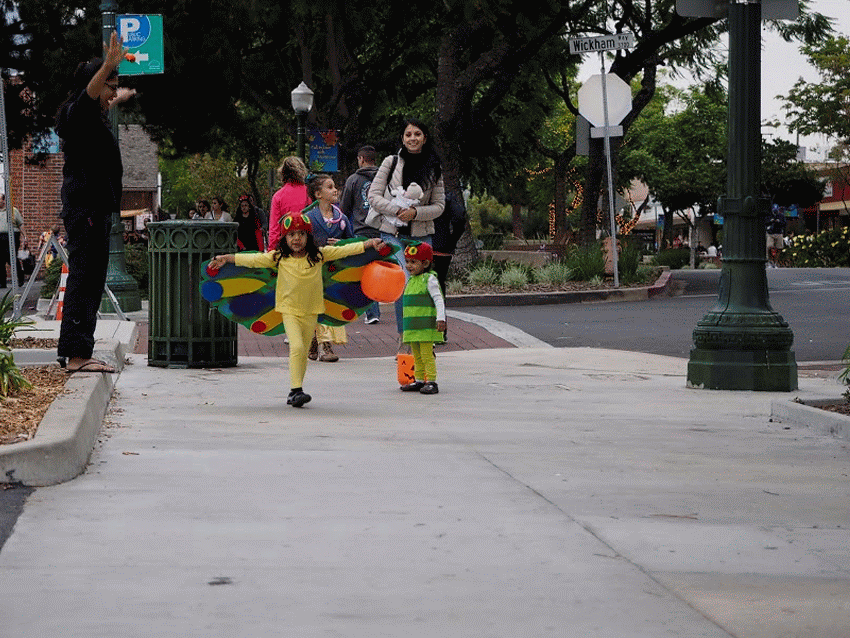 Outside of the research and gathering materials, I'd say these costumes took no more than 3-4 hours total.  I won't lie.  A couple days before Halloween, I was having doubts about our homemade costumes and almost made a trip to Target to buy something else.  I was worried no one would know what they were or that the girls would look silly.  I sent a picture of the costumes to a couple friends and they knew right away what they were and they said the costumes were awesome.  And we did receive compliments while we were out, so that's always nice too.  In a sea of Elsas, it was nice to feel unique.  But above all, my girls loved being in the costumes and they enjoyed making them together. I'd call that a success!  Good luck and share if you've made similar costumes!