We had a phenomenal Halloween this year.  Earlier this week, I read a quote from a guy that was featured on Humans of New York (if you've never followed this guy and like human interest stories, give it a try.  The images and quotes are so gripping and interesting).  He said something to the effect of "things aren't magical when you're an adult like they are when you're a kid."  That stuck with me because it's kinda true.  There aren't a lot of things that bring you sheer delight or that consume you to the point of elation when you're an adult.  Or maybe it's just me.  But I am finding that I have a lot of moments or days when you just feel good.  And you feel like life is good.  And that everything is going to be ok.  And that things are good.  It happens a lot more now that I have kids – maybe their magic moment feelings are radiating onto me.  I dunno.  But Halloween this year was kind of like that.
It started with decorating.  I had bought a few Halloween lawn signs to put out and my SIL brought us a few more along with some decorations for inside the house.  We also had a skeleton for the door.  Miss K. really enjoyed putting those out.  So much so that when we were done, she went to the edge of the driveway and started yelling "Neighbors, come look at our Halloween decorations!  Come out!  Come look!"  Then I bought some scarecrows and put those out but one fell over so I asked Mr. Crunchycake and Miss K to go fix it.  Apparently one of our neighbors was talking nearby and Miss K asked her dad, "Who's talking, dad?" And he told her it's one of our neighbors. My sweet little girl whispered back "Are they talking about our Halloween decorations?"  I just love her.  Her aunt brought a couple small indoor jack o'lantern decorations that have a light inside.  They keep getting moved around because Super S really likes them and brings them over all the time for me to turn on for her, wherever we are.  But I keep finding them in front of Miss K's Laugh n Learn House.  She puts them out in front of the front door, as if it were a real house and real pumpkins.  So cute!
Miss K and her cousin went to a pumpkin patch event a few weeks before Halloween.  Super S and I didn't go because we had just started potty training her and I wasn't ready for that long of an excursion.   I didn't have a costume for her yet so we put her in her Rapunzel dress and gave her a stuffed version of the little chameleon sidekick, Pasquale.  It sounds like she had a really good time – she decorated a pumpkin with googly eyes, jewels, a feather and a pipe cleaner.  Ya, I don't know…she was really proud of it.  We put it out on the front step until the day before Halloween when we carved it.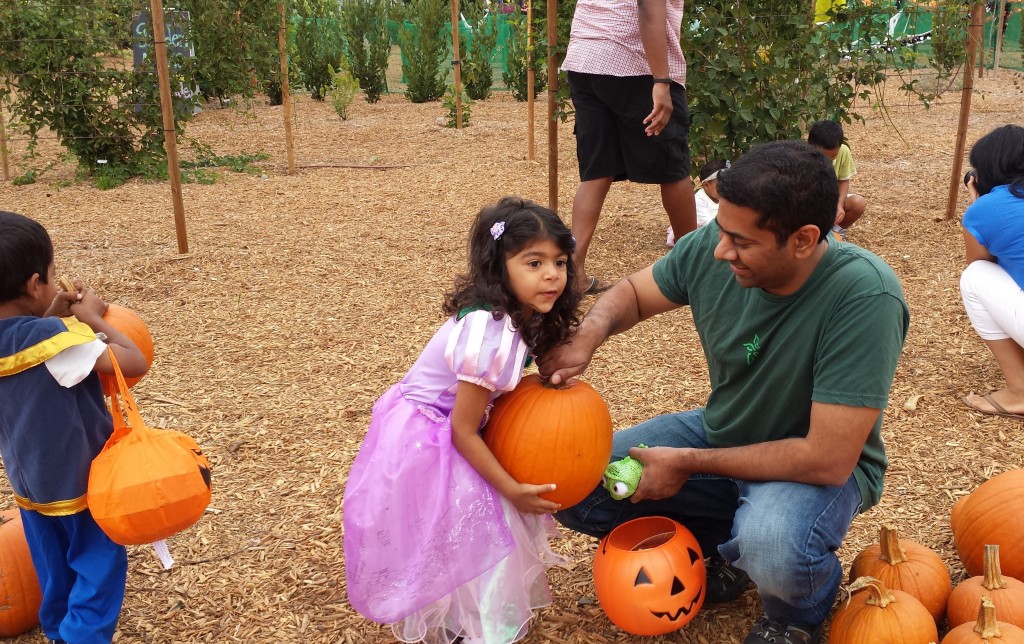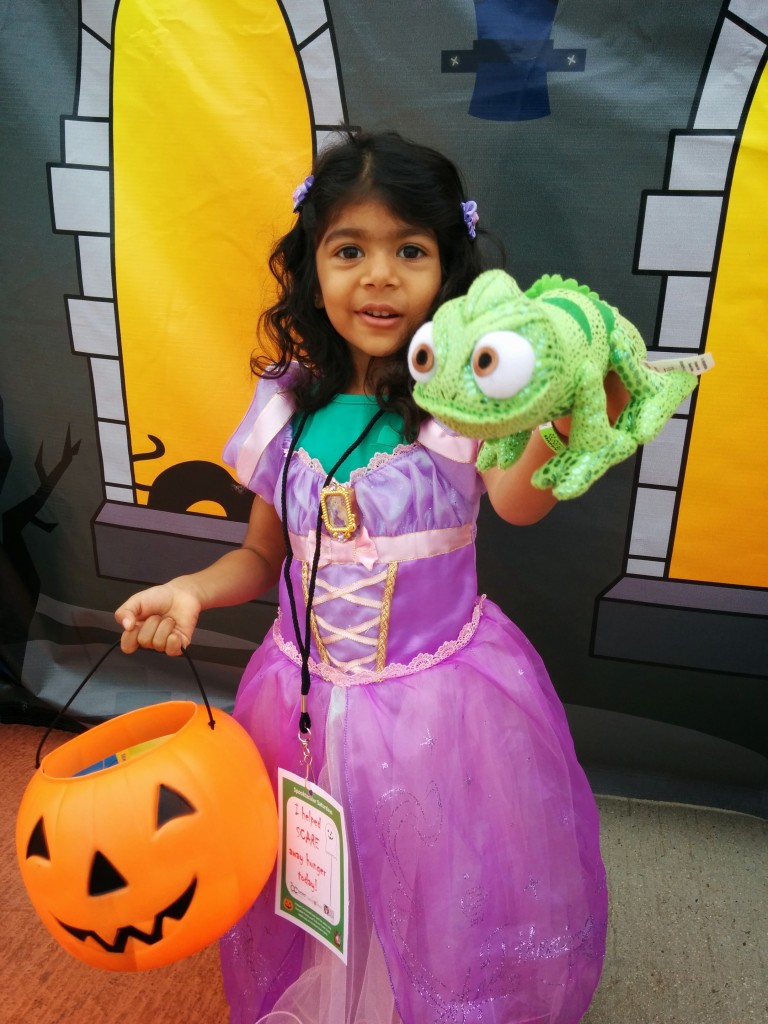 I really thought the kids would enjoy watching me carve the pumpkin but they weren't all that interested.  They kept running off.  Miss K did help me make some artistic choices – she was adamant that the nose should be round.  I can confidently say that pumpkin gutting and pumpkin carving are not on the list of things I'm good at.  And can I just say how awesome it is that Miss K shares my love of pumpkin headbands?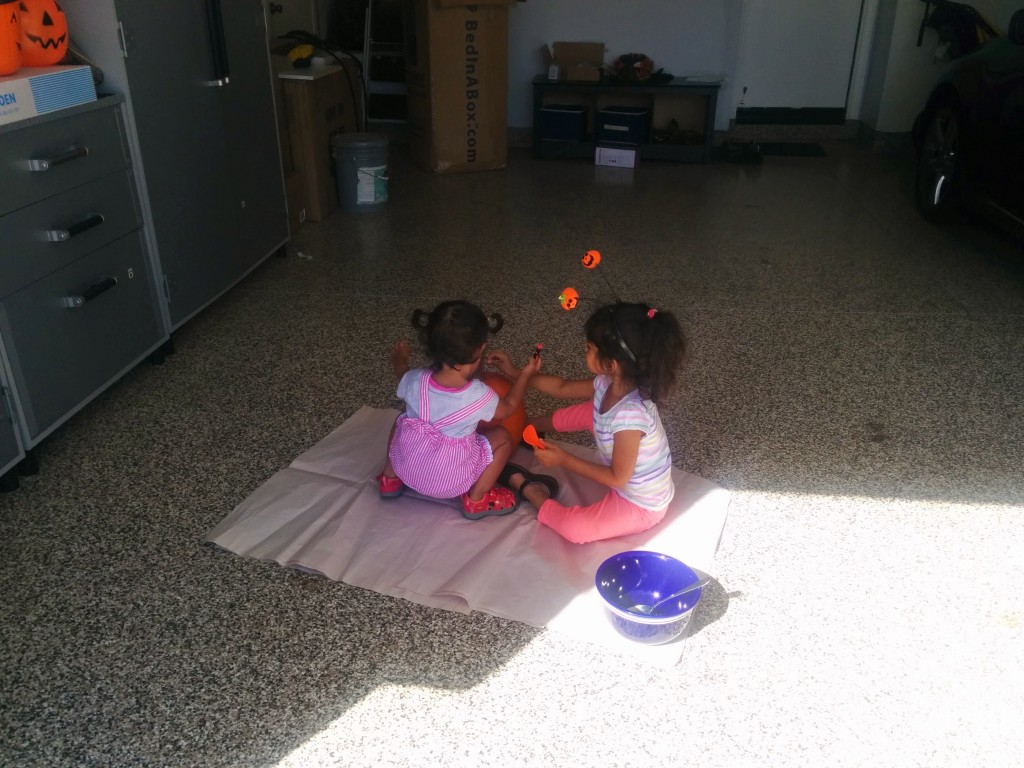 Note to self: take a picture of the pumpkin before it rots and insert it here.  🙂
We made the kids' costumes this year.  Frankly, I'm as shocked as you are.  I am not crafty.  I am not terribly creative.  But I am armed with the internet.  We (Miss K and I) decided that Super S would be the Very Hungry Caterpillar and Miss K would be the beautiful butterfly.  She originally wanted to be a half rainbow, half Anna and Elsa butterfly.  Sigh.  But I thought it would be really cute if we did the Very Hungry Caterpillar duo because Super S IS a very hungry little kid.  So I started looking and gathering materials.  Miss K helped with her costume and I hand sewed Super S' costume one night after they fell asleep.  I could have used my sewing machine…but I don't know how.  I was a little bummed – I had ordered a pair of yellow pants for Miss K to wear as part of her costume but they weren't delivered in time for Halloween.  When they hadn't arrived by Thursday, I decided to go to Michaels to pick up some fabric dye and even though I had never done it before, I successfully transformed a pair of white tights into yellow butterfly bottoms!  I'm really happy about the way the costumes turned out.  Do you know what made it completely worthwhile?  After we finished the wings, my sweet little girl said "Mama, they're AMAZING!  I love them."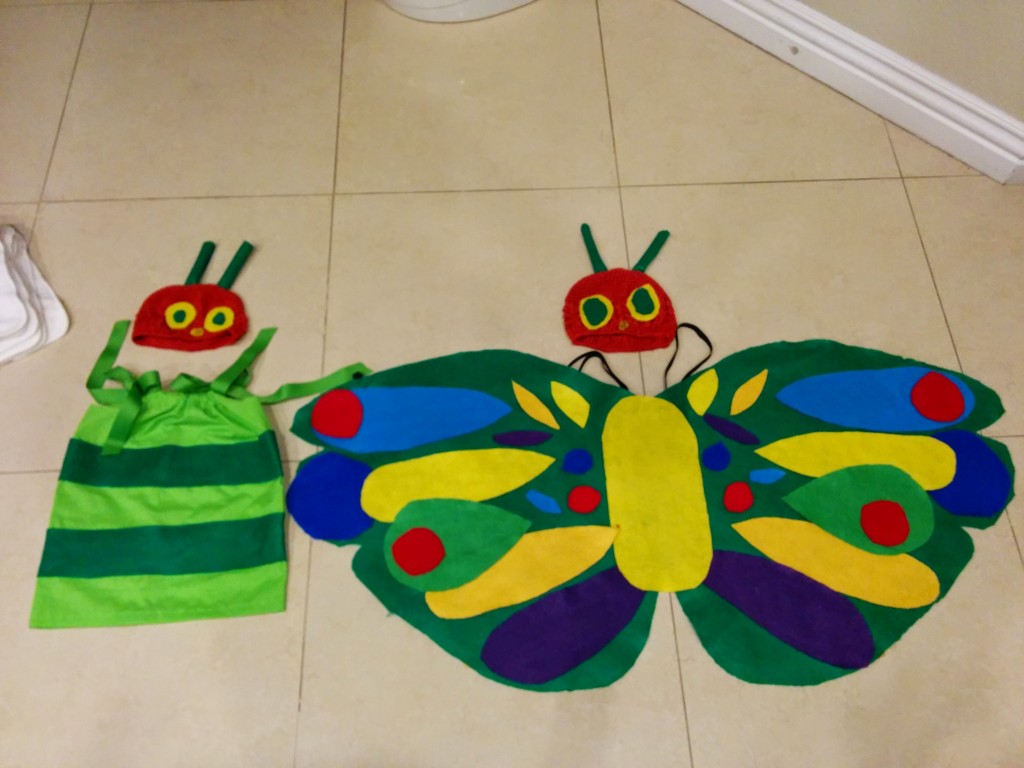 Super S was really excited to put on her costume after seeing her big sister in hers, although she didn't really get it.  Instead of putting on the hat that I made as part of the costume, she kept trying to put on her pink polka dot sun hat.  Eventually she did put in on, though and shockingly, she didn't mess with it or take it off the entire time she was trick or treating!
One thing that was nice about Halloween this year is that it actually felt like Fall.  Living in Southern California, we've had some ridiculously warm Halloweens so it was refreshing to feel a slight chill in the air.  Since we're new to the neighborhood we live in (and because we've never really had any trick or treaters in the places we've lived), I wasn't sure if we'd need much candy.  Based on the scant Halloween decorations, I didn't think we'd have all that many.  So to ensure that we'd be able to give the girls some Halloween experiences, we went to a street in our city that has a bunch of small retailers and restaurants that shuts down the street for trick or treaters.  It's really nice.  We went for about an hour and it was perfect.  We got to see a whole bunch of awesome costumes.  My favorites were a little boy dressed as Cookie Monster with a Batman mask and a Superman cape and a woman dressed in an In n Out uniform holding her baby who was dressed as a hamburger.  I also saw an itty bitty Wonder Woman that I loved – tiara and all.  I was so relieved that people actually knew what the kids' costumes were and we actually got compliments.  The day before Halloween I was seriously contemplating going to Target and buying them something instead of putting on the costumes they had made.  Miss K loved going up to the vendors and saying "Trick or Treat!" and even little Super S put out her little pumpkin.  It was nice that they got some treats but not too many.  And the girls loved seeing all the costumes.  We must have seen at LEAST 20 Elsas and 15 Annas.  We also saw a creepy Papa Smurf.  The girls really enjoyed themselves and right when we decided it was time to go home, it started sprinkling.  Perfect.
We went home, listened to some Halloween music, had some dinner and we actually had trick or treaters come to our door!  And they were little kids for the most part, not scary teenagers!  So everytime the doorbell rang, we got excited and ran over.  There were probably 15-20 groups, which is exciting for us!  Karina showed off her costume to a few of them.  We met a few neighbors, which was nice too.  Next year we will trick or treat in our own neighborhood for sure.  In between visitors, the kids were playing and were just happy.  They were running and jumping on their dad.  Miss K wanted to watch Madagascar so that was on and little S went to sleep without too much of a fight.  At around 8:30-8:45 we were starting to really worry that we wouldn't have enough candy but then soon after, it started to really rain so no more visitors.  All's well that ends well – trick or treaters start winding down around 9:00, right?  We ended up giving out some of the candy that the kids had scored on Montrose so we didn't even have a ton of candy that none of should be eating.  Seriously, it was a near perfect Halloween.  This crunchy life sure is sweet.