It turns out my kids like Indian food.  This is ironic because I don't typically crave it.  Don't get me wrong – I like it fine, but there are only a few things that I would put on my list of favorite foods, despite having grown up eating Indian food for dinner six days a week.  And many of those things I only like if my mom makes it.  Spoiled,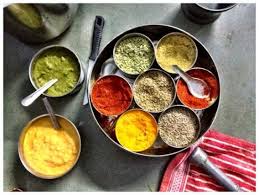 aren't I?  On top of that, I've been thinking about my four parents.  They're getting older and one day they will need to be cared for.  If that's the case, then I really should learn to cook Indian food more proficiently than I can today.  My poor mother tried.  Bless her heart…she really did.  I helped make pooris, rotlis, bhakris, dhebras, you name it.  I helped make every vegetable imaginable.  I sifted through endless cups of beans and seeds in thalis.  And yet, I had no interest whatsoever in doing it so the moment I moved out of the house, I stopped making those things and now years later, I am no longer able.  I mean…I have a general knowledge but I couldn't make an entire meal for anyone or anything like that.  It's embarrassing really.  And more than anything, i want to be able to feed our parents and bring them comfort in the form of food when they're no longer able to feed themselves.
So I've been looking up recipes and trying to make sense of the disjointed jumble of words, methods, and steps in Indian cooking.  You should have seen the light bulb that went off above my head when I realized that millet (which I had been wanting to try for the longest time) was the same thing as bajri, which my mom always has in her cupboard.  Turns out I had been trying it my whole life.  Or the confusion as I stand in the beans and grains aisles of the multi-ethnic grocery stores I visit, trying to figure out if what I see in front of me is what I *think* it is.  So I'm compiling a glossary of ingredients used in Indian cooking for me to reference.  Hopefully it will help someone else too.  Hopefully I'll add more words as time goes on.  Let me know if you're trying to find a translation of an ingredient and I'll see if I can help,
Note: The words I used are the gujarati versions because, well, I'm gujarati and these are the words I know.
| | |
| --- | --- |
| Flours | |
| Besan | Chickpea/Yellow Split pea mix |
| Gram | Chickpea |
| Bajri | Millet |
| Udad | Black Lentil Flour |
| | |
| Beans | |
| Toor Dal | Pigeon Peas |
| Chana/Chole | Chickpeas |
| Val | Black Eyed Peas |
| Rajma | Red Kidney beans |
| Masoor | Red Lentils |
| | |
| | |
| Herbs & Spices | |
| Jeera | Cumin |
| Haldi | Turmeric |
| Rai | Mustard Seeds |
| Hing | Asafoetida |
| Soonth/Adu | Ginger powder |
| Methi | Fenugreek |
| Elaichi | Cardamom |
| Loving | Cloves |
| Dhaniya | Coriander (dry, leaves, or seeds) |
| Variali | Fennel Seeds |
| Aamchoor | Dried Mango Powder |
| Fudino | Mint |
| Tulsi | Thai Basil |
| Kesar | Safron |
| | |
| | |
| Misc | |
| Tal/Til | Sesame Seeds |
| Amli | Tamarind |
| Powa | Flattened Rice |
| Mamra | Puffed Rice |