So I actually do all of these things – they're just surprisingly difficult when my littles are around.  It's the kind of stuff that no one ever tells you about before having kids.
1.  Dishes – since she learned how to crawl, Super S has been super interested in the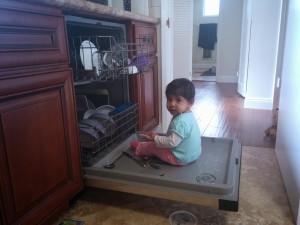 dishwasher.  She climbs into the door and sits down and then starts messing with the silverware.  In the process, she gets all wet and I can't load anything because if I load in the top drawer, she'll get dripped on and she's in the way of the bottom drawer.  For the same reason, I can't unload the dishwasher.  When I do dishes by hand, she always comes up to me and screams to pick her up but I can't exactly do dishes one-handed.  So then you'd think I'd do them when she's napping…but we have a one story home and her room is close to the kitchen so it wakes her up.  I'd rather not do dishes at all.
2.  Pee – I know a lot of moms have problems with interruptions or an audience.  Those don't really bother me much.  What does bother me is that Super S makes a beeline for the bathroom whenever she hears the door open.  It's like she's a cat that hears a can opener or me when a bag of fritos opens.  Then she runs in, climbs the wooden step that we have in front of the sink so that Miss K can wash her hands, and then stands there looking at me like "Bitch, what are you just sitting there for?  Turn on the water."  Since I'm peeing, I just look at her.  That just angers the beast more and she starts grunting like an ape "HOO HOO HOO!"  Of course I'm concerned about her safety too but the worst part is trying to leave the bathroom.  I have to pick her up and physically remove her.  And then all hell breaks loose.  She acts like I took her best friend and ate her.  Crying, throwing body on the floor, banging on the bathroom door, all of it.  It's awesome.  I'm considering staying in a constant state of dehydration just to avoid it.
3.  Sweep – This should be easy, right?  Wrong.  Both my kids have a crush on the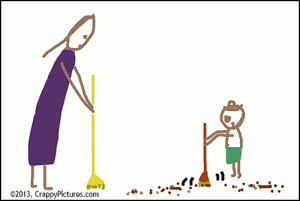 broom.  They want to use it and hug it and take it with them everywhere.  So they both get all grabby and try to get it from me or from each other.  Usually it ends up in fistacuffs.  Once that's settled, and everyone's calm, I take the broom back and attempt to sweep because they've finally lost interest.  This only resparks the interest.  Repeat.  Repeat.  Repeat.  Then they finally give up and then just run through the dirt pile or in Super S' case, forage for food in the dirt pile.  Sometimes Miss K wants to help so she tries but it ends up making more of a mess, kind of like the picture above.  I love crappypictures.com, by the way.  Hilarious.

4.  Fold Blankets – For some reason, folding blankets in front of my kids is futile.  Not only will they grab the blanket while I'm attempting to fold them, but they'll inevitably fall (I don't know what they think will happen when they go running into the blanket but it always ends up with a little girl falling on her face).  And even then, I'm ninja.  I manage to fold the blanket.  But I walk away and come back and the blanket is unfolded and thrown on the floor.  I don't know if it's an eff you to me or if they think they need to show the blanket who's boss but 9 times out of 10, if I fold a blanket in front of them, it ends up on the floor within minutes.
5.  Open the refrigerator.  Or close the refrigerator for that matter.  If I open it,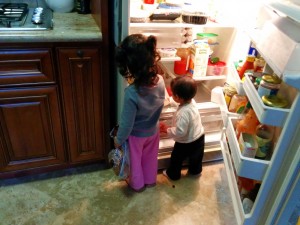 Super S will come running and will start touching everything.  The other day the two of them were foraging in the the refrigerator – Miss K opened it, Super S assisted and I don't know what happened but there was maple syrup all over the floor afterwards.  I almost lost it.  Miss K eats butter, Super S eats anything she can get her hands on and GOD FORBID I attempt to close it while they're looking.  I love how Miss K. is holding a bag of bread in this picture.  They were pilfering grapes.  I actually find this really cute.  And not energy conservation friendly.  And sadly more work because usually it ends with some sort of food on the floor.