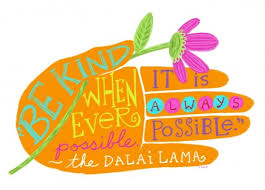 Since it's be kind week on mycrunchylife.com and it's five things friday too, here are five ways to to be kind at home.  I was looking up benefits to kindness and came across some information from psychologist Sonja Lyubomirksy, whose research suggested that students who performed five acts of kindness were happier than a control group who didn't.  Side note…this psychologist's name sounded incredibly familiar so I looked her up and sure enough, she is at the University of California, Riverside, where I attended two years of college.  I am 98% sure I was a research assistant for her my sophomore year.  She was doing studies on happiness back then too.  Back on track: those who performed five acts a day were happiest of all.  Furthermore, happiness is even greater when the acts of kindness are directed towards those we know as opposed to strangers. It feels good to strengthen our relationships.  So how about we do some nice things for the people we love?
1.  The next time someone in your family asks you to hand them a blanket, don't just hand it to them, tuck them in.  My husband just did that for me the other night and I thought it was so kind.
2.  Leave a love note for your spouse or child on the bathroom mirror.
3.  Volunteer to do your partner's or your kid's chore for them.  Tell them it's because you love them.  Maybe they'll pay it forward!
4.  Put down the remote, the laptop, the phone, the tablet, or the game controller and listen to a loved one tell you about their day.
5.  When your loved one is taking a shower, throw their towel in the dryer.  When they come out, they'll have a warm snuggly surprise waiting for them.
Click here to enter our Be Kind Week giveaway for a free pair of Good Natured gPants!