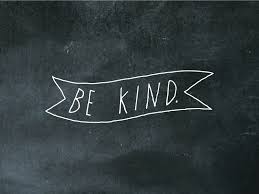 One thing that's great about kids is that they have genuine actions.  Typically when they're really little, if they do something nice, it comes from the heart.  They're not trying to manipulate or get on your good side or get something out of it; it's just their nature coming through.  I love it when my 13 month old baby tries to feed me food.  The smile on her face is priceless.  It's her version of being kind.  She's giving her food to me.  When she was barely two, I bought my older daughter a placemat.  I showed it to her and the first question she asked was "Where's baby Sia's?"  That came from a genuinely kind and thoughtful place.  I'm concerned that as they get older, they will fall out of the habit of being kind or that they'll take kindness for granted.  So here are a few ways to teach kids how to be kind:
1.  Lead through example.  There is no better way to teach kindness than to live it and model it for your kids.  If they see it in action, they will adapt it into their own lives because it's just what you do.  And after you've done something for someone else, explain to them why.  For example, if you stop to help someone put away their groceries, afterwards, tell your child that the person "needed help because the groceries were heavy and it's a good thing we were able to help them!"
2.  Talk about kindness DAILY.  Maybe it's dinner conversation – "Did anyone see any kindness in the world today?"  Maybe it's telling them about something kind that someone did for you.  Use the words "appreciate, kind, considerate, out of their way, nice, thoughtful" and describe how it felt to receive or give the kind act.  Ask them about what they did today that was kind.
3.  Make it a point to recognize when someone does something kind.  Especially the child.  Reinforce, reinforce, reinforce.  I find myself telling my child that I'm proud of her often.  Lately she's been asking me why and I try to make sure I tell her that I'm proud of her kind heart and then give her examples.  When she shares with her sister, I tell her that it was a kind thing to do.  It feels good to be recognized and if it encourages her to do it again, then I'm in!
4.  Make suggestions.   You can't force kids to be kind but you can help them find ways to do so.  I've noticed that if I say "Miss K, baby is crying.  Go give her a toy." usually there is some dismissal or even pushback.  It seems to be a lot smoother if I say something like "Oh no!  Baby is sad!  Do you think she would feel better if you gave her a toy?"  Coming up  ideas and letting the child choose gives them the chance to own the act of being kind.
5.  Find ways to be kind together.  My daughter and I were at Costco once and there was a handicapped woman trying to get some paper towels into her cart but was clearly struggling.  When we turned the aisle and we saw her, I said to my daughter "She looks like she could use some help, should we go see if she would like some help?" And the enthusiastic "Yes!  We should help her!" was amazing.
An amazing example of teaching children about kindness comes from a dear high school friend's family.  They sadly had to cope with the devastation of having a still born son.   I cannot begin to fathom the pain they've been through.  I believe that if it were me, I would shut down and close myself off to the world.  That I would have a hard time understanding why the world was so awful.  Instead, this beautiful family has taken their grief and turned it into something beautiful.  Check them out here.  This family of four goes around doing random acts of kindness to honor their son, Dylan.  They've made donations to the L&D ward at their local hospital, paid for fellow diners' meals, handed out Krispy Kreme gift cards, and brought treats for nurses and firemen.  The best part is that they involve their two sons in this and their sons genuinely seem to enjoy it and get joy from it.
They really serve as inspiration to me. And today is the Vernal Equinox so I think a celebration is in order.  I'm going to challenge myself to do something kind everyday for a month.  I'll report back.  Wish me luck.