A few weeks ago we had a first birthday party for Super S.  After hemming and hawing over it for a while, I finally agreed with my husband that we'd have it at the same amusement park we had her big sister's first party.  I picked a strawberry theme this time and had fun putting together a few personal touches.  I loved seeing my little ones (and all the other beloved littles in my life) have a good time.  Super S did great – I don't remember her crying or fussing at all.  Amazing.  And my sweet little girl had a long day.  She played and skipped her usual nap.  She was with her grandparents for awhile but when I picked her up, she fell asleep on my shoulder.  It was a fun day but that may have been my favorite part.  A big thank you to my little sister, Neha, for shooting over 400 pictures of the party.  Love ya -thank you!
I found this outfit and couldn't resist putting the little birthday girl in it.  It's from Gymboree and I especially loved the strawberry tutu and headband: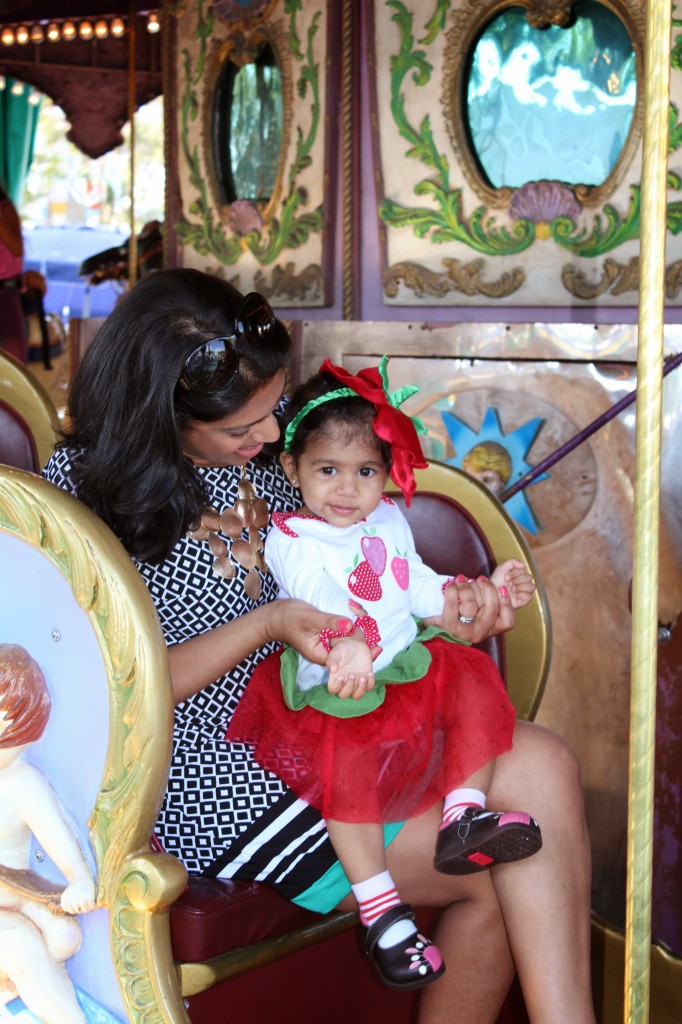 Big sister wore a navy blue/white polka dot dress with strawberry accents, a headband that matched the colors in our theme (red, pink, and green), and strawberry socks.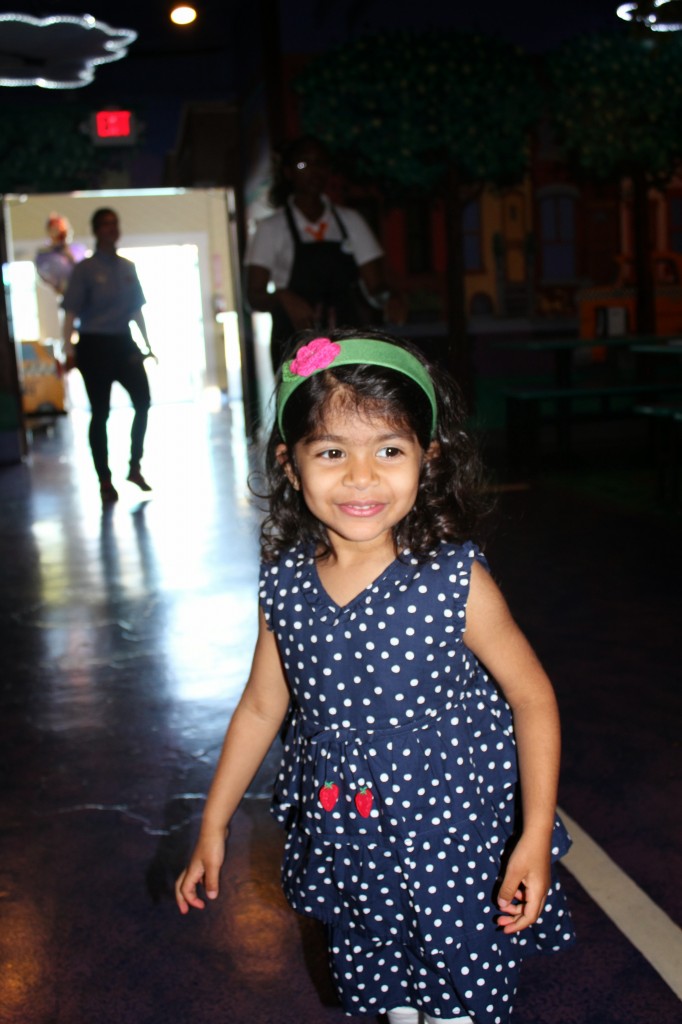 Here's a picture of our wonderful family: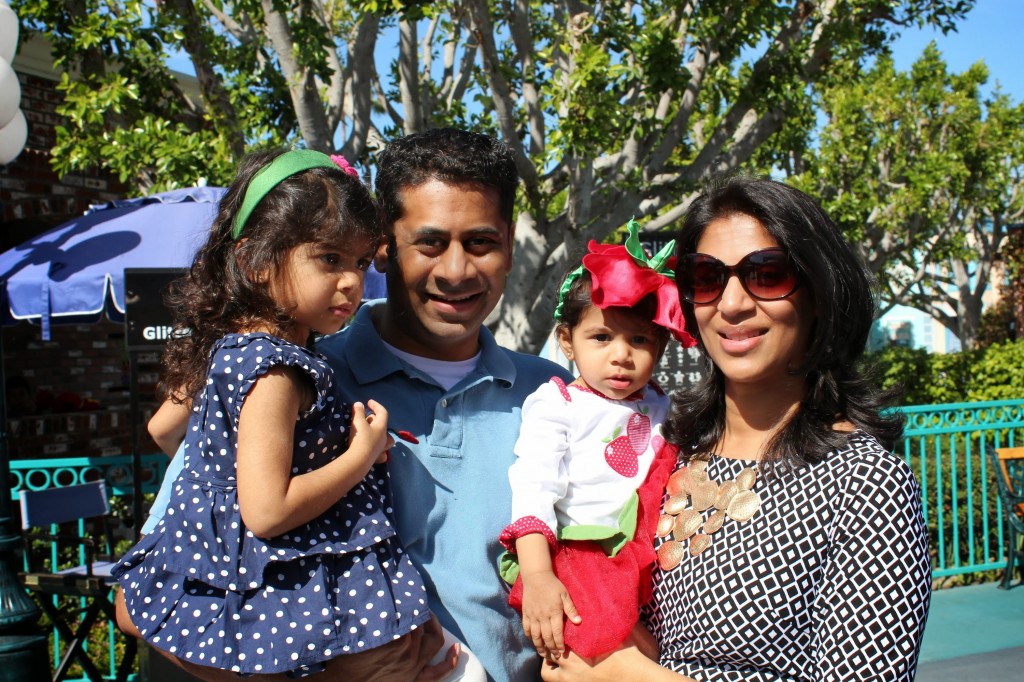 We had a white cake with a light whipped topping layered with strawberries in between (I cheated and just got it from the grocery store bakery).  I decorated it with lady fingers tied with a ribbon and fresh strawberries on top.
I also baked some decadent chocolate mini bundt cakes and made a Nutella ganache for the top.  I then topped the bundt cakes with fresh fanned strawberries.  Yum.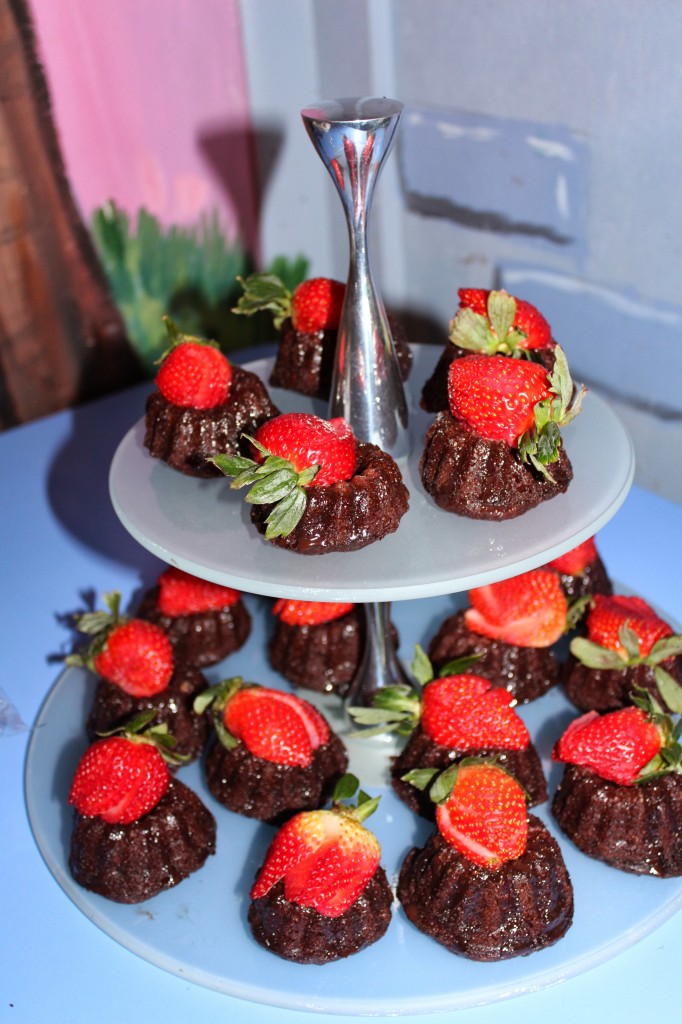 I think baby wants some cake!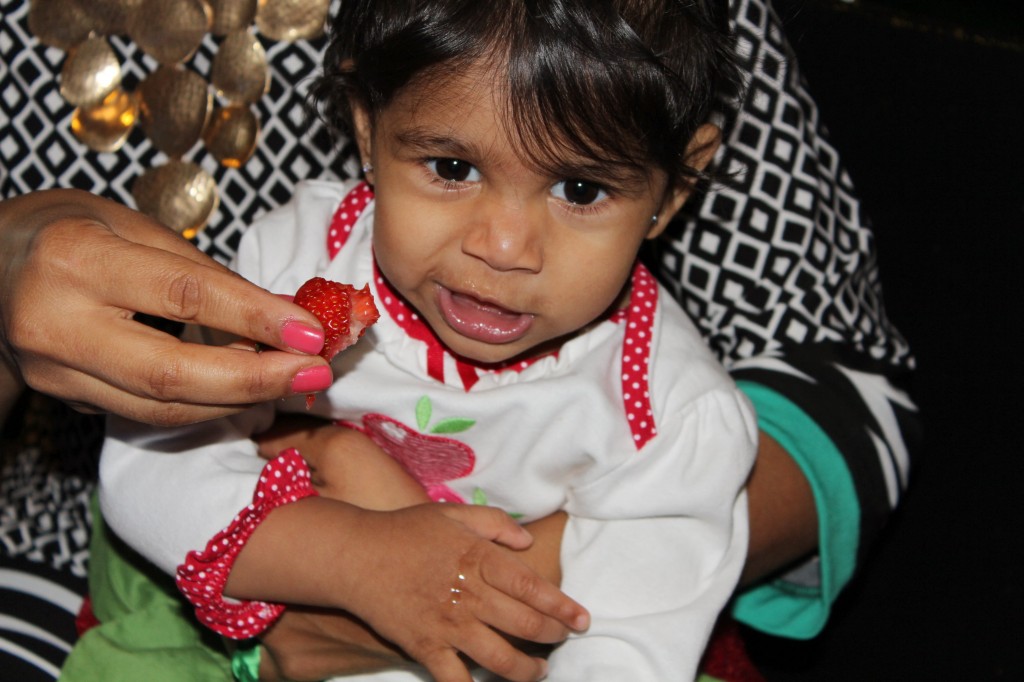 I did some simple skewers with green grapes and more strawberries.  As basic as they were, they were a huge hit!  The kids all ate them and I actually ran out!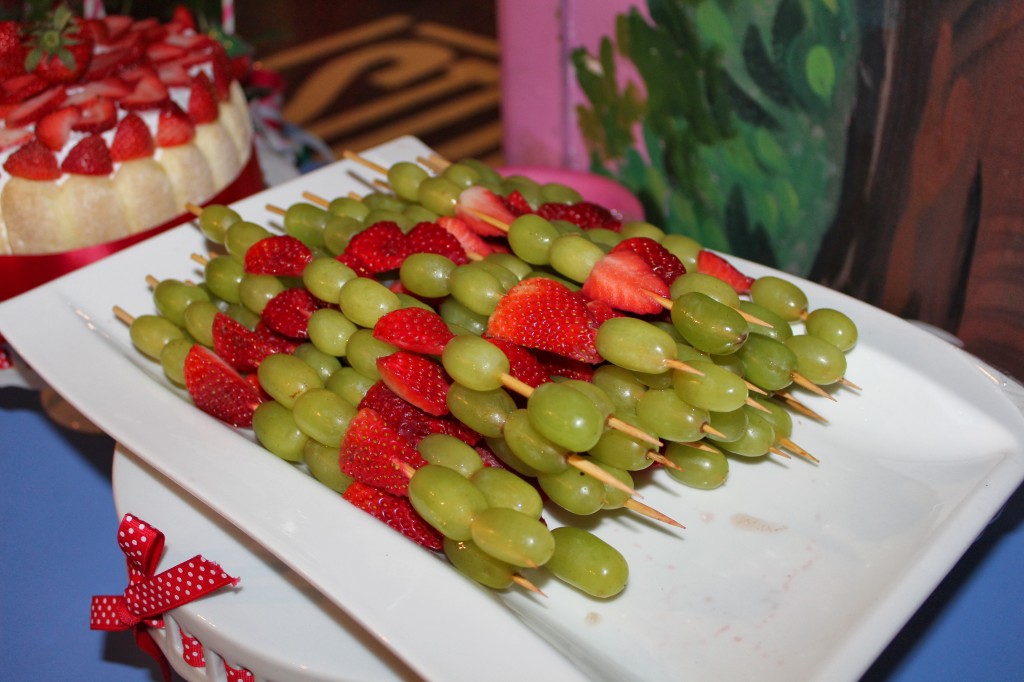 I think Daddy wanted to eat the birthday girl.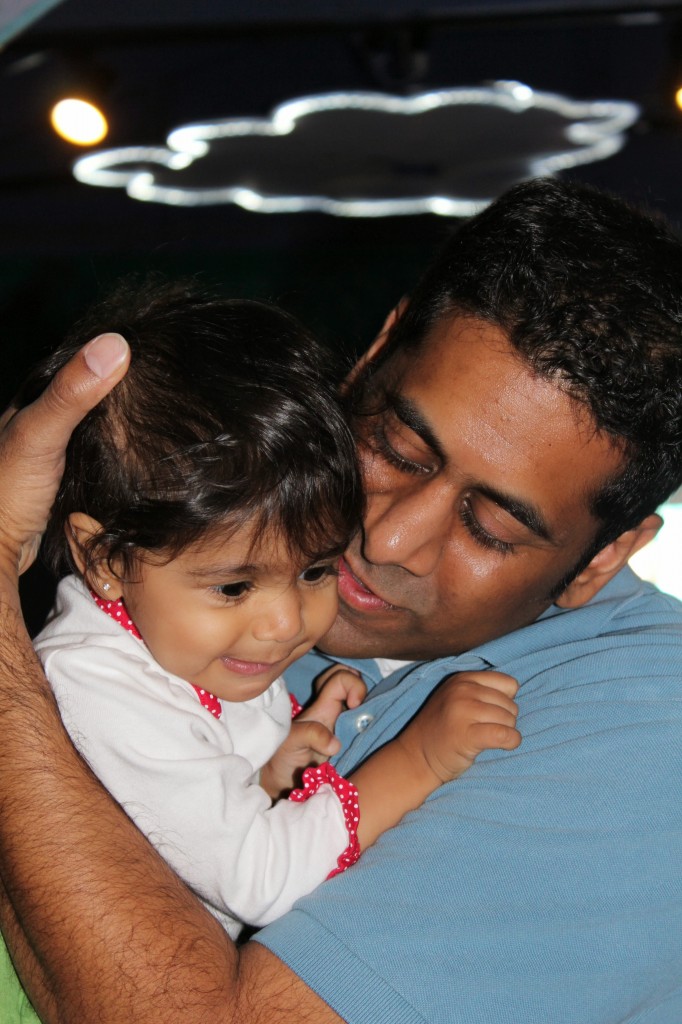 I made a fabric scrap banner and hung it at the party.
Instead of doing the bags o' crap favors I had done for the last two birthday parties we had thrown, I decided to do something a little greener and I'm actually very happy with the way they turned out.  I bought strawberry plants from Home Depot and potted them in these adorable pink and red striped buckets from the dollar spot at Target (we were lucky – Super S' birthday is right before Valentine's day).  I hand wrote care instructions on the back of printables that I got from designingforpeanuts on Etsy.  By the way, she was incredibly fast; I had my printables within 30 minutes of putting in my order.  The tags were fastened with some green ribbon with strawberries on it that I picked up from Michaels.
I attached a flag from some free printables I found online to a striped paper straw, also from Bakers Stock, and wrote each guest's name on it.  Stuck that in the pot with the plant.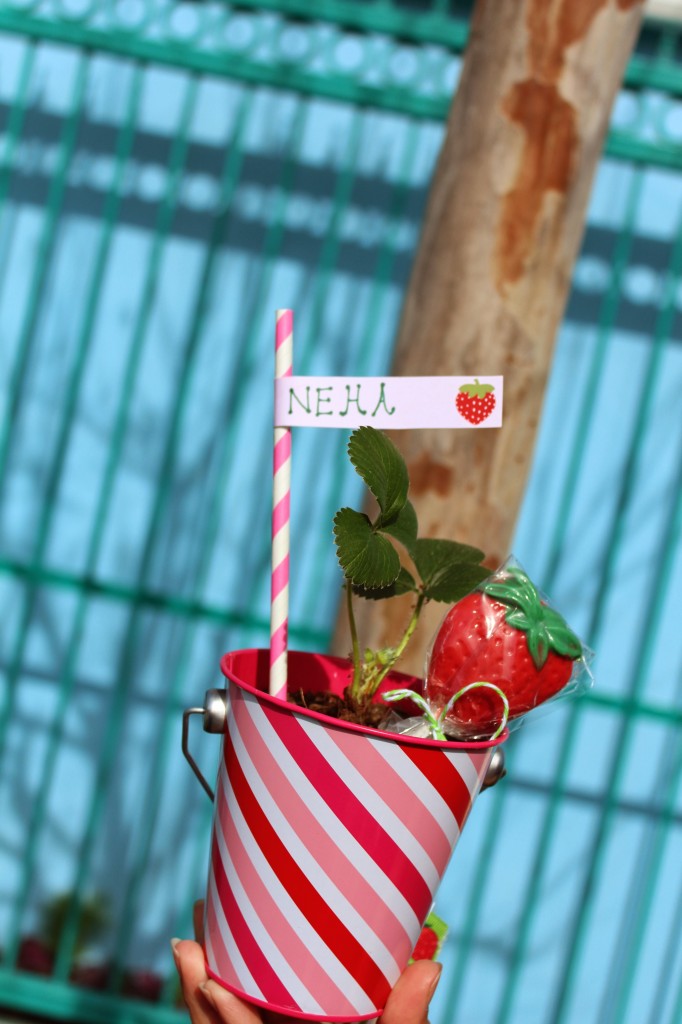 I also made some strawberry shaped lollipops from a mold and candy melts.  I'm really happy with the way they turned out, especially since I had never made lollipops before!  I wrapped them in cellophane and tied them with with bakers twine in pink/white, red/white and green/white (ya I got these from Bakers Stock too!  Can you tell I heart that site???). Apologies to the parents of the guests for all the sugar!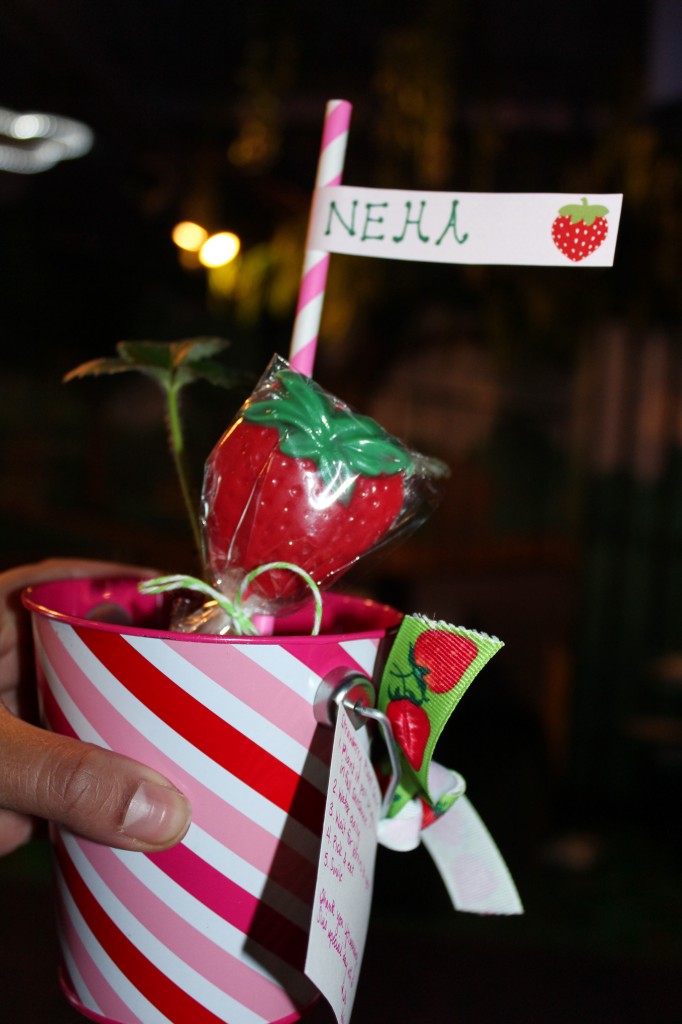 We filled some cupcake liners (also from Bakers Stock) with Strawberry Hi-Chews and put them out on the favors table.  I love those!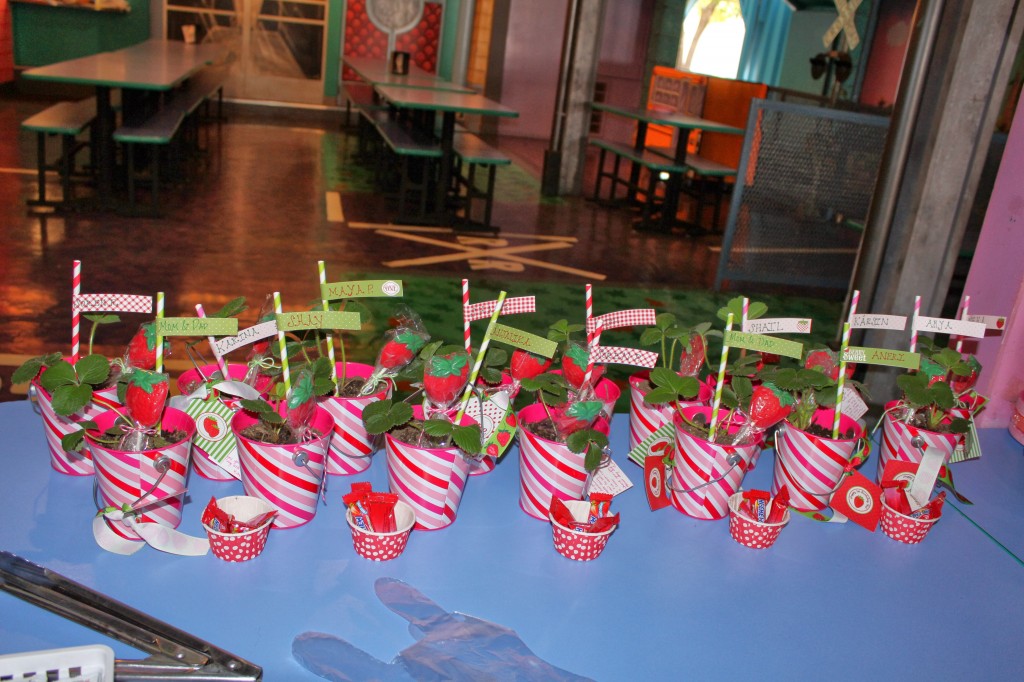 All in all, I'm happy with the way things went.  More than anything, though, I'm happy my little girl was happy.  Thanks for coming to my party!