I buy ten pound boxes of Quaker Oats from Costco.  And the crazy part is we actually go through the whole box.  We've bought maybe 3-4 boxes of these oats and my husband and I don't even really eat oatmeal for breakfast.  So what do I do with all that oatmeal???  Here are five things (along with five pictures that I didn't take):
1.  Granola – By far, our favorite one is this one from ohsheglows.com.  It's vegan and oh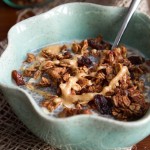 so delicious.  Ironically, I used it to top some oatmeal I made for Christmas brunch.  I didn't think about it at the time, but that's a hell of a lot of oats.  It packs some protein punch with the crunch of buckwheat groats and walnuts.  Between the maple syrup, mejdool dates, and coconut oil, it is borderline decadent!  This is great by itself, with milk, on top of yogurt…all kinds of great things to do with this.  Maybe I'll make a couple batches tomorrow.  It makes your house smell incredible.
2.  Banana Oatmeal Smoothies – A great go-to, filling snack or breakfast.  Just blend 1/4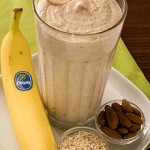 cup of cooked oatmeal (well, I measure 1/4 cup of oatmeal and then cook it), 1 banana, 1/4 cup almonds or almond meal, 1/4 cup almond milk (or sub out yogurt or regular milk for a non-vegan version), and some ice cubes.  If I'm craving something a little more dessert-y, I throw in chocolate chips or chocolate syrup.
3.  Oatmeal Chocolate Chip Cookies – This is my favorite chocolate chip cookie recipe. It's simple and you probably have all the ingredients in your cupboard.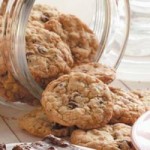 Hubs eats them up and once I took some for my dad.  He ate one, looked at me and said "WHAT is IN these cookies???"  He had never had oatmeal chocolate chip cookies before.  He's a fan of chocolate chip cookies but far from a connoisseur like my husband.
4.  Breakfast – I make oatmeal for breakfast at least once a week for my girls.  For the two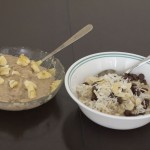 of them, I use 3/4 of a cup of oats and 1.5 cups of liquid (water, milk, whatever).  When they were less than a year old, I would grind up the oats into a powder so it was more like a cereal.  Side note – I bought prepared Organic oatmeal cereal in a box and it made my child vomit violently.  And I always wondered why the flakes were all shiny.  I know they fortify them with iron but really why give your kids food that's even more processed than it needs to be?  Back on track:  Usually I just throw some cinnamon in while the pot simmers and frozen berries in it (Miss K prefers frozen, I'm not sure why) – they help cool down the oatmeal quickly.  Lately I've been making the oatmeal with coconut milk instead of water for some extra flavor, calories (my girls are skinny minis) and healthy(ish) fats.  The little packets of instant oats are convenient but they have way too much sugar, they create a whole lot more garbage, they are expensive and come in flavors like maple and brown sugar (which, although my favorite, is basically sugar and different sugar…).  Quaker Oats cook up quick – five minutes.  My personal favorite topping combo is coconut/walnut/chocolate chips, but we often will do fresh blueberries, strawberries, or bananas.
5.  Banana Oat Chocolate Cookies – These is a great vegan cookie recipe that is satisfying and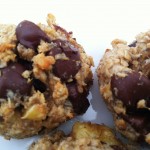 pretty tasty, if I say so myself.  They're pretty healthy, too.  I didn't think they lacked in flavor in the least, especially for a vegan dessert with no added sugar.  Since you roll these pretty small, I'd recommend using mini chocolate chips.