My little girl turned a year old.  Technically it was a month ago but I've been having a hard time writing this post.  Maybe it's because I've had some writer's block or maybe it's because I didn't do a photo collage or video so i'm feeling guilty.  So tonight I decided I just need to get something out, even though I know it won't be perfect.
Miss Sia Nalamwar, in her truest form, didn't hesitate to let us know she wanted out of the womb.  She did, however, take her time to leave.  When she arrived, she stopped time for me.  All I wanted to do was to hold her and feel her because like I told her when they put her on my chest, I had been waiting my whole life for her.  The day she was born, she just fit in.  She belonged to us.  To our family.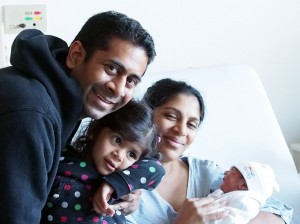 From a really early age (I'm talking four weeks old), Sia has been active with an incredible command of her body.  I remember I put her on her boppy on the floor for some tummy time while doing some laundry.  I walked to my closet to hang up some clothes and I came back to find that she had pushed herself all the way over the boppy and was lying with her face on the carpet.  She was amazing.  And I could tell that she'd have a good sense of humor.  She's definitely a happy girl and she smiles but there's something about her that tells me she gets why things are funny.  I remember her little face smiling with her eyes closed when she would hear her sister's voice.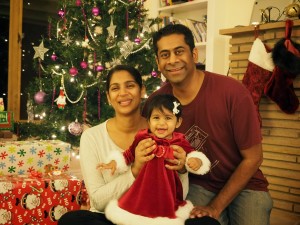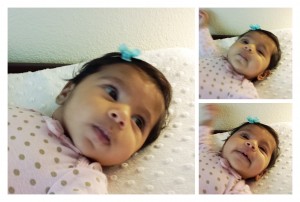 Some of my favorite parts of her first year were those moments when she'd just let me hold her.  And luckily for me, there were many.  Actually hold on.  I need to correct that statement.  Those weren't just some of my favorite parts of the last year.  They arre some of my favorite moments from my whole life.  When I'm holding her, Sia makes me feel like there is nothing more right in the world than our family.  She belongs in my arms and I belong in hers.  I remember as a newborn, I would put her high up on my shoulder, patting her back to burp her and she would pat me back.  It was adorable.  Her spark for life shone through at such an early age.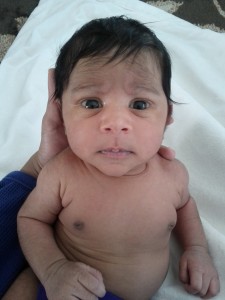 ]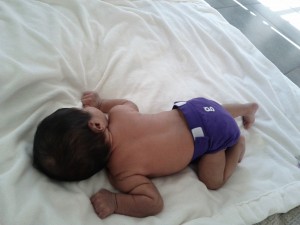 Sia did something for me that I was supposed to do for her.  As her mother, I believe it is part of my job to make her world secure by letting her know, in no uncertain terms, that she is loved.  This little itty bitty dumpling, with no words, made me feel so loved and needed and this shouldn't be about me but I just need to let it out…this little girl truly loves me.  How?  Why?  I don't know.  But she loves ME.  And this brought further self validation to my world.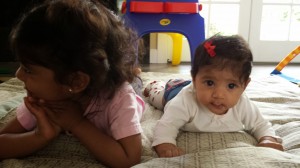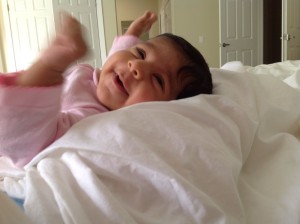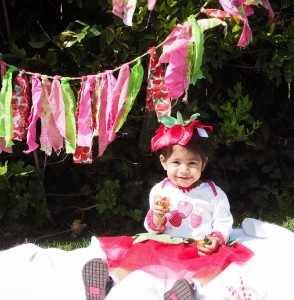 Sia was the great teacher of 2013.  Until she arrived, I had no idea that there was so much love in my heart.  She taught us about being close.  She taught me that I was more patient than I thought.  I didn't know I could go almost 10 months without getting a stretch of sleep longer than 3 hours.  I didn't know I could do that without resenting someone.  She taught me that it's ok to not be a perfect mother.  She taught me that she could figure things out without me sitting down and teaching them to her.  She taught me how to do things with one arm/hand because I spent a whole lotta time holding this little girl.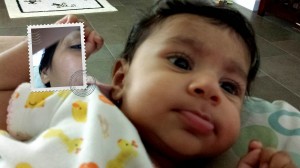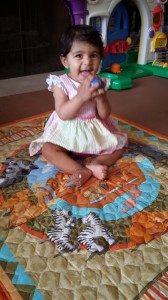 I loved nursing this baby…feeling her little legs pushing first on my stomach and then on my hips and onto my thighs as she's grown.  And she loved milk.  At around a year old, she started yanking the flap of my bra down.  It was hilarious.  I guess Li'l Missy knows what she wants!  I loved watching her crawl.  She was so fast.  Pretty much the day she started crawling, she started pulling up.  Her first word was "Hi!"  The sweetest little "hi" you've ever heard.  She's so incredibly special in the way she embraces the world.  You can see the thrill in her eyes and hear the excitement in her squeals when she tries something new.  It's quite amazing.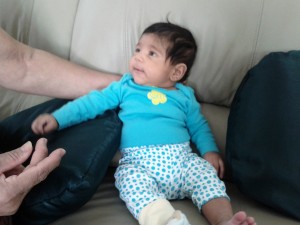 The memories that I hope to never forget?  After a long night of wakeups, I would give up at around 5:00 and bring Sia into our bed.  She would need to be near me.  Not just my arm or my leg, but my face.  My child would sleep with her face on my face, or rest her forehead on my chin or my personal favorite – she would actually hold my face in her two little hands and sleep that way.  She accepted me as I am THAT much.  Her little body next to mine, her breath on face (again, she slept with her FACE ON MY FACE). She's a snuggler…actually, I'd say she is the best snuggler of all time.  When she lays her head on your shoulder – heaven.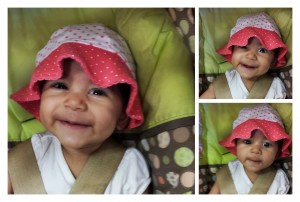 You have brought so much sunshine to my life, beautiful little Sia.  Your sparkly eyes, your laugh, your hugs, your smile, your claps of delight, your waves of joy, your splashes in the water, your curiosity, your tenacity…it's all perfection to me.  I love you so very much.  You make the world so much better and brighter.  I hope one day (if it's what you want) you will have a daughter so you can understand how much you mean to me.  Thank you for changing my world for the better.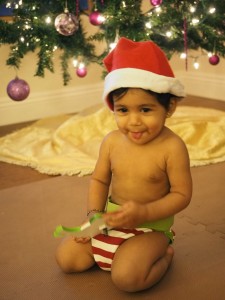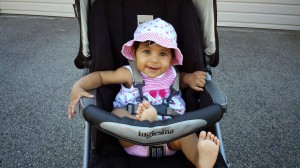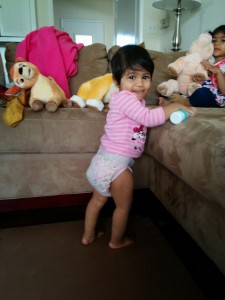 p.s.  I'm having trouble downloading pics so I'm going to have to work on better pictures later.  🙁  We have so many beautiful ones but I can't access them right now.  Boo.