One of the things I love about the cloth/hybrid diapers I use is that they're versatile and I can use a number of different inserts to fit my needs.  Now that I've used them for almost three years and two babies, I've tried a few different cloth inserts and I thought I'd share what has worked well for us (and what hasn't).
gDiapers Cloth Inserts
These come directly from gDiapers.  They retail for $32.99 for 6 inserts or about $5.50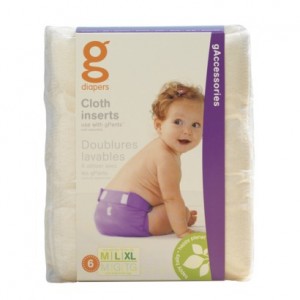 each.  They're made of 2 layers of baby-soft microfleece and 2 layers of hemp/cotton.
Pros:

Trim.  Oh so trim.
Top layer is really good at wicking moisture away
Soft against baby's skin
Cons:

Don't hold up well for heavy wetters or nighttime use, so you end up having to double up.  Even that doesn't work for some.
Pricy
I had a really tough time with ammonia smells and burns with my older daughter.  Part of the problem was that I was still figuring out my wash routine.
I really liked these for when baby was in smalls.  I did not use these in mediums for my second daughter because I felt some of the other inserts were better.
Flour Sack Towels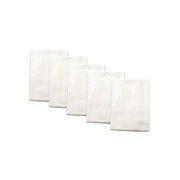 I bought a four pack of these towels from Target for $4 or $1 each.  They're 100% cotton.  Basically you fold the towel in half in one direction, again in half in the other direction, and then in thirds.  This ends up giving you 12 layers of protection
Pros:

Very absorbent
Inexpensive
Dry quickly
100% cotton means easy maintenance.  It's more forgiving of an imperfect wash routine
Cons:

You have to fold them
Since it's plain ol' cotton, the top layer does not stay dry
Bulkier than gCloth
I've used these with both daughters and while they felt bulky at first, now I think they're fine.  I actually picked up a four pack of these to use in my second daughter's small gDiapers also.  I just cut them in half and then folded it in thirds.  These are currently my favorite insert.
Homemade Microfiber Inserts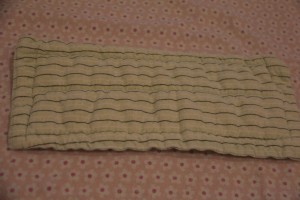 My mom and I made these a few years back (here's a link to the tutorial) and I really liked them for a long time.  They ended up costing us about $1 each since we upcycled some fleece receiving blankets we had lying around.  They are made from microfiber towels covered in fleece (cotton).
Pros:

Absorbent
Inexpensive
Trim
Cons:
Top layer is wet against baby's skin
You have to make them
Take a long time to dry since they have five layers sewn together
They might look a little funny if someone else changes your baby's diaper
I used these the most out of all my inserts.  They're pretty ragged now but they were my go-to insert of choice for my older daughter.  I didn't need to double up and I didn't need to fold these.  Some of them will be retired soon now that they're starting to fall apart after over two years of use/washing/stripping/drying.  These are near and dear to my heart 🙂
CoCaLo Perfect Bum Trifold Inserts with booster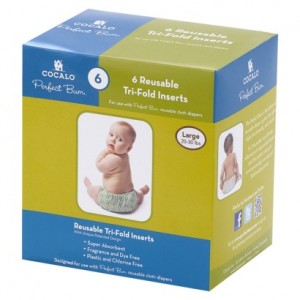 I just bought these and don't have a ton of experience with them but so far they've been okay.  They're made of polyester and cotton and oddly enough I found them at the dollar store so they were only $.17 each.
Pros
Inexpensive.  Hell.  They were super duper cheap.
Trifold design allows for fast drying
Top layer does a GREAT job pulling  liquid away from baby's bottom.  It usually feels dry on top but wet below
Absorbent
Cons
The polyester has me worried about stink issues.  Time will tell.  It seems like the diaper pail has been stinkier since I started using these.
Seems to be a little more finicky with the wash routine; baby had a bit of diaper rash after using these.
I had high hopes for these but the rash and stinkies have me worried.  I still reach for the homemade inserts and the flour sack towels before these.  I have been using some of their doublers successfully, though.
All babies are different so you have to figure out what works best for you.  If your baby has sensitive skin, I would stick to the flour sack towels.  If your baby is a heavy wetter, the homemade or CoCaLo inserts would be a better fit than the gDiapers inserts.  If your bub gets uncomfortable with wetness, use the gDiapers inserts or CoCaLo inserts on top.  If you're strapped for cash, go with the flour sack towels.  Like most things in the cloth diaper world, there is a lot of trial and error involved.