I make the majority of food for my baby.  A few months ago, we traveled and because she wasn't eating a whole lot of table food back then, I picked up some baby food pouches for convenience and so that we would always have food available for her.  She LOVED eating from the pouches so I thought I would pick up some reusable food pouches so that we could have that same convenience but with added bonus of the food being homemade.  I also liked the idea of producing less trash than if I bought more of those pouches.
I looked around on the interwebz and found Precious Tummies Food Pouches.  They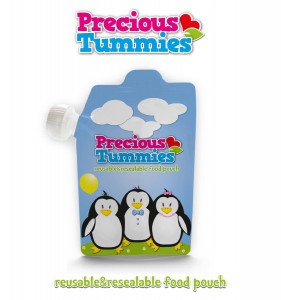 seemed like they'd do the trick.  I bought them and have used them a few times.  I was super excited to use them when I got them – the packaging is adorable!  I love the little penguins on the pouches and the box and the girls were both instantly interested in the pouches.  The price point was quite good – $10 for 6 – 6 oz bags.  They're dishwasher safe and freezer safe, which makes life easier.  The dishwasher safe part was particularly helpful because otherwise it would be kind of hard to get all the little corners clean.  These pouches (unlike most) are top loading so theoretically they can stand up on their own while you're loading them and I guess they'd be less likely to leak since the opening is at the top, not the bottom.  And of course, I love that you can save money with them.  I don't recall ever seeing pouches for less than $1 each.  They include an extra cap, which I totally appreciate and the zipper is nice and tight – I would not expect these to leak.
Unfortunately there were more things that I disliked than liked about them, though.  While it's great that they put a really strong zipper top on the pouch, they're actually pretty tough to open, especially when you're washing dishes and your hands are wet.  Because the zip is at the top, it's harder to clean (smaller opening).  The thing that bugged me the most, though, is there's no easy way to fill them.  And there are no tips included in the box on how to best fill the pouches.  I had to go on their website.  I tried using several spoons, I tried using a pastry bag and tip, I tried using a funnel (I actually went out and bought a funnel just for these) but all ended up in a mess, wasted food, and a frustrated Crunchycake.  The site recommends that you fill a ziploc bag and snip the corner and fill that way.  Well, that's extra work AND it doesn't help my goal of cutting down on garbage.  Also, there were no instructions or info sheet in the box.  Fluke?  Perhaps.  But I want to know if I need to sanitize these and how I should go about doing that.
All in all, these are ok but not great.  I find that I'm not using them as often as I expected.
Update: So these DID leak.  And they're not getting very clean, even when I wash them really well and then put them in the dishwasher.  I threw them out.  Sorry little penguins.