I figure the more I talk about being vegan, the more likely it is that I'll finally take the dive and become a full time (or even a weekday) vegan.  I would say that 70% of my meals are probably vegan.  I thought since I shared 5 quick vegan meals a couple weeks ago, it would be good to share five recipes that I really like.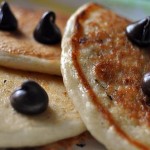 1.  Vegan Pancakes – Super easy, simple and you probably have all the ingredients in your kitchen.  I do half whole wheat flour, half all purpose flour and add blueberries for the kidlets.  Made them this morning and everybody loved them.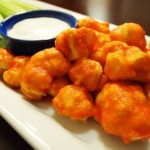 2.  Spicy Buffalo Cauliflower Wings – I don't like cauliflower.  But I like these.  Pretty easy to make.  My only complaint is that the batter's a little thick so I thin it out some.  I use whole wheat flour for these too.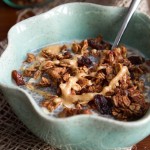 3.  Cinnamon Bun Granola – My first attempt at making granola and it's AHHHHmazing.  The house smells great when I make it and we all scarf it down.  My in-laws even asked for the recipe!  Sweetened with maple syrup and dates, you'd never know this was a vegan recipe.  It's sweet, cinnamon-y, and surprisingly very buttery tasting.
4.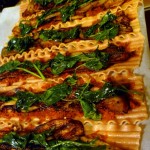 Eggplant Lasagne – The pine nuts in this make it rich and flavorful.  I like using a few spinach leaves in each roll and do yourself a favor and use a good marinara sauce – Ragu or Prego won't do this dish justice.  Frying the eggplant is my least favorite part.  Eating it is my most favorite.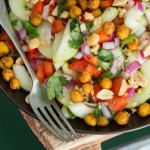 5.  Thai-Inspired Hydrating Salad – This low-cal, low-fuss salad is delicious. I seriously eat the entire salad myself.  It's crunchy and refreshing and the dressing is so simple.  I made this for a party at my mom's house and it was a hit!  I want.  Now.