Worst Christmas  song ever.  But here it is in all its glory:
I thought I'd share some of the fun I've been having this Christmas Season.  Warning: this is starting out kind of hectic but really it's been a wonderful time with my girls…
I took my girls to the mall last week.  I thought my they would like to see the Christmas decorations and I also wanted to get something for my mother-in-law.  It had been a few hours so I decided to first make a pit stop so the little missy could pee.  When we finally maneuver her, me and the stroller with baby in it into the stall, she says she doesn't need to pee.  After asking her three times if she's sure, I sit down because I do need to go.  Of course, right then she says "Mama!  I have to go pee-pee!"  I hadn't started peeing yet but because I'm on my period, some blood must have dripped into the toilet.  I didn't realize it but of course she did. Very loudly, I might add…
What's that?!?!?
Geez…how do I answer this?  Nothing, honey.
Mama, what's that?  What's that red?
Nothing, sweetie.  Just go pee-pee.
My pee-pee is yellow.  Mama, my pee-pee is yellow.  What's that red???
(Checks after I go)  Is your pee-pee yellow???
Of course the restroom is pretty crowded because it's the holiday shopping season so I'm trying to change the subject.  She finally pees and then I sit down and she's squatting down trying to see who's in the next stall.
Who's over there?  Who's going pee-pee?  Why are they going pee-pee?
Oy.  The baby was just looking around, trying to figure out what all the fuss was about.
Earlier that day, we had gone to the doctor's office to check on her cough that just wasn't dying.  It took FOREVER.  Ok maybe not forever but we were there for an hour and twenty minutes.  In this time, she asked "Where's Dr. Pelinka?" at least four times.  Funny part is that Dr. Pelinka is her former doctor from when we lived in Orange County.  She did amazingly well at her appointment though.  She did everything the doctor asked her to but surprised me by telling the doctor that her throat hurt.  She never told me that…Later that day, she said "I had fun at the doctor's office.  Can we go again tomorrow?"  EFF NOOOOOOO.  She got a sticker, and I think that had something to do with it.  Incidentally, we also had the following occur:
Mommy, can you put my sticker in your pocket?  Nooooooo!  Don't fold it!!!!
In case you've never put a sticker in your back pocket, it's kind of a pain to take off.  Especially when your ass is pushing with all its jiggly might against the inside of the pants.
She said she wanted Panda Express at the mall.  So we got some fried rice.  She dutifully shared the peas with her sister.  All was good until I noticed she was scraping her fork along the bench we were sitting on.  Outside.  Then she dipped it back in the rice like it was totally ok.
We've been doing some fun stuff at home and Miss K. has been helping.  She helped decorate the tree: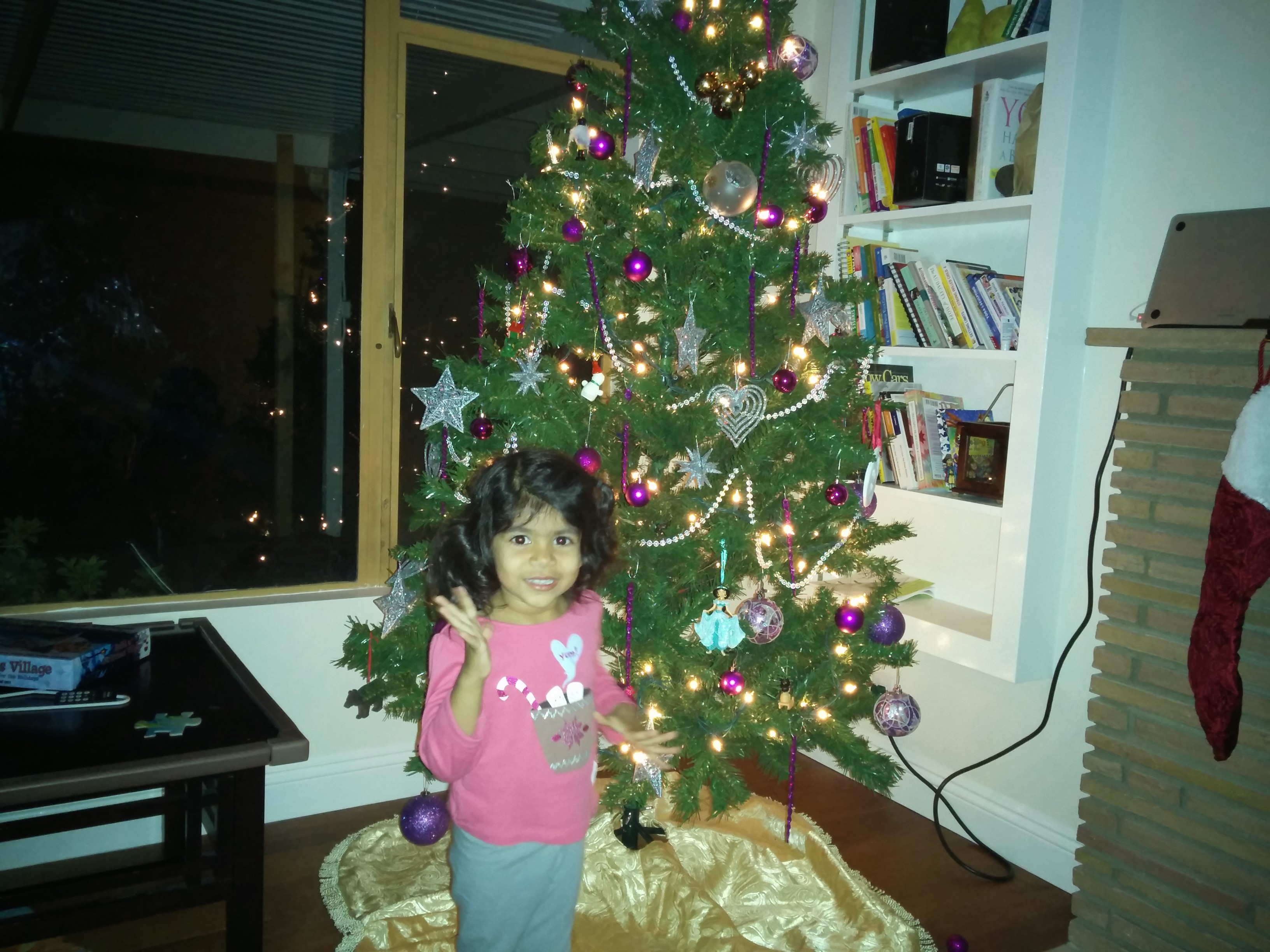 She also helped hang the stockings.  We've made a few houses in a paper Holiday Village.  Super S also seems to be getting into the holiday spirit: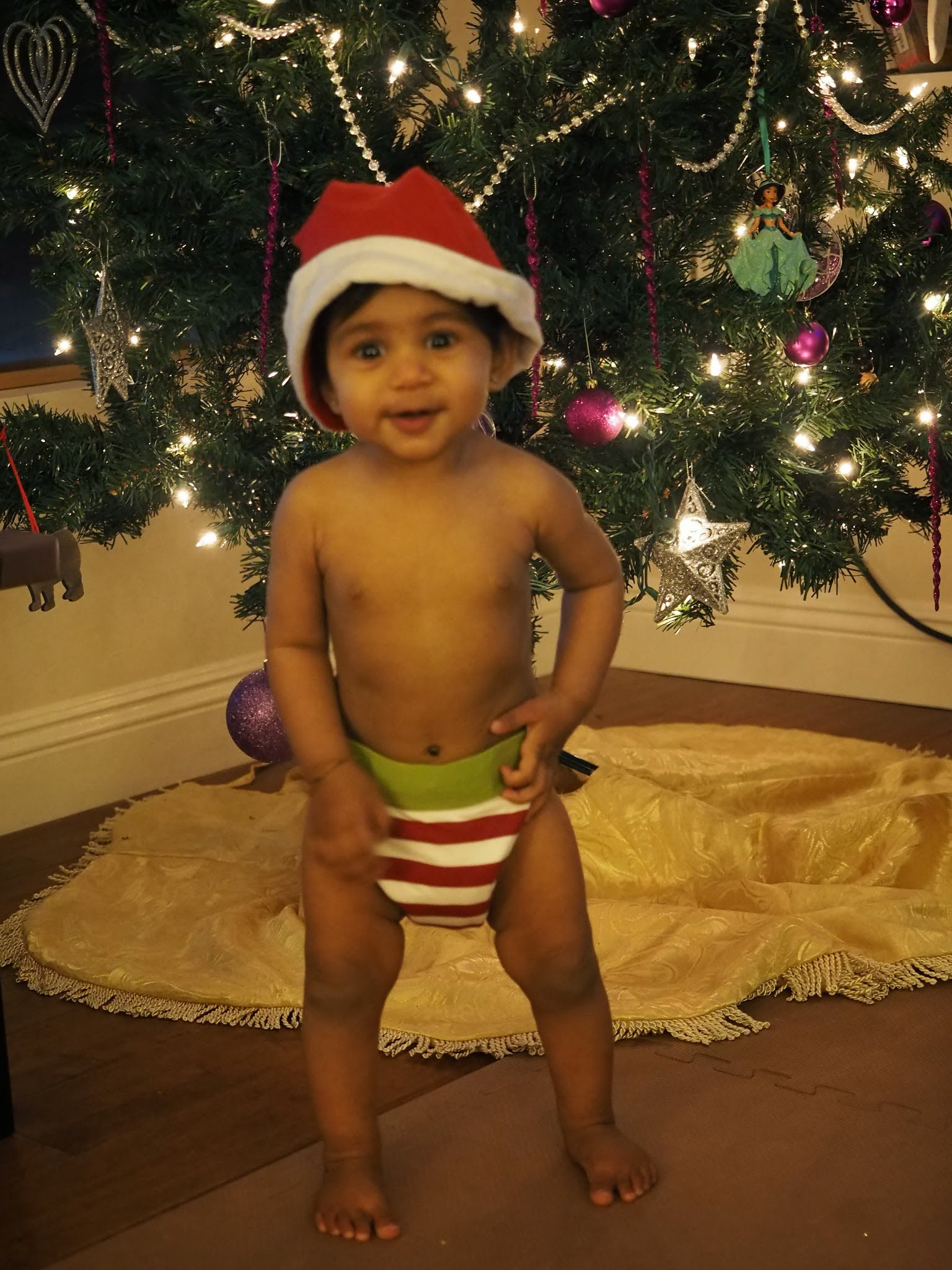 Yep, she's standing (sniff sniff) and almost walking (sniff sniff).  We've been explaining Santa Claus and Christmastime to her but I don't think she quite gets it.  She's been enjoying the music – her favorite song this season is Jimmy Buffet's Ho Ho Ho and a Bottle of Rum (awesome…).
Tonight she helped me make a gingerbread house.  It was my first attempt!  Never did one before!
Last night we went to go take a look at some of the neighbors' Christmas lights.  Miss K loved them!  At one point we just heard her whisper from the back seat "OH MY GOSH."  So sweet!
This really is a wonderful time of the year.  So much to be thankful for and so much to love.  The best part is that we're having a wonderful time and she doesn't even know that there are going to be some presents at the end of all this. Granted, this is probably the last year she won't be expecting stuff but I'm loving that she is feeling the true spirit of the season.