I have a love/hate relationship with Pinterest.  On the one hand, I love how you can mindlessly see what's interesting to other people and I love that you can find pictures of just about anything you want there.  On the other, EFFING PINTEREST!!!!  It's a time suck and it makes me think I am more capable of doing things than I actually am.  And it makes me feel so lame when I see all the amazing things people do with their make-up, hair, kids' birthday parties, homes, dinners, etc. I can't throw parties like that.  i can't cook like that!  I can't DIY a piece of crap dresser into an amazing bed for my hamsters who have ombre hair.  EFFING PINTEREST!
My pinterest failures primarily come in three flavors: food failures, home decor failures, and kid stuff failures.  Today, let's talk a little about my aspirations vs. my reality when it comes to food failures.
Here is my "Recipes to Try" board.  Lots of vegan stuff.  I currently have 124 pins and 19 followers.  Of these 124 pins, I've only actually made 20 recipes.  The most infuriating one?  The one with this picture that claims that you can bake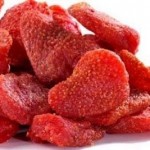 strawberries at 210 degrees for 2 hours and get a treat that tastes better than twizzlers.  BULLSHIT!!! I tried.  All I got was a gooey, smooshy mess that tasted like dried strawberries.  And really??? Am I REALLY going to thinly slice a pineapple and dry it in a cupcake tin and use it to top a cupcake?  No.  Yet I pinned it.  Have I ever made Cranberry sparkling punch for that fantastic holiday party I've been meaning to throw?  Nope to the nope.  Yet I pinned it.  Do I have the patience to make Thanksgiving treats that look like turkeys out of oreos, reese's peanut butter cups, and whoppers?  EFF NO.  Yet I pinned it.  Another utter failure is the multiple quinoa croquette/patties recipes I've found. Typically they end up tasting ok but they never turn into the beautiful patties that are shown.  They look like this: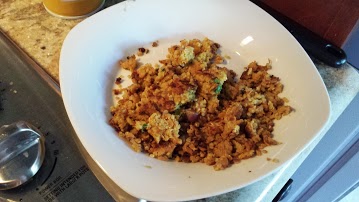 So then i make one humongous "patty" like this: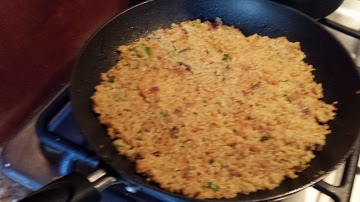 Oops.  Didn't realize how blurry that one was.  you get the picture.
I have, however, found a go-to vegan pancake recipe, a delicious vegan cookie recipe, ways to use polenta, and ideas for quinoa from Pinterest.  So it's not all failures.  But mostly it is.  Last night I tried making a kale noodle dish that looked amazing on pinterest.  The majority of it is currently in our garbage can.  Effing pinterest…
I'm a decent cook.  Not amazing (especially lately) but a decent cook.  The problem with pinterest is not only does it make it seem like all these foods are within my grasp but recipes all seem amazing.  They're not.  I won't take the blame for dinner failures.  I blame effing pinterest.