While driving down Foothill Blvd in La Canada, I noticed a small sign that said "Mayors Discovery Park" so I figured it was for kids and I wanted to take my daughters there.  Of course it took me over two months to actually do it, but I did.  It was lovely!  The entrance gate is topped with all kinds of spoked wheels.  Miss K and I talked about what kind of vehicles they belonged to – cars, bikes, wagons, unicycles…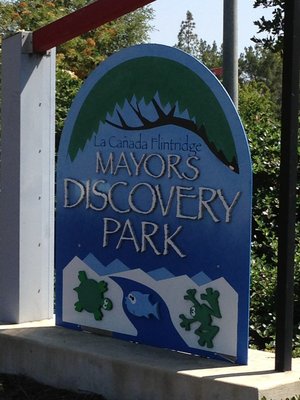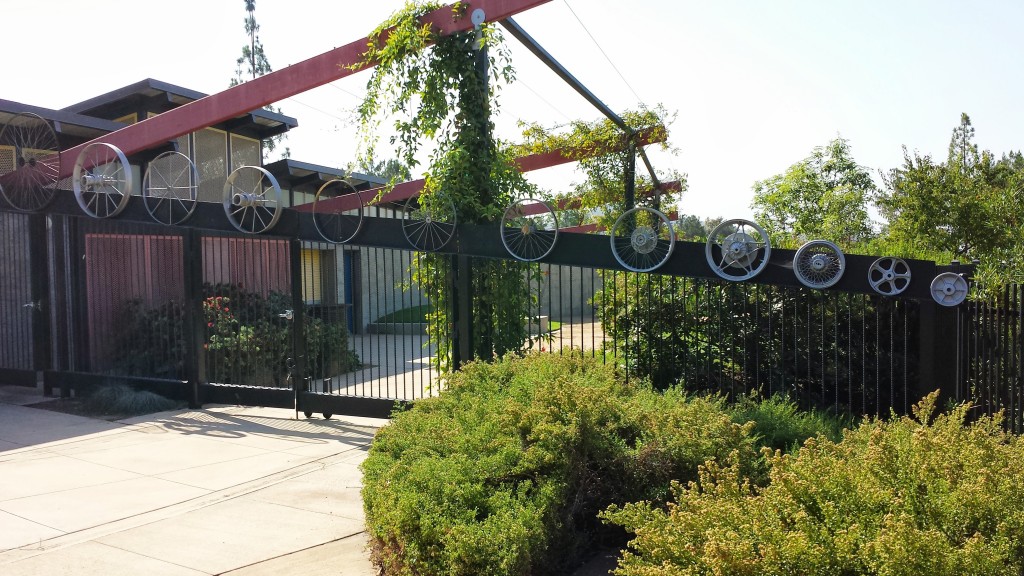 When we first got there, there was only one other car in the parking lot and the park seemed deserted.  We walked up to the first handled gate and noticed that the gate was chained up.  Oh no!  I had wanted to take the girls there.  Then luckily I noticed there was another door off to the far left and it was open.  Yay!  So if you visit, don't be scared off.  Just go ahead.
Inside the gate you see the entirety of the park – it's a beautiful little space: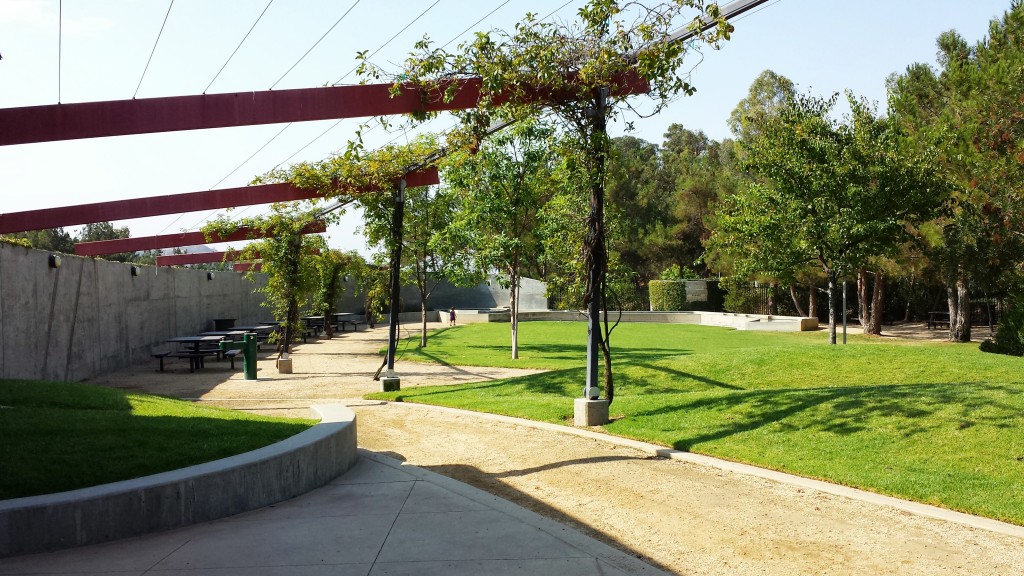 There are a good number of tables, relatively clean restrooms (although no soap or soap dispensers – why???), a water feature for kids, a sand area with a buried bridge that can be unearthed, a grassy area and a nice tree-covered area.  Really simple but quite nice.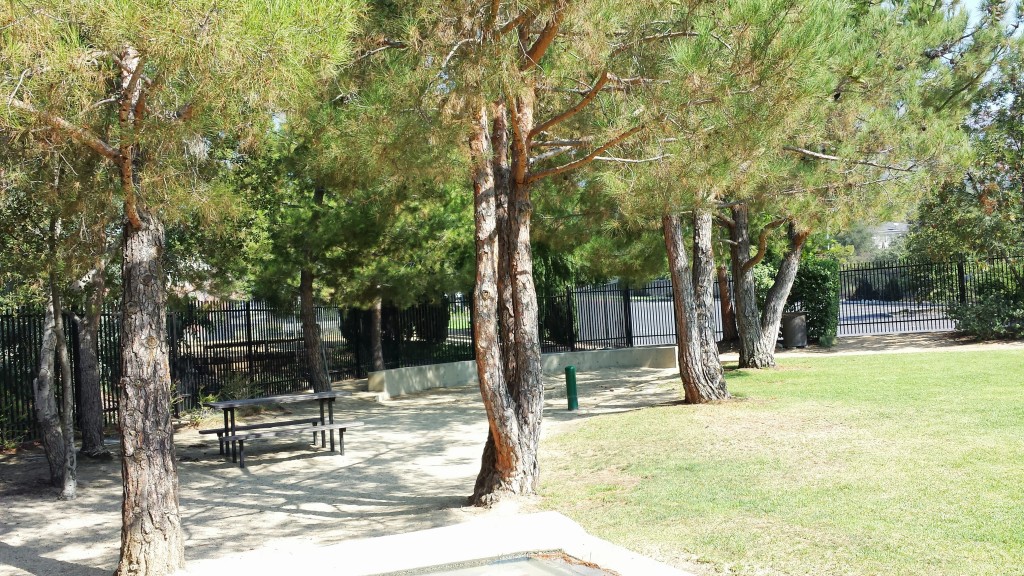 Miss K. was instantly interested in the water feature and took off to explore.  Luckily you can see your child from any point in the park and it's enclosed so it's quite safe.  And since there was no one there, I didn't have any worries.  She stuck her hands in right away.  Unfortunately she was wearing a long sleeved dress so she was all wet but didn't mind.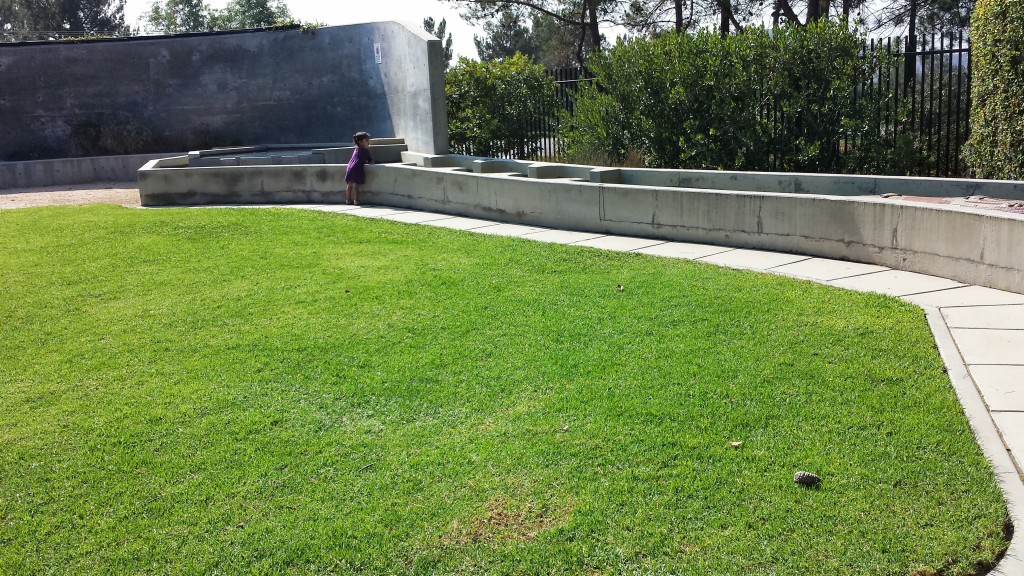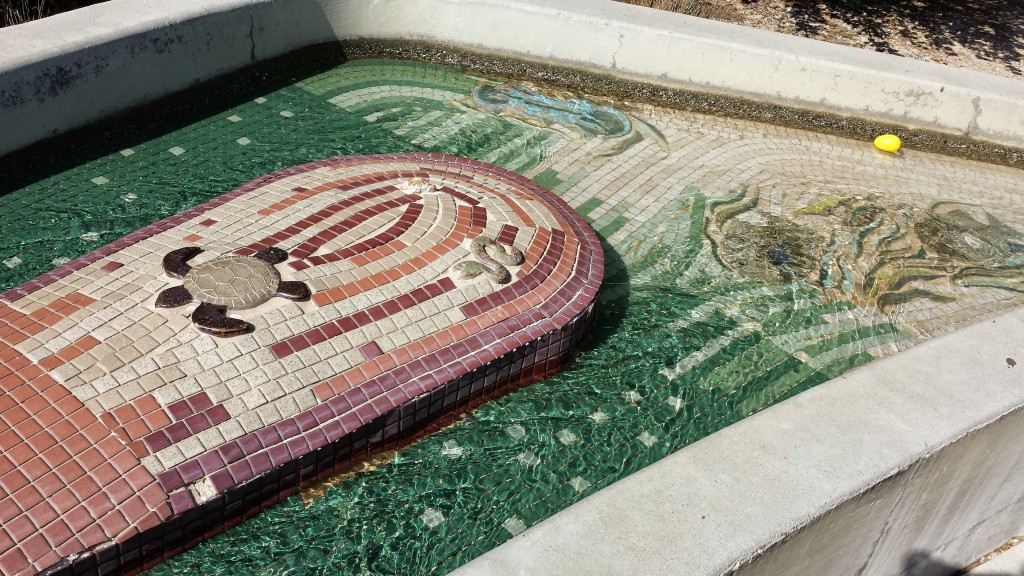 The water feature is decorated with tiled ocean life.  Everything from fish to turtles to octopuses (octopi?) to snakes.  If you're a toddler, lots of interesting things to look at and talk about.  At first there wasn't a whole lot of water in the feature.  I was a little disappointed because I had brought a couple plastic eggs to serve as boats.  I thought she'd enjoy racing them.  I needed to use the restroom and when we came back, I noticed there was a whole lot more water!  So I don't know if the water is on a timer, or if something wasn't working right the day we went or if my using the restroom signaled something to start the water, but the rushing water made it much more interesting.  We dropped our egg boats in and watched them go!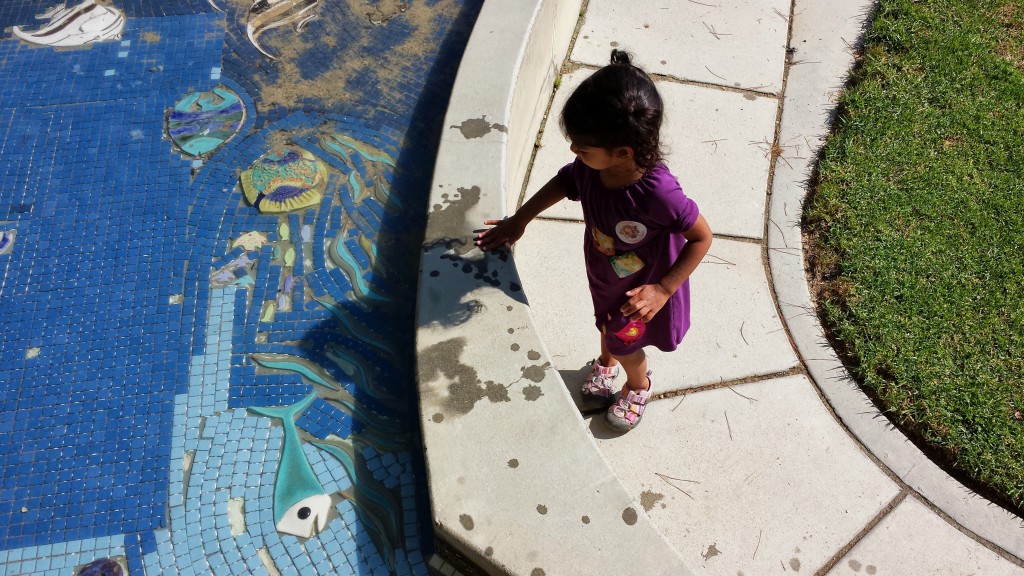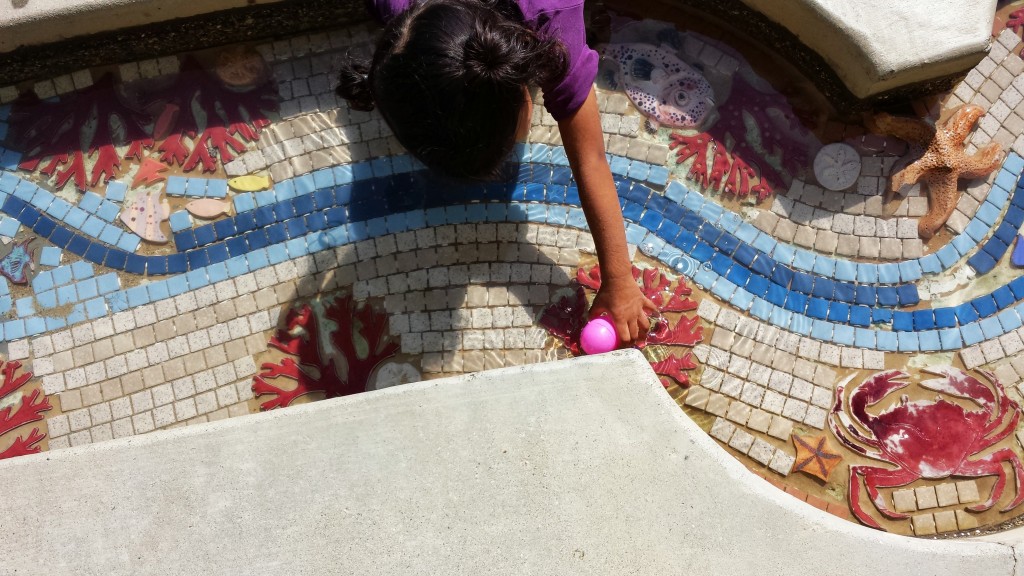 She was pink and I was yellow until towards the end when I "accidentally" switched colors with her.  She won!  I took her to the restroom and noticed there was a hand dryer in there instead of towels.  Miss K is usually not comfortable with them but for some reason didn't mind this one.  I took her dress off and used it to dry the dress some since I still had a couple errands I wanted to run before going home.  Score – who knew the park would also provide an opportunity to get over a fear?!?
It was nice.  Next time I'll bring some food with us and maybe a towel.  If I worked in the area, I would definitely opt to eat here.  Miss K told me she liked that park so I'll be bringing her back.  I'm happy to log this one as another happy mini-adventure with my girls.