Until a few months ago, I had never heard the term "Mama Guilt."  When I heard it, I knew instantly what it was because I breathe it every moment of my life, it seems.  Here are a few examples of what my mama guilt is like.  I feel mama guilt because:
I put my little one in Montessori school at a very young age.  She could barely speak and cried often when I took her there and when I picked her up.  It felt so cruel to send her out in the world alone!

I took her out of school because she was getting sick a lot (which is normal) but I was about to give birth to her sister and couldn't afford to keep getting sick after baby #2 was born and also wanted to avoid the little getting sick.  The guilt came because she was really enjoying school and I was starting to see the benefit of her being there.
I put her BACK in school this week.  She's been crying from the time she remembers she's going to school in the morning to the time I drop her off.  I feel so guilty that I hold her hand or rub her leg/foot while driving, even though she's all the way in the back seat.  I sing little bunny foo foo on the way there while fighting back my own tears on the slim chance that it will save a few of hers.  So in case you weren't counting, that's triple guilt for the same issue…school.  The stupid part?  She likes it.  She says she likes it and is in a happy mood when I pick her up.  And yet, guilt.
My younger one doesn't get the same kind of attention/mind space that the older one did when she was little.  My only solace is that I don't doubt that she's getting the same love.
I sometimes (too often) feed my daughter junky food.  And sometimes she eats it in the car.
I'm only able to stick to the little one's bedtime routine a couple days a week.  She deserves a massage and a story at the end of the day.  But sometimes I'm just in a race to get her down for the night before she becomes overtired.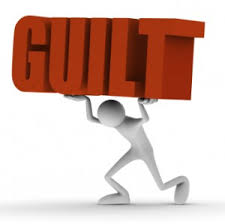 Sigh.  It's stifling sometimes.  You just want to do right by your kids.  But it's hard.  The Mama Guilt eats at you.  From what I can tell, this is just a drop in the bucket in the long road of parenting.  So I better toughen up!
I think the guilt is ok as long as I can be productive with it, rather than being paralyzed by it.   I think in some f'ed up way, it helps me.  It reminds me that my kids are absolutely worth trying to do better.  It motivates me get up and try again the next morning, even if the prior day was a complete failure.  I do have to remind myself to stop and look at what's going well and what I can be proud of.  I know we must be doing something right because I am so incredibly proud of our two girls.  They are healthy and happy and while I can't take all the credit for that, I do think that I'm helping them feel secure in their lives.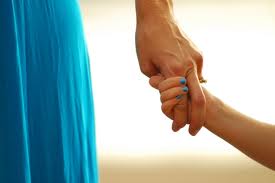 So I'll take that guilt.  And just watch.  I'll kick it in the nuts, fix what's wrong and brace myself for the next guilt laden challenge.