I am a lucky ducky…for a lot of reasons.  One reason is because my husband was able to take FIVE WEEKS off for paternity leave when we had our second little bub.  This made a huge difference because I really think it helped Miss K. feel secure among all the changes that our family went through.  And he was fantastic with her.  He's probably her most favorite person in the world (and actually, the converse may be true as well).  He made her breakfast, took her to the bathroom, washed her hands, helped give her baths, fed her, and took her all over the place.  The two of them were off on an adventure virtually everyday.  I think it really built up his confidence in his ability to care for our kiddo.  The only regret I have is that his hands were so full with Miss K. that he didn't get the chance to bond with Super S. like he did when Miss K. was a newborn.
Because he loves her so much and he has such a zest for life and because he has such energy to expose her to new experiences, he took her to all kinds of places and I wanted to capture this because I know one day soon we'll forget (hell, I'm already forgetting).
Aquarium of the Pacific – The dynamic duo's first trip was to the Aquarium of the Pacific.  It was a relatively quick trip but Miss K. loved playing on the boat in the kids area and called the huge whales "mama whale and neeni whale."  Awww…
Train Ride – Daddy took Miss K to ride the trains twice, both times from Irvine to San Juan Capistrano.  It's a quick trip with only a couple stops but it's just right for a two-year-old.  The second time her friend, Shane, and his parents joined.  The first time they came home with some delicious cookies.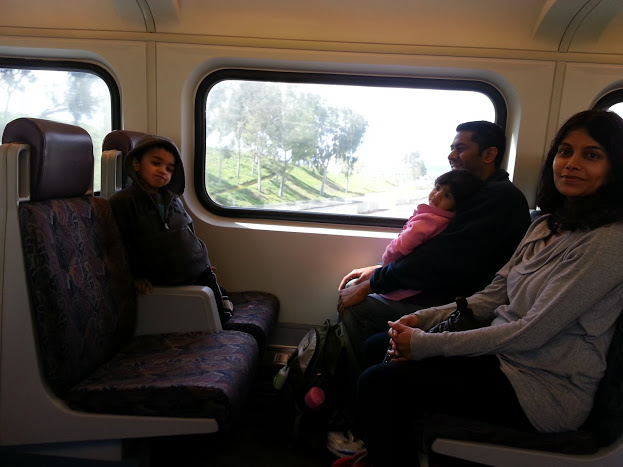 Mt. Baldy – Daddy wanted to show Miss K. what snow was like so they made a quick morning trip to Mt. Baldy.  He picked the right day because the snow couldn't have lasted for long.  The next several days were sunny.  Miss K. came back and reported that she saw snow and snowmen!
San Diego Zoo – We have an annual pass to the incredibly wonderful San Diego Zoo.  So while it may not have been the best thing to do, all four of us trekked down to San Diego and checked out the zoo when Super S was just a few weeks old.  We saw orangutans swinging on ropes, hippos in the water, and took the sky tram across the park.  We were only there for a couple hours but Miss K. loves animals and really enjoyed it.
Library – Daddy also took Miss K to the local library to check out some new books.  Miss k loves books and therefore loves the library.  They got her a library card and picked out a stack of books.  And when it was time to return them, they did it all over again.
Woodbridge lakes to feed the ducks – Miss K. likes to feed the ducks so her dad took her to walk around the lake and feed the birds.  It's crazy how many birds there are and she has no fear!
Parks – These two went to several parks, including William Mason park.  One day we walked around and a lady was kind enough to give us some bread to feed more ducks.  And we saw turtles in the water!  Miss K. kept wanting to visit one of several tot lots.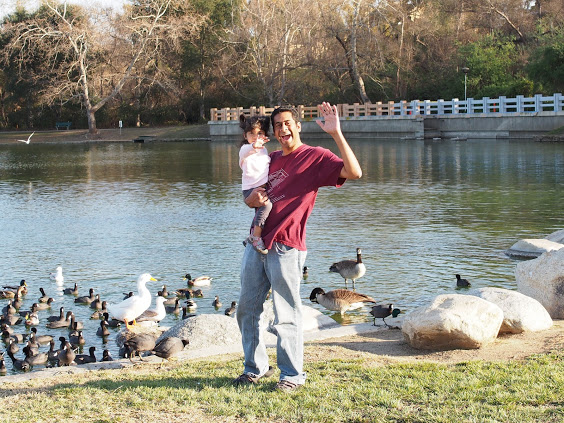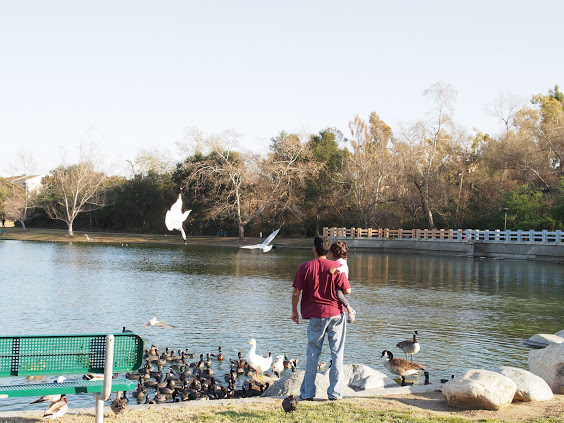 Why does this picture of my bub and her dad make me cry?  Maybe because it so captures their relationship.  He'll always protect her, educate her, hold her up when she needs it (and probably when he doesn't), stand next to her…I'm so glad they have each other.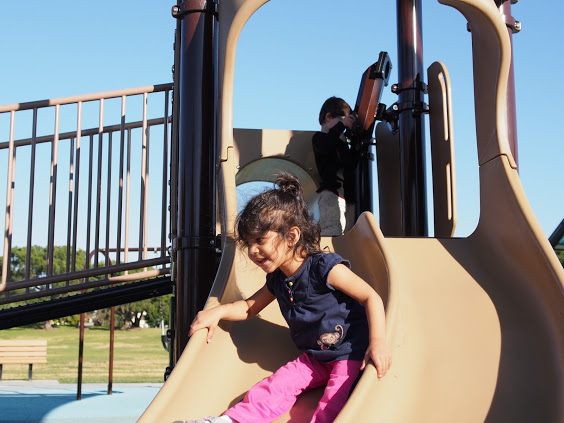 Eric Carle's Treasured Stories – In March Miss K went to her first live show at the Segerstrom Center for the Arts.  The show brought to life some of Eric Carle's most popular books – Brown Bear Brown Bear, What do You See?,  The Very Hungry Caterpillar, and Papa, Please Get the Moon for Me.  The show lasted an hour and luckily Miss K was able to sit through it all.  She loved it and talked about the how the caterpillar got big and fat.

Pretend City – Miss K, her dad, her cousin, and her aunt all went to Pretend City and had a blast.  They danced, played with fruit and ran amok.  Awesome despite all the germy kids.
Visit to Grandma and Grandpa's House – The biggest and most wonderful adventure the two shared was going to Northern California to visit Miss K's Aaji and Abba.  They took a plane and made it through the whole trip with no potty accidents.  They picked fruit, blew bubbles, sang songs, played with stickers, and took a fun bath with her grandparents.  I think it was wonderful for both Miss K and the grandparents.  It gave them an opportunity to bond without pesky mom around and really, everyone loved it.
I remember once I stopped by my Dad's office without calling him in advance to let him know I was coming.  I walked around his factory looking for him and saw him coming out of a room.  When he saw me, he looked at me as if to say "You came?  You're here?  I'm so glad."  I should add that I was 34 years old and pregnant so it's not like I had that little girl spark.  When we found out we were having a girl, all I wanted was for my husband to feel the love that I knew my dad had for me inside of him and for my baby to have that same sense of security knowing that her dad loves her.  And I just knew Mr. Crunchycake would love our squishies more than anything.  And he does.
My husband really is a wonderful dad and this is very high on the extensive list of reasons why I love him.  All his hard work helped me recover faster and allowed me to ease back into the chaotic life of a mother and it let me bond a little more with our second squish than I would have otherwise.  I'm so glad he made the most of his time off with his girl.