It was a fun Memorial Day Weekend!  Busy, but fun.  On Saturday we went to a nearby mall and walked across the bridge that connects the two portions of the shopping center and wandered around with Miss K. for a while.  The bridge spans a street so there are cars passing underneath it.  She seemed to really enjoy it.  Mr. Crunchycake took her on the merry-go-round and for the first time, she didn't cry!  It even seemed like she wanted to go again after they got off.  Look at those little piggy tails!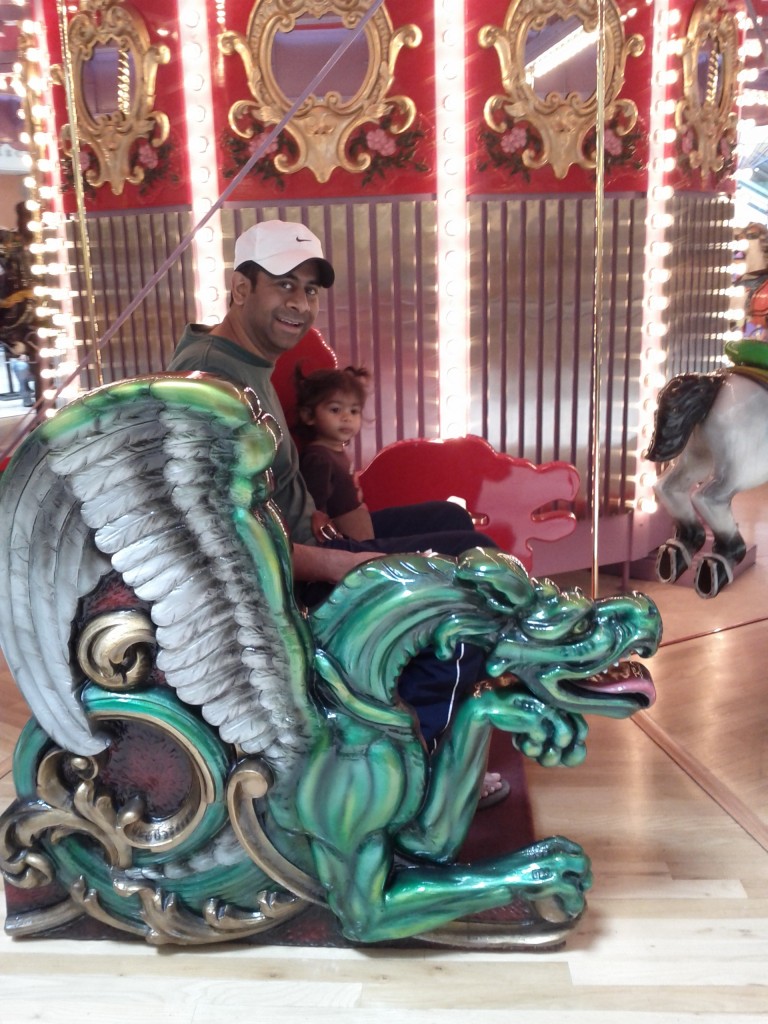 I met some friends for dinner in LA and had a nice meal.  The company was great and it's been a while since I've been to a restaurant like that so it was a refreshing ladies night out.  On Sunday, we took the little one to swim class.  She's so cute in the water.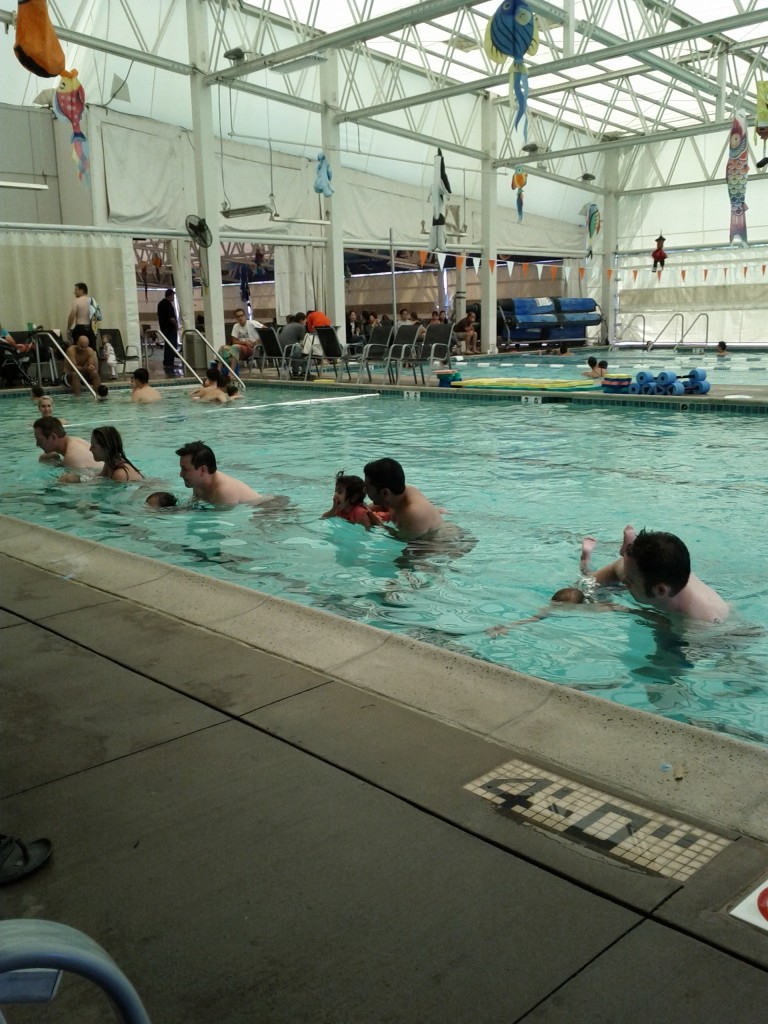 I'll do a post about swim class later this week.  In the evening, we dropped Miss K. off at her grandparents' house and she got spend time with my brother and his family as well.  It sounds like they all had a great time.  We went to my husband's friend's wedding in Pasadena.  It was a lovely ceremony – the weather was beautiful and the couple was lovely too.  There was a super cute flower girl who reminded us of Miss K.  Instead of walking down the aisle, she meandered around on the grass and then instead of dropping flower petals down the aisle, she picked up the ones that the other flower girl was dropping.  It was super cutie.  Anyway, here's a picture of me and Mr. Crunchycake at the wedding reception.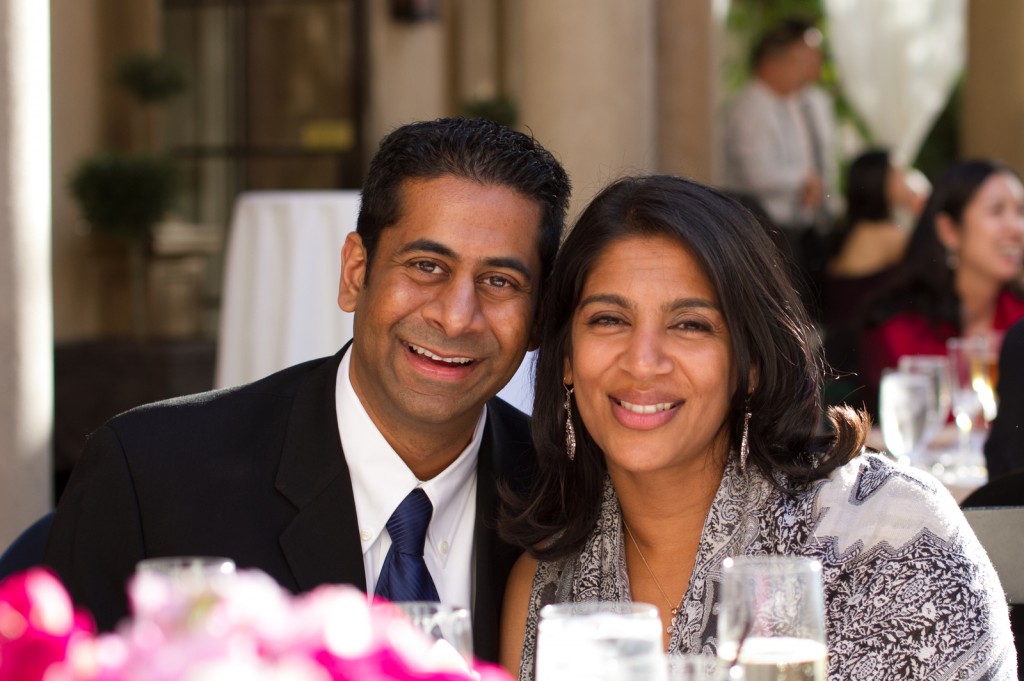 I'm still sometimes surprised at what I look like.  In my mind, I'm still a lot younger than I actually am!  My husband looks great though, doesn't he?
On Monday, we were lucky enough to get to babysit our sweet sweet nephew.  He is such a little ray of sunshine!  He's just six months old and it's so wonderful to see Miss K and him interact.  He now notices her and kept watching her the whole morning and Miss K ran over to his pack n play the second we went inside and kept trying to climb in there with him.  She kept waving and smiling at him and at one point even softly touched his face with her hand.  I think she loves him.  Here's a picture of the two of them together.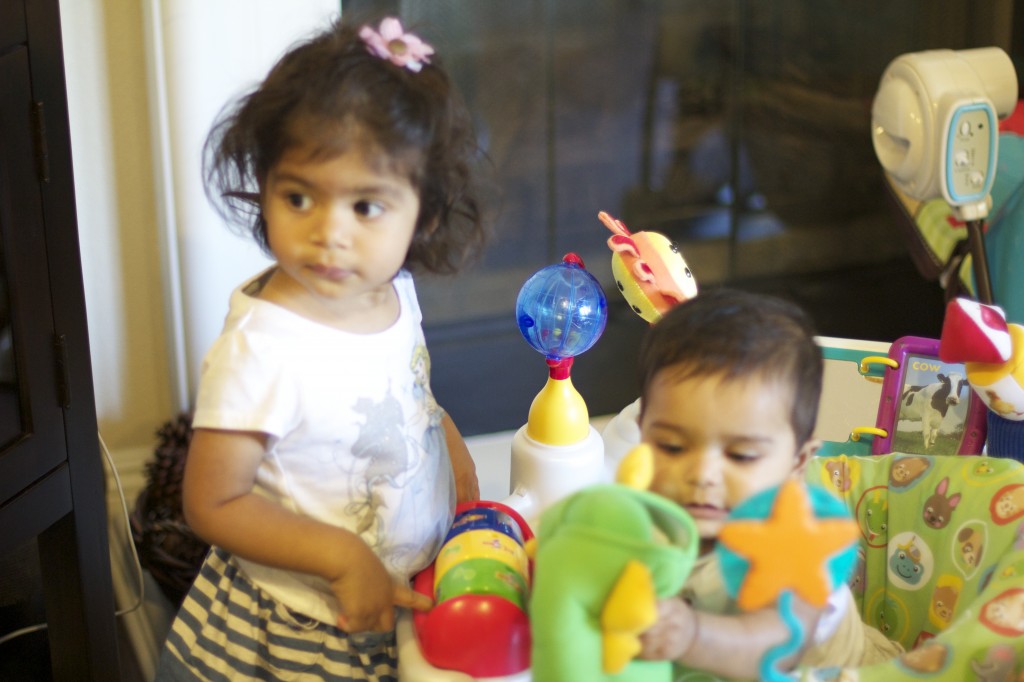 Too.  Much.  Cute.  Mr. Handsome over there just got his first haircut!
Afterwards, they treated us to a delicious Memorial Day barbeque where I ate too much.  Then Miss K. treated us by taking a 2.5 hour nap.  🙂
I know it's late and we didn't do anything elaborate for Memorial Day but I do want to take a moment and thank anyone who's in or was in the armed forces who might read this at some point.  AND thank you to their families, who also sacrifice for our country.   I salute you.  If you haven't seen it, you MUST check out Pioneer Mom's Coming Home album.  She did a photo contest a few years back asking people to send in their pictures of armed forces personnel coming home.  I can't get through even a few pictures without crying.  You see joy, wonder, sorrow, respect, relief, anticipation…it's amazing.  I like the one with the father anxiously holding a teddy bear out to his little one, hoping to win her over…you just know that she doesn't remember her daddy since he's been away.  And the one with the father hugging his son tight.  And the one with the soldier handing a mother a folded flag at her son's funeral…the look of sincerity on his face…And the one with the father holding a newborn – probably the first time he's seen her.  And the one with all the kids eagerly awaiting their soldier's arrival.  And…well, take a look and thank a soldier!