A couple weeks ago, our family went on a cruise to Mexico upon the Disney Wonder and we had a fantastic time!  The cruise left on Sunday from Los Angeles and was seven days long.  We went with several of our friends – there were a total of 24 of us (including eight kiddos)!  It was a blast; our rooms were all lined up in a row so there was always someon we were getting together with or running into.
We got to Los Angeles Port at around 11:00 on Sunday but there was a Coast Guard inspection that delayed our boarding time so we, along with hundreds of others, waited to board the ship.  We stood in line and took pictures with Mickey decked out in his sailing gear: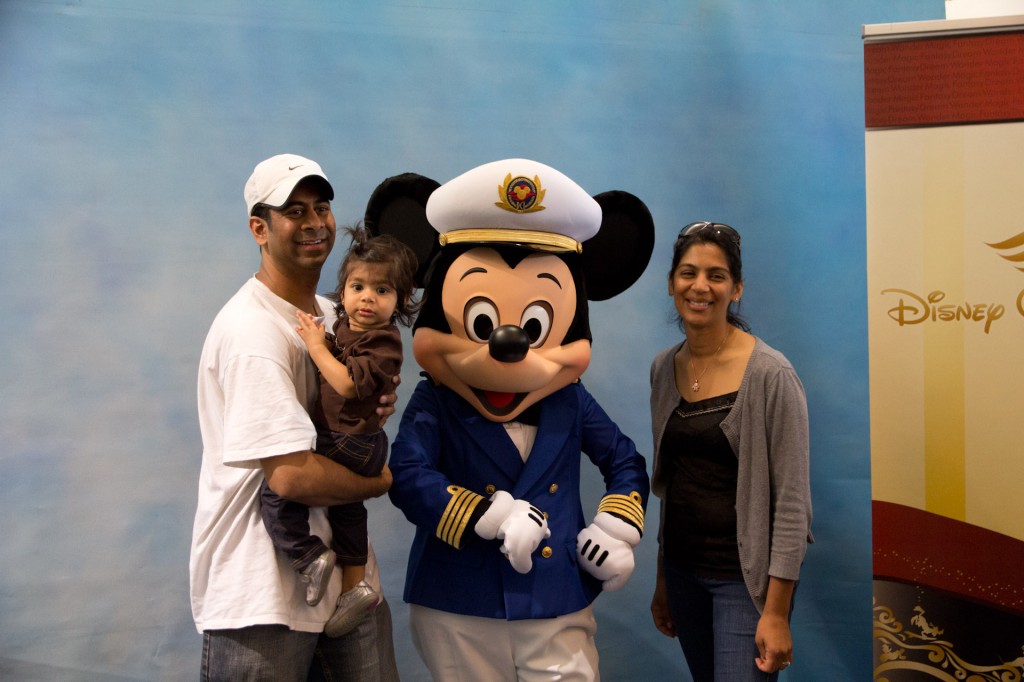 Mickey Mouse is quite the celebrity.  It was cool how you could actually get your pictures taken with the Disney icons, in comparison to what happens when you go to the park.  Because they're so loved, they get mobbed at the park but on the ship, there are only a couple thousand people.  We were able to see/meet Mickey, Minnie, Donald, Daisy (Karina danced with her!), Pluto, Goofy, Belle, and Snow White.  We also saw (from a distance) Peter Pan, Chip and Dale, and Tiana.  It was nice!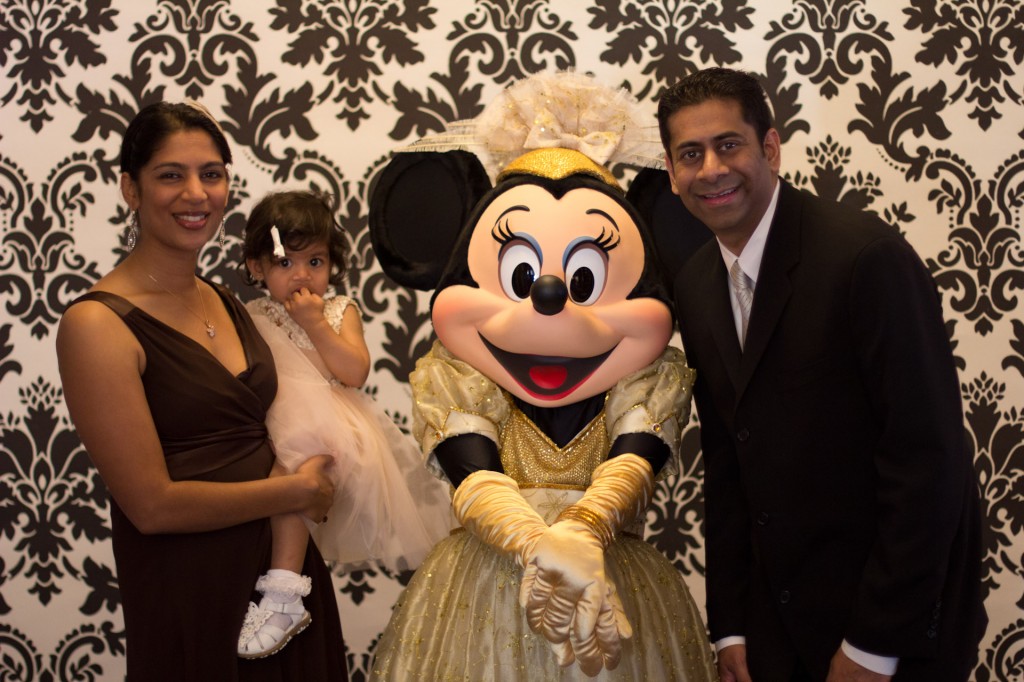 The trip started out with two sea days, including the formal night.  We all got gussied up and had a fancy meal out.  My sister-in-law and her husband graciously watched Karina while we had a nice meal at the upscale restaurant.  There was a lot to do onboard – the kids areas were more extensive than we've seen on other ships – they had at least four kids (no parents) areas for kids of varying ages.  There were also three pools and a splash area for toddlers.  Karina loved the splash zone but since she's not potty trained, she wasn't allowed in the kids or family pools.  They also had an adults only pool.
The rooms themselves were fine.  We liked that there was a curtain separating an area where there was a pack n play for Karina to sleep in from our bed.  That allowed us to put her down for the night and shut the curtain so she didn't see us.  The other thing I liked about the room was that there was a separate toilet and shower room, each with a sink and mirror.  It allowed both hubby and I to use the facilities at the same time.  One of our travel companions had a horrific time with their toilet.  Apparently someone somewhere in our hall had backed up the plumbing and our friends unfortunately ended up with a flooded bathroom twice.  The second time they moved to another room.  What a pain!
I will say that I was impressed with Disney's attention to cleanliness.  Despite the number of children on the ship, I don't recall seeing trash on the floor or even fingerprints on the windows.  It was VERY clean.  And our stateroom attendant did a great job.  It's easy to end up with a mess when you're in such a small space but he kept us clean!
What else?  Disney is magical.  Not only is their attention to detail phenomenal (even the plastic glasses had mickey symbols on them!), but people are happy when at their venues.  I saw so many children with wonderous looks in their eyes, mommas holding and hugging their babies, and Daddies proudly taking pictures of their beautiful families.  It was really nice.  The characters were incredibly friendly and did a great job.  Snow white always stood with her hands just so and even giggled like the Snow White cartoon.  Just amazing.
The only service breakdown that I felt we had was the front desk/guest services staff.  They weren't rude, but they weren't terribly helpful or friendly either.  For example, my husband put in a request several weeks in advance for an extension cord.  We were assured we would have one.  We got to the room and it wasn't there.  So he went down to ask for one and was told "you should have requested one in advance."  Uhh…we did.  And then he asked where to plug it in (we moved the bed and looked for an outlet and there wasn't one.  The response was "there's nothing magical about this extension cord."  Otherwise the staff we encountered was great, always acknowledging our baby, trying to make her smile, and calling her princess.
All in all, we liked the boat!  Tomorrow I'll talk about the food and then will follow that up with a post about the ports.