Earlier this week, baby girl and I went with some folks in our local MOMS club chapter to take a tour of the Waste Management facility in our area.  Sounds weird, right?  Well, I thought it would be interesting to understand what happens to our waste once it leaves the house and honestly, I had a bunch of questions to ask about recycling.  So I decided Miss K and I would go too.
It was quite interesting and at times a little gross but all in all, not as bad as I thought it would be.  We started by getting everyone in a safety vest and some of us in hard hats.  The vests were a little silly for the kids because they were adult sized and of course all the kids were three and under and pint sized.  Here's a blurry shot of Miss K. in her vest.  She wouldn't sit still.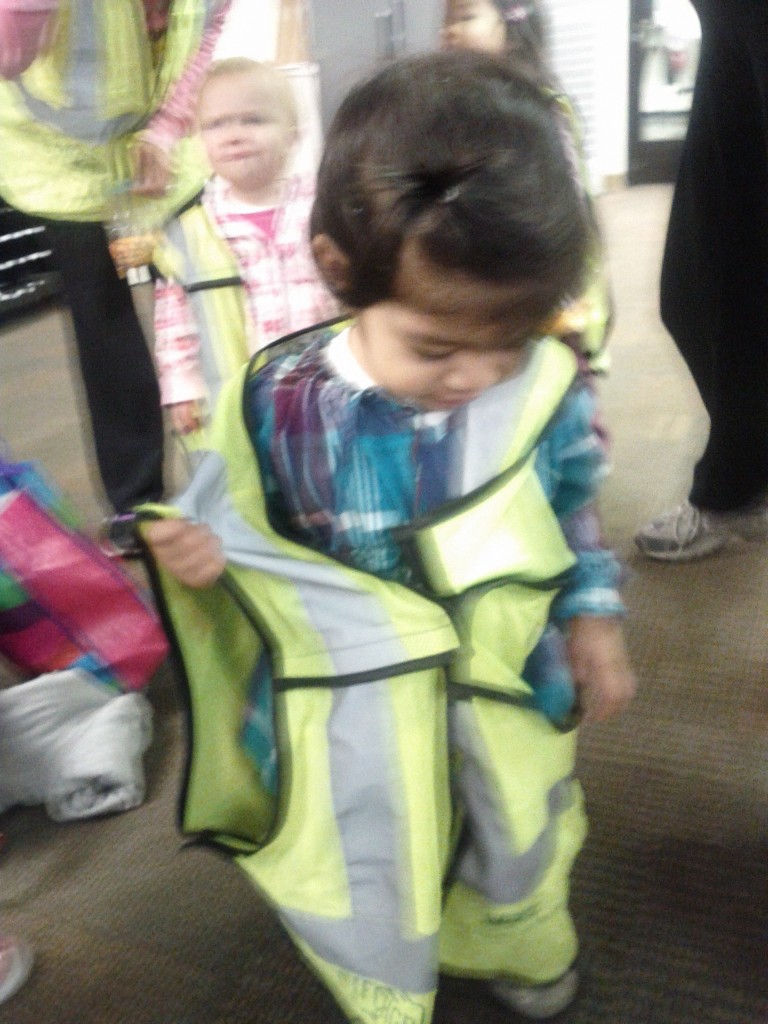 Then we went across the street to see their transfer facility.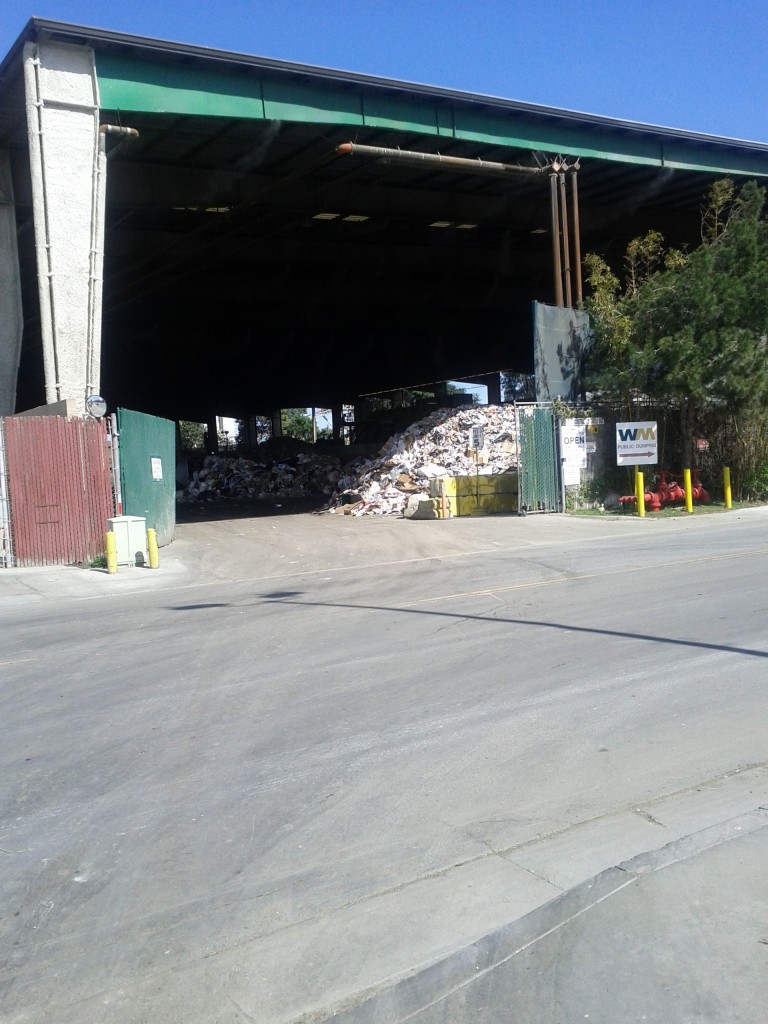 The transfer facility is where Waste Management temporarily stores trash before it goes on to the county dump.  It is also where the recycling is sorted and packed up.  Basically once a garbage truck is full, it brings its trash here and dumps its contents out into this big space and returns to the route.  Big bulldozers push the nasty trash onto large eighteen wheelers that haul that trash to the county dump (also located in our fair city).  The trucks bring them here rather than to the dump out of convenience, because it's faster than taking the trash to the dump, or because they need to stop at the station for servicing or whatever reason.  All trash must be moved out of the transfer facility within 48 hours.  They have misting machines in the roof of the facility that periodically sprays odor reducers over the trash.  We were lucky.  The trash wasn't overwhelmingly smelly like you would expect.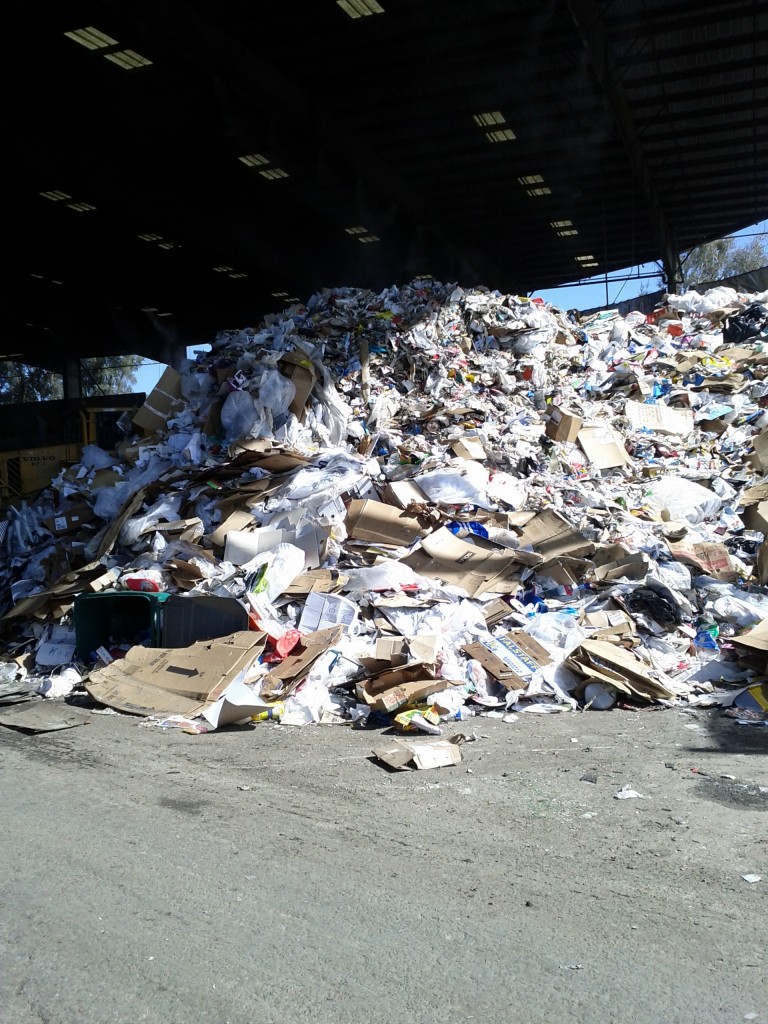 The pile above is a pile of recyclables.  Recycling trucks also dump their contents in this facility (into another pile).  Humans pre-sort the recyclables, mostly looking for stuff that clearly doesn't belong.  Waste Management uses optical recognition machinery to sort the recyclables further into paper, cardboard, metals, glass, and plastics.  Once sorted, the items are bundled up and sold.  For example, all the cardboard boxes are baled up into huge bundles and are then loaded onto eighteen wheelers.  The container on the eighteen wheeler is driven to San Pedro and then put on a cargo ship and taken to China.  I thought it was so interesting that it is more cost effective to ship these boxes all the way to China and recycle them then it is to make new boxes.  But I am thankful for it (and it does makes sense) because that means they're not plowing down more trees.  Apparently the glass, plastic, etc. is also sold off for recycling.  Waste Management makes money on that and is able to offer recycling services to the residents of Irvine, and we're keeping crap out of the landfills.  Win-win.
I learned a lot about recycling here.  I learned that you can recycle pretty much any paper that rips.  All plastics are recyclable AND you don't have to rinse out the stuff you recycle.  It just has to be empty.  So I don't need to rinse the old sour cream container that's past its due date but I do need to empty its content in the trash first.  Sweet.  All tetrapack packaging is recyclable – there was no symbol on it so I wasn't sure.  These are the packs that you get soy milk or broth in.  Almost everything is recyclable.  So I'm going to recycle even more!  Basically, no food waste or human waste is allowed in the recycling.
I also learned about the landfills in our area.  Prior to the tour, I didn't understand that Waste Management is just an independent company that partners with the County of Orange.  They're responsible for moving the trash but the landfill itself is owned and operated by the county.  The landfill in Irvine is the largest in Orange County and is filling up.  It is expected to be full by 2054.  This estimate was even sooner but recycling efforts have helped to slow down the filling up of the landfill.  After that, there will be no more landfills in Orange County.  Yikes.  Recycle!  Bags in our area are not shredded so I do think that buying biodegradable bags is a good idea out here.  Because otherwise the contents of the bag (even if they are biodegradable, will need to find its way out of the bag before it can biodegrade.  Here's a bulldozer moving trash.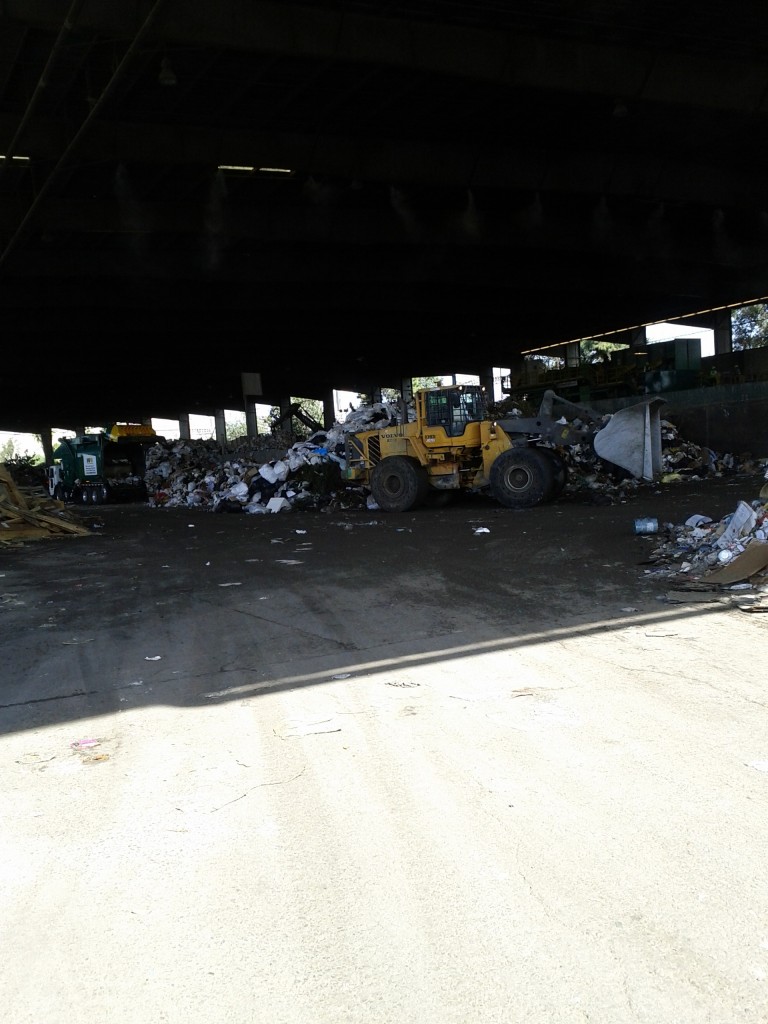 We also got to check out a trash truck.  Learned a lot about those, too.  Each trash truck weighs 17 tons and costs $335,000.  WM tries to keep them in commission for at least 10 years.  They are now switching from diesel fueled trucks to natural gas powered trucks (woohoo-less emissions ftw!) moving forward.  Each truck can hold up to 10 tons of waste.  So let's think about that – these trucks weigh up to 27 tons…my advice for you:  Don't cut off a trash truck.  He will not be able to stop and you will not win.  Our local WM has 192 routes and 200+ drivers and trucks.  Each truck can hold between 800-1000 homes' trash.  Basically the trucks go out on their routes and pick up as much trash as they can, dump it at the transfer facility and then head back out to finish their route.  Trucks are washed every Sunday and must be emptied before they can be parked at night.  Here's a picture of our cute little friend in a garbage truck.  He was a pro in there with the horn!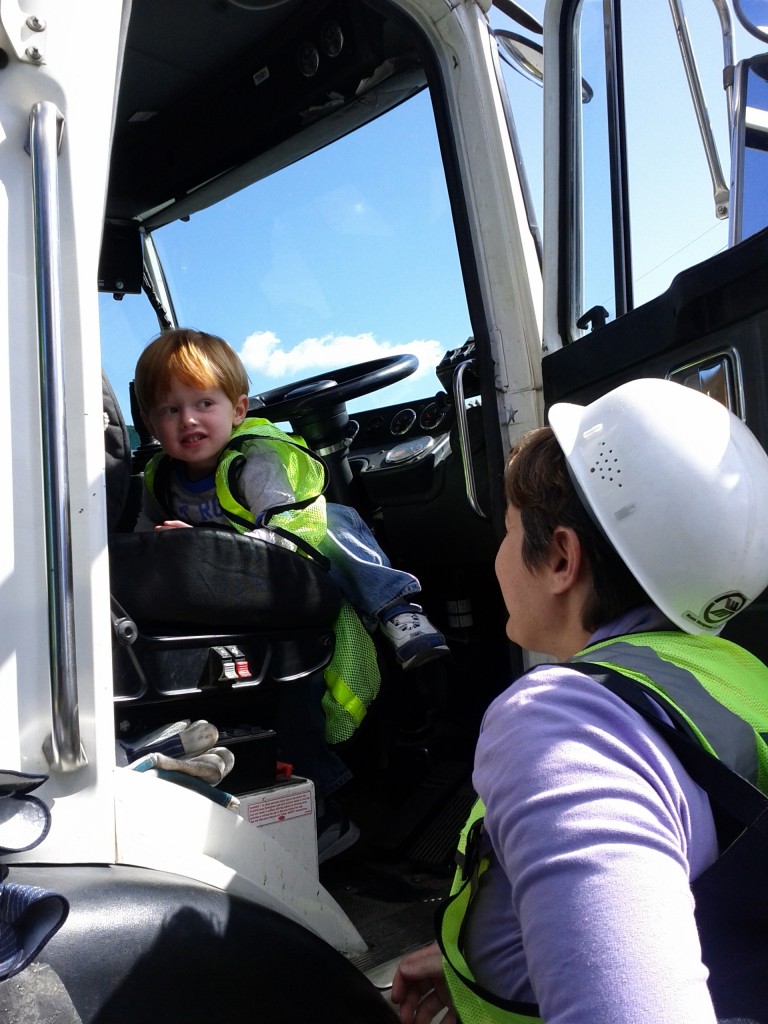 Interesting, right?  It renewed my desire to recycle.  It also made me want to look further into composting at home.  I would love to cut our trash down even further.  Right now, we typically have more recyclables than trash but now that I know how easy it is to recycle, I'm going to do even more.  This tour also made me thankful that we cloth diaper.  We produce so much less waste as a result.  I was surprised at how much obviously recyclable goods were being dumped out in the trash.  So many boxes and paper that could easily be recycled.  We can all do better.  Anyhoo, as weird as it sounds, consider going and taking a tour of your local facility – it's really interesting!