We've had a good run of eating at home, the last couple weeks, I'm proud to say.  Last week we ate at home every weeknight (only went out on the weekends) and the week before, I cooked six days in a row!  Yay for us!  The plan is to keep up the trend by keeping things simple in the kitchen but trying some new things.
Sunday:  Fideua is a Spanish dish that was vegan and actually pretty good, if I do say so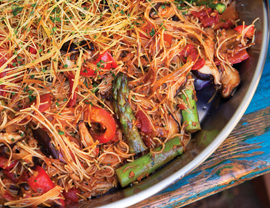 myself.  It's made with soy chorizo, onions, angel hair pasta, tomato sauce and mushrooms.  I halved the recipe that served eight but we ate it all up.  Maybe it's not supposed to be a main dish but we'll be treating it that way.  Yum.  Adding it to the ol' rotation.  Here's what it looks like.  Que bonito, no?
Monday:  Quinoa Khichadi.  Made this a few weeks ago and I'm going to give it another try to see if I can fix some of the imperfections.  I'd like to try to make one indian dish for dinner each week.  I feel like I need to learn how to cook that kind of food in case our folks need me to.  I technically know how but I have no confidence and haven't regularly been around indian food in 10 years.  So it's time.
Tuesday:  Hubby will likely have a work event to attend so baby and I will figure something out on our own.  If we don't have leftovers, I'll do something quick and easy.  Timing will work out well because I'm actually going to be making an extra meal for one of the Moms in my MOMS club who just had a baby a few weeks ago.  It's an awesome way that moms help one another out, because it's not easy dealing with food stuff when you just had a baby.  Although I saw this mom last week and she had her stuff together.  She looked great!
Wednesday:  Pizza and Salad (and maybe some asparagus I need to use up)
Thursday:    Soup and Sandwiches.  I know it's crazy but my husband keeps telling me how much he likes it so it's a quick go-to that is easy on the waist, the wallet, and the effort scale!
Friday:  Black beans and Rice – my husband and I were talking about food he likes and he's a simple guy.  Just wants some basic foods and this is one that he requested.  I am going to buy some dried black beans and soak them.  Also have some soy chorizo left over from the Fideua that I'd like to use up.  Win-win!
Saturday:    Maybe we'll go out and I'll take a break from cooking
What's on the menu for your family this week?