Oh quinoa, you have ascended to lofty nutritional heights in my mind.  Quinoa (pronounced keen-wa) is a grain (I've also read that it's a seed so I dunno) that has been gaining popularity over the last ten years.  It has an incredible protein composition – it contains ALL nine essential amino acids.  It's the only plant based food to provide that.  It will give you stamina and provide protein that you would otherwise only find in meats.  Additionally its glycemic load is low, which means it's less likely to cause a sugar spike like some of the foods it's often subbed for – rice, pasta, couscous.  We like it and I have had several conversations with people that start out something like this: "I bought some quinoa but I have no idea what to do with it."  So I thought I'd share some recipes that I've made and enjoyed.  Oh ya, and I don't usually take pictures of the food I make so the pictures I've included are ones that I pulled off the intarwebz.  Bon appetite!
Quinoa Bowls – this is a staple for sure at our house.  Think Chipotle burrito bowl but with quinoa.  I usually have the ingredients on hand and it cooks up quick so we like it.
Ingredients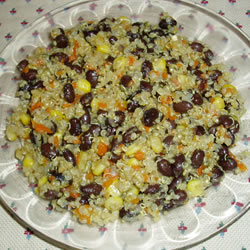 1 teaspoon vegetable oil
1 onion, chopped
3 cloves garlic, peeled and chopped
3/4 cup uncooked quinoa
1 1/2 cups vegetable broth
1 teaspoon ground cumin
1/4 teaspoon cayenne pepper
2 Tbsp green chiles
salt and pepper to taste
1/4 cup salsa
1 cup frozen corn kernels
2 (15 ounce) cans black beans, rinsed and drained  (OR rehydrated dried beans!!!!)
1/2 cup chopped fresh cilantro
Avocado (optional)
Shredded cheddar cheese (optional)
Heat the oil in a medium saucepan over medium heat. Stir in the onion and garlic, and saute until lightly browned.
Mix quinoa into the saucepan and cover with vegetable broth. Season with cumin, cayenne pepper, salt, and pepper. Add green chile.  Bring the mixture to a boil. Cover, reduce heat, and simmer 20 minutes,
Stir frozen corn and salsa into the saucepan, and continue to simmer about 5 minutes until heated through. Mix in the black beans and cilantro.
Top with avocados and shredded cheddar cheese
Cheesy Broccoli Quinoa –  I made this recipe up so you might need to play with it a few times to get it exactly the way you want it.  I kinda wing it.

Ingredients:
2 cups COOKED quinoa (usually is yielded from 1 cup uncooked quinoa)
1 cup broccoli, chopped into small trees
2 tsp olive oil
1/2 medium onion, chopped
2 Tablespoons butter
2 tbsp flour
3/4 cup milk
1 cup shredded cheddar cheese
1/2 tsp salt
1/2 tsp pepper
Heat olive oil in a small frying pan over medium heat and saute onion until soft.
Add broccoli and saute until softened.  Remove from heat.
Melt the butter in a saucepan. Whisk in the flour and cook, whisking for 5 minutes until fragrant and light brown in color.
Whisk in the milk and bring to a boil. Whisk until smooth and thickened.
Remove from heat and stir in the shredded cheddar cheese until melted. Add the salt and pepper to the cheese sauce.
Combine cheese sauce with quinoa and veggies.  Top with additional cheese for extra cheesability.  🙂
Quinoa Burgers –  Got this one from a blog called Eating Well Living Thin.  Made this on Valentine's Day with the intention of forming the patties into hearts for my man and my bebe.  It did not work out that way so we had plain ol' round patties.  OH. SO. GOOD.  Definitely a keeper.  This makes a hefty portion – 10 burgers at least.  Seriously, REALLY good.  Surprisingly so.  I modified the ingredients a bit:
Ingredients:
3/4 cup shredded cheddar cheese (or other variety, if you prefer)
1/2 cup low-fat cottage cheese
1/2 medium carrot, finely grated
1 cup shredded zucchini, squeezed
3 eggs
3 tablespoons all purpose flour
2 green onions, including white parts
1/2 teaspoon sugar
1/4 teaspoon black pepper
1/2 teaspoon ground cumin
1/4 teaspoon salt
1/4 teaspoon garlic powder
Olive oil for frying
In a large bowl combine the cooked quinoa, cheddar cheese, cottage cheese, carrot, zucchini, eggs, flour, green onions, Sugar, pepper, cumin, salt, and garlic powder.
Heat a frying pan and a couple teaspoons olive oil over medium-low heat.
Mixture will be slightly sticky, so using a 1/4 cup measuring cup, drop mixture into pan and lightly flatten to 1/2 inch thick.
Fry until golden-brown, about 4 minutes on each side.
Quinoa Khichadi:  My mother-in-law makes a DELICIOUS sabu dhana kichadi.  I thought I would try to make it a little healthier by using quinoa instead of the food coma inducing tapioca (Or at least I think that's what sabu dhana is).  For those of you not familiar, kichadi is a mishmash dish that typically has a grain and a bean.  Her version uses peanuts and is awesome.  Mine's not as awesome but it ain't bad.  It can be as spicy as you want it.  This is another recipe that I didn't do a great job measuring; I just made it.  If you know how to make indian food, don't use these measurements, use your gut.  If you don't, this should serve as a decent guideline.

Ingredients:
2 cups COOKED quinoa
2 small potatoes, cubed into small chunks
2 TBSP olive oil
1/2 green chili of some sort
1/2 cup roasted, salted peanuts, ground into a fine powder (reserve 2 TBSP for yogurt chutney below)
1/2 tsp red chili powder (the indian kind, not the kind you put in chili with beans and beef and tomoatoes)
1/2 tsp ground coriander
1/2 tsp salt
Yogurt chutney:
1/2 cup plain yogurt
1/8 tsp salt
1/8 tsp chili powder (again, the indian kind)
2 rounded TBSP ground peanuts
pinch of sugar
Warm olive oil over medium heat in a large skillet.  Add potatoes and saute, stirring frequently until soft.  (After cooking for about five minutes, I actually put a lid on it and added some water to help the potatoes along)
Add green chili and saute briefly, about 1 minute.
Add quinoa, spices, and peanuts and continue to stir until heated through.  Remove from heat.
Combine ingredients of yogurt chutney in a medium bowl.  Adjust salt, sugar, and chili powder to suit your taste.
Serve bowls of khichadi, stirring the desired amount of chutney in for each person.
Hope these come in handy for you!  I was at a loss after buying a four pound bag from costco so I started looking for recipes.  There's all kinds of good stuff out there to make and if you're a vegetarian especially, quinoa is a great addition to your diet to help you get those amino acids.