For baby's party last week, I made ladybug pretzels.  For the most part, I was happy with the way they turned out.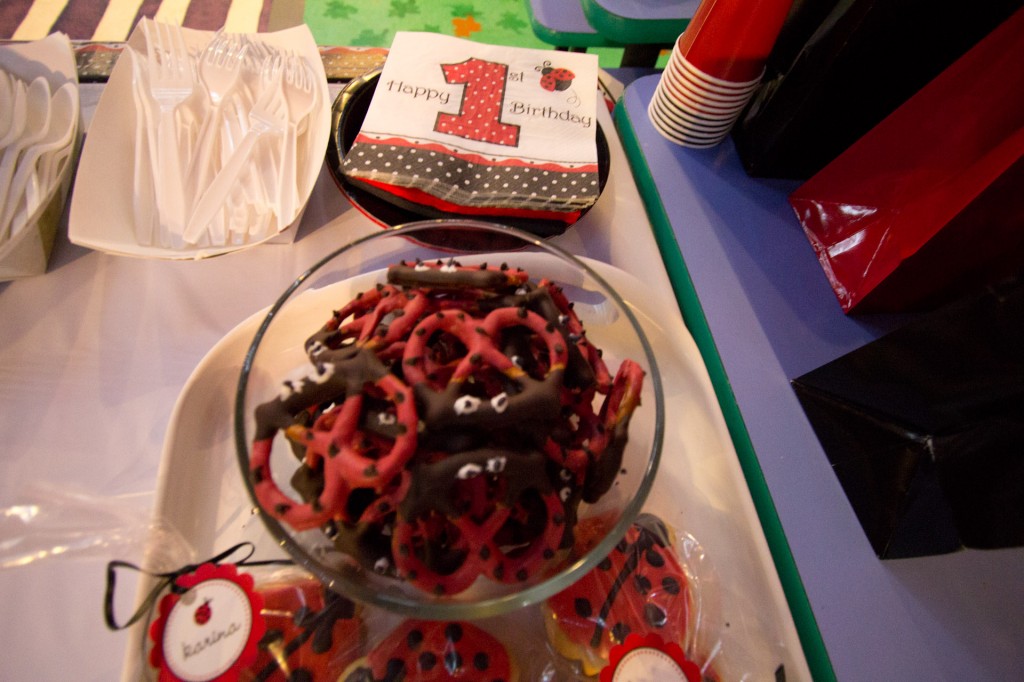 I got the idea from a few posts I saw online but all of the folks who did them seemed to be the type who find this sort of thing easy.  I ain't one of those people.  I wish I was though.  Wop wop wop.
In case there are others out there who are like me, I thought I'd do a tutorial post on how to make these ladybug pretzels or "Ladybug Pretzels for Dummies."  🙂  I'm going to try to include what the others don't tell you!
What you'll need:
Large bag of thin style pretzels
Red colored candy melts (I bought a small bag made by Wilton from Michaels)
Chocolate Chips
Two bowls
Parchment paper
Cookie Sheet (if you want to use the refrigerator to speed up the cooling time)
White frosting (optional)
#2 or #3 decorating tip and piping bag OR zipper bag
I bought a 1 pound bag of pretzels, thinking it would be plenty.  Believe it or not, it only yielded about 35 ladybugs.  Why?  Well first, so many in the bag are broken.  Next, so many of them are deformed.  And I even looked for a bag that didn't seem so broken up.  I also bought a good brand, thinking that would minimize the number of misshapen pretzels.  Not so. Third, I um…broke a whole bunch of them.
Step 1: sort through the pretzels and pull out all the ones you can use.  I actually made three piles – one for broken piece rejects, one that had definite first stringers and one pile of maybes (you can call these sloppy seconds if you'd like).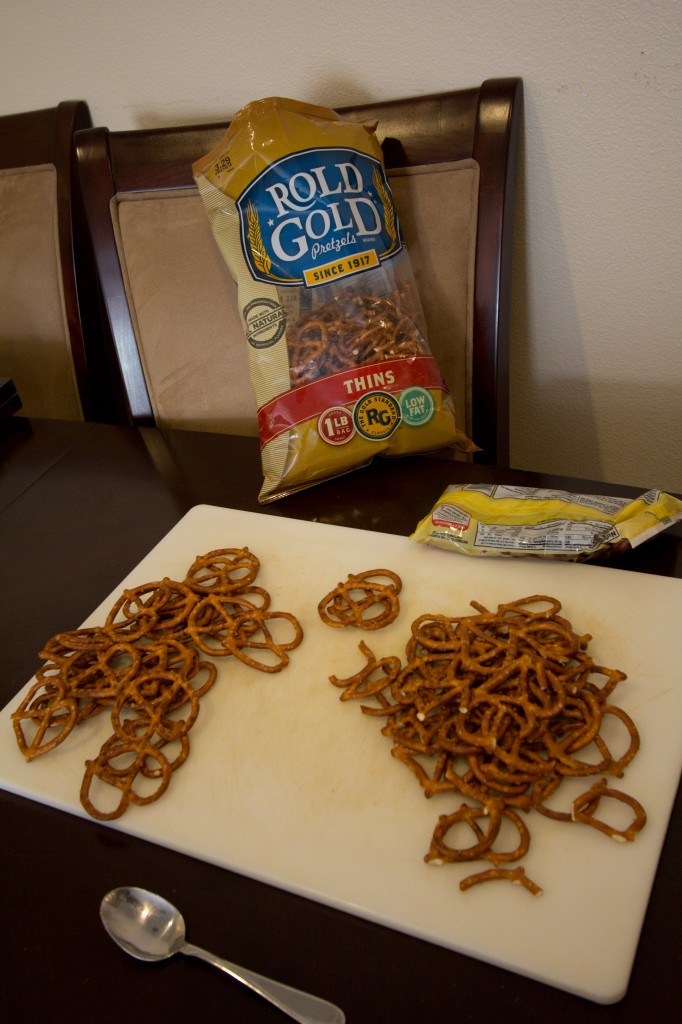 Step 2: Line your baking sheet (or sheets, depending on how many you plan on doing) with parchment paper.  I made the mistake of thinking it would be fine without the parchment paper.  I was wrong.  Once I had done the first dip and they dried, every single one of the buggers broke when I tried to pick it up off the cookie sheet.  The chocolate stuck to the sheet and the pretzels are too delicate to make it through the break up.  So sad.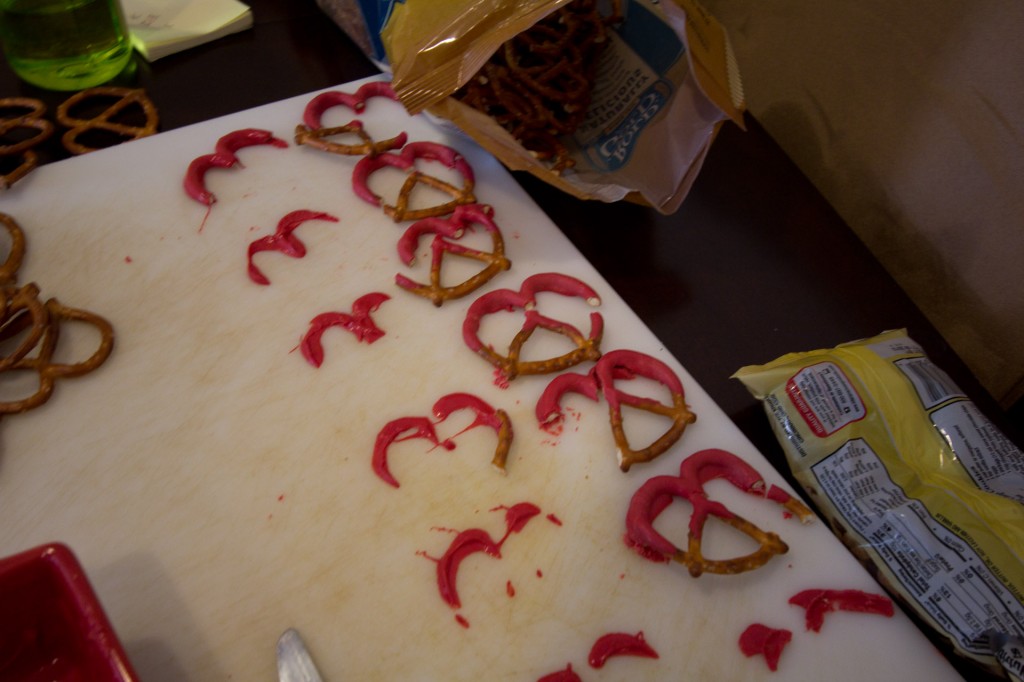 So I had to go back and do it again.  If you don't have parchment paper, I had success with a flexible cutting board.  Since I could peel back the cutting board, the pretzels were spared.
Step 3:  Melt the red candy in a bowl per the instructions on the bag.  For those that don't know, the candy melts are basically white chocolate that's dyed different colors.  A quick note here (again, this is for dummies like me who could have benefited from someone telling me this)…make sure the bowl is big enough to fit a pretzel width-wise and also make sure you have melted enough candy melts to fill the bowl up to a height that will cover 2/3s of the pretzel if you stand it up on its edge.  No one told me this.  I dipped the pretzels by sweeping them back and forth to cover 2/3s and some of them looked sub-par.  Don't be chintzy with the dipping chocolate!
Step 4:  Dip your first string pretzels in the red candy melts (hold the rounded bottom and dip the two winged top side first) and remove the excess chocolate.  I did this by gently flicking the non-dipped part of the pretzel over the bowl.  Oh ya, and don't be a dope and use a red bowl.  It makes it hard to see the melts.  Seriously, this didn't even occur to me.  See how the middle wasn't covered in red?  That's because the bowl should have been more full.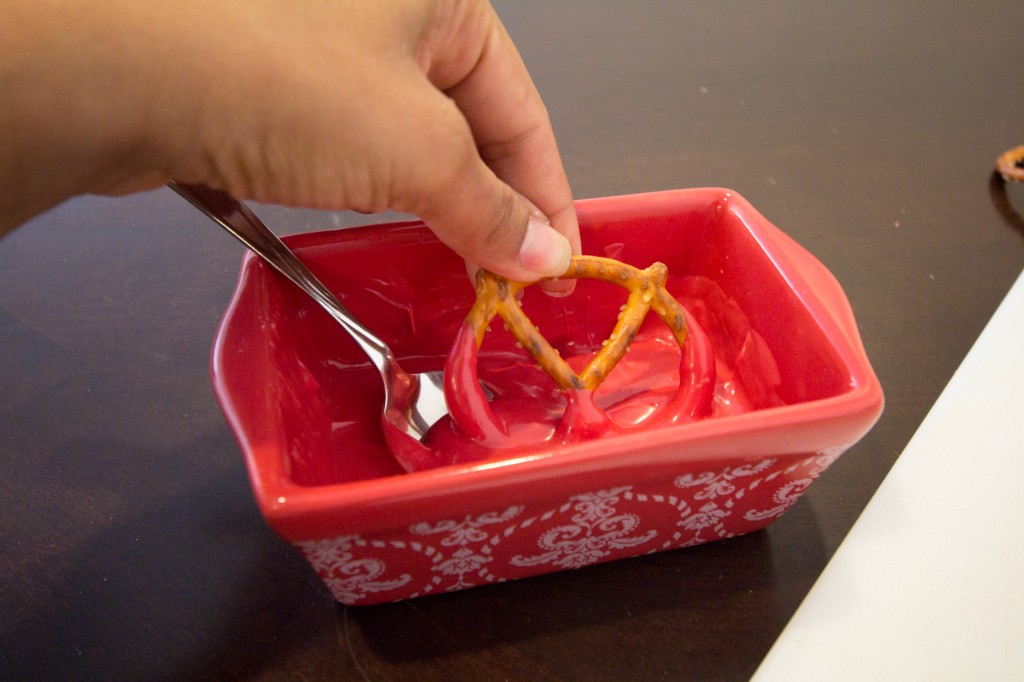 Step 5:  Let the pretzels sit until the coating is dried and hard.
Step 6: Melt the chocolate chips per the instructions on the bag.
Step 7: Dip the undipped side in the chocolate chips and lay on parchment paper to cool.
Step 8:  Create the ladybug dots by filling a piping bag fitted with a #2 or #3 decorating tip (I'm not going to get into how to do that – I had to figure it out, you can too!) with the brown chocolate.  Pipe dots onto the red end of the ladybugs.  If anyone has good tips on how to make dots, please leave a comment – I was shocked at how hard of a time I had making nice round dots.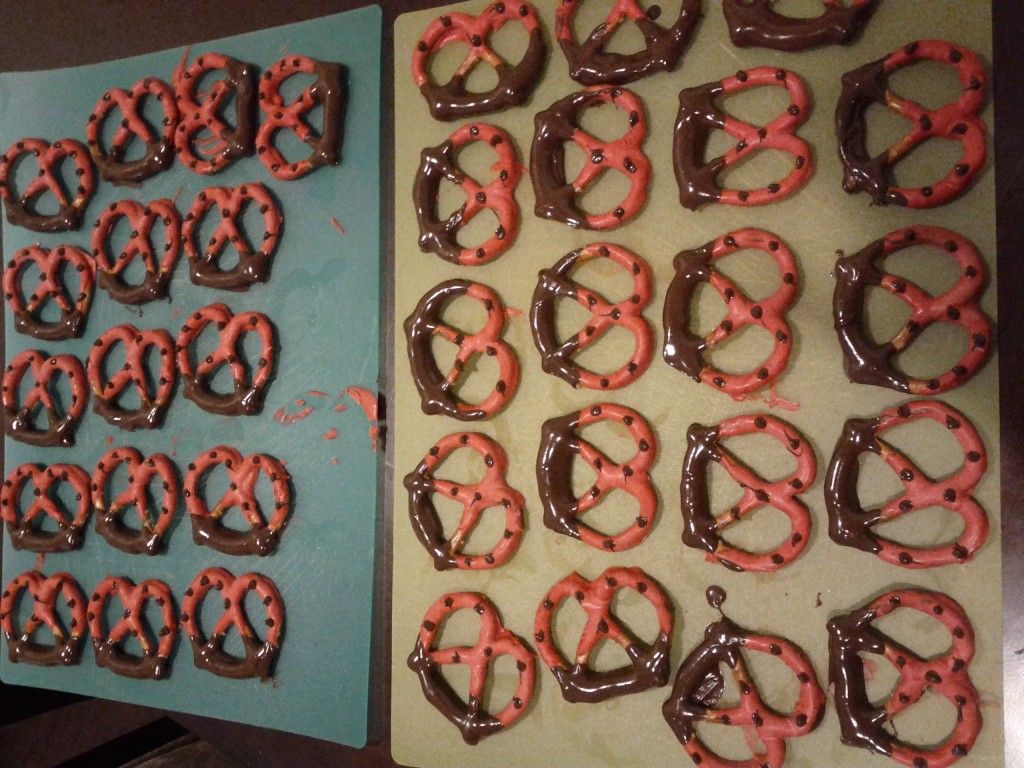 Optional:
Step 9: Use the white frosting to create little eyes on the brown chocolate end of the pretzel.  If you have it in a small tube, it's super easy.  I had some white and black frosting for some ladybug cookies I had made so I just used the back of a chopstick (Woah!  So high-tech, I know!!!!) and dipped it into the white frosting and dabbed it onto the pretzel.  They weren't perfect but they got the job done.  If you're a perfectionist, you can always use a piping bag and tip.
Step 10:  Use the melted chocolate to put pupils onto the white eyeballs you created in Step 9.  I just used a toothpick to do this.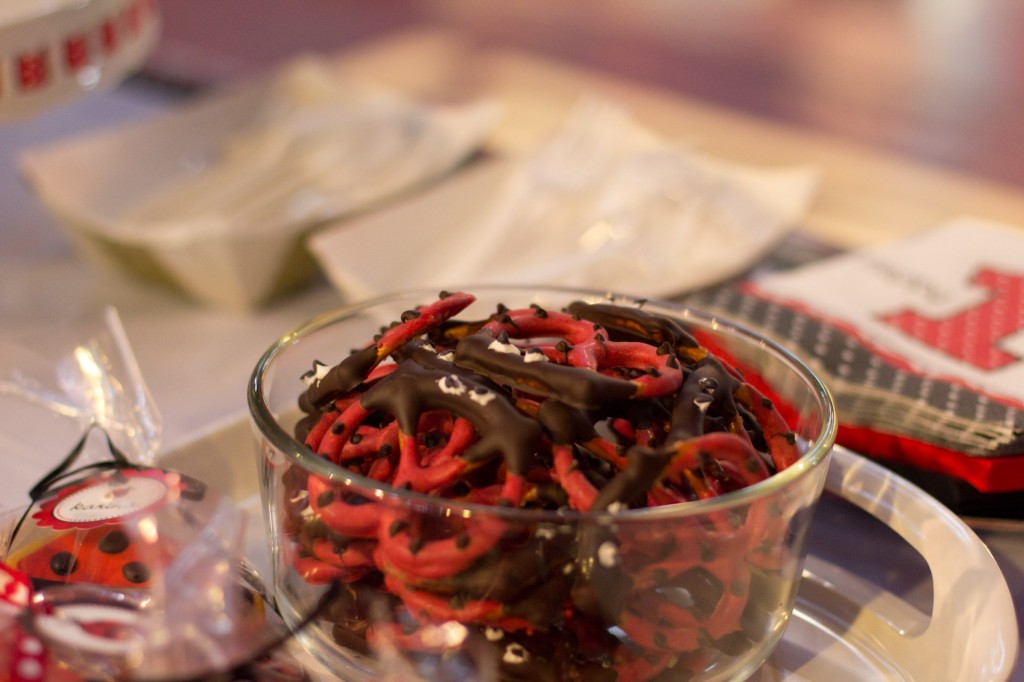 Admittedly, the eyeballs were a little creepy.  But I think I liked them better with the eyeballs than without.  They tasted great and I liked this little touch at my baby's party.  Ideally they would have been set out on a nice tray but the bowl we used worked out just fine.