Did I really just change a Tupac song to go from talking about gangstas to ladybugs?  I'm sure he would have loved that.
On Sunday, we threw Miss K. her first birthday bash and I'm really happy with the way it turned out.  After hemming and hawing over the location, we finally decided on having it at a small amusement park in Anaheim called Adventure City.  It has several attractions that little bitties like some of our younger guests (1-3) could ride and then a few that were exciting for the slightly older kids (5-7).  What I was most proud of was how incredibly well Karina did.  It was a long, exciting day but she was a trooper.  The only time she cried was when we took her on the Merry-Go-Round; I think it was too much for her.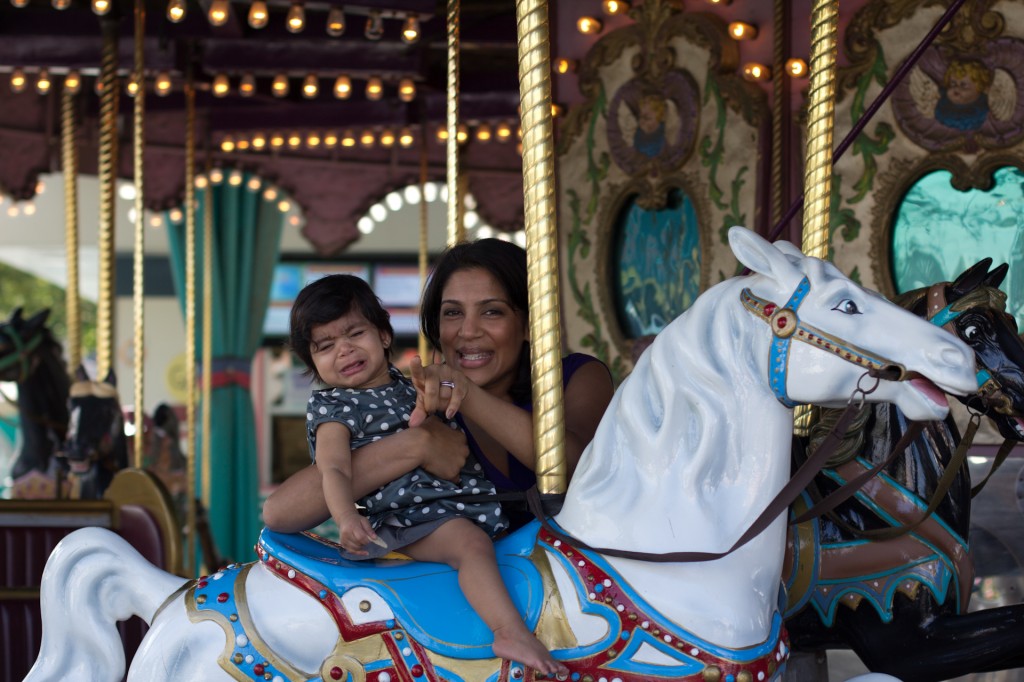 Other than that, she smiled and laughed the whole time.  Our guests arrived and checked out the park before the party began inside the Party Station.  We had the Party Station all to ourselves and the hosts at Adventure City were awesome.  They set up all the silly ladybug items I had bought and the place looked super cutie: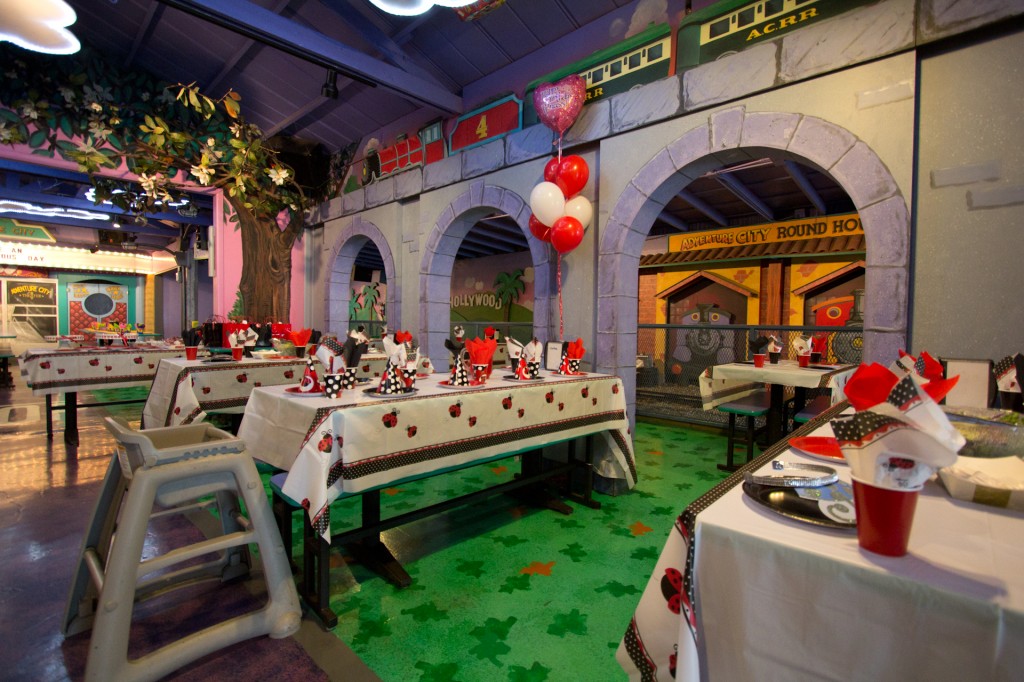 My sister-in-law made this over-the-top-incredible cake.  I could not have asked for more.  And she's not even a baker.  She's a radiologist.  I really really loved the cake; not just in how it looked but how it tasted.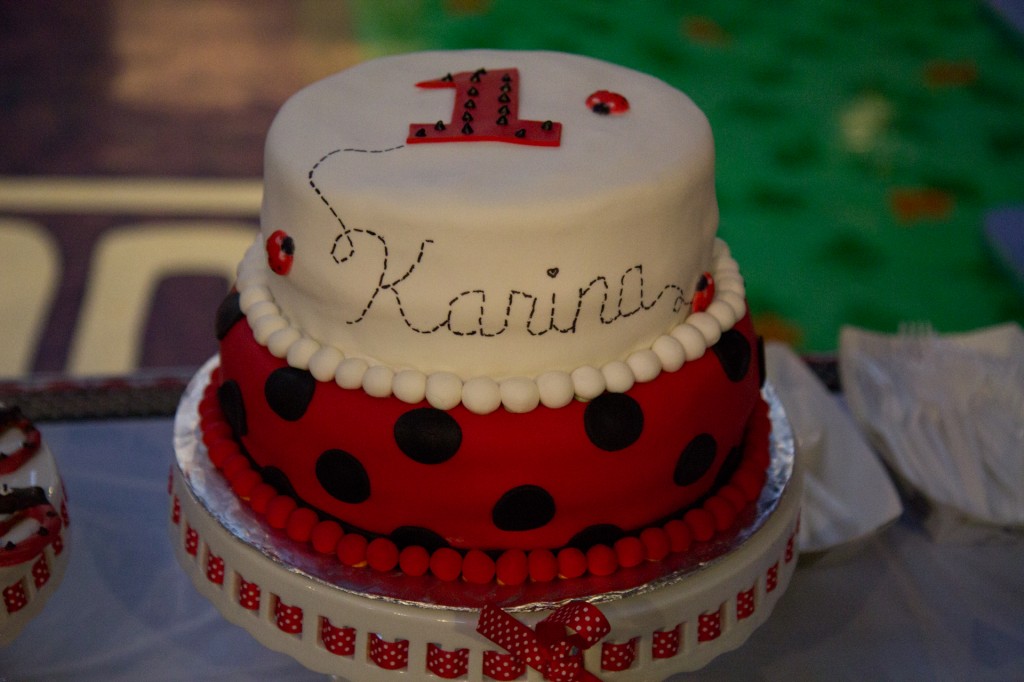 She also made her a little smash cake (more on that later):
I made some ladybug cookies, put them in cellophane bags and tied them with a black ribbon and a custom tag: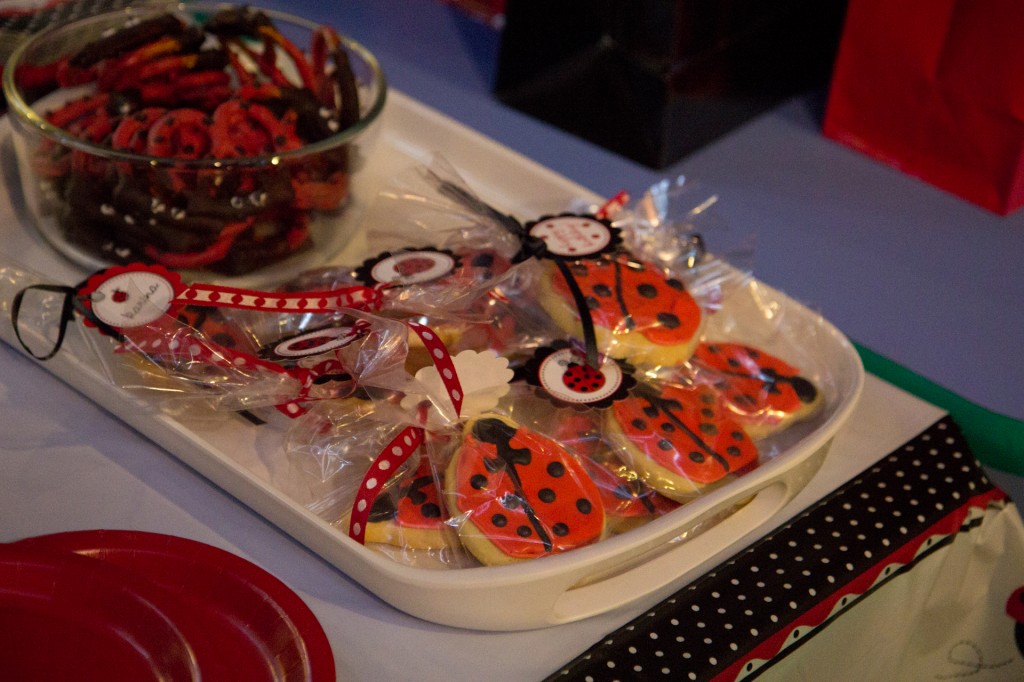 And I also made some chocolate covered ladybug pretzels.  I have mixed feelings about the eyes but I'm pretty happy about how they came out.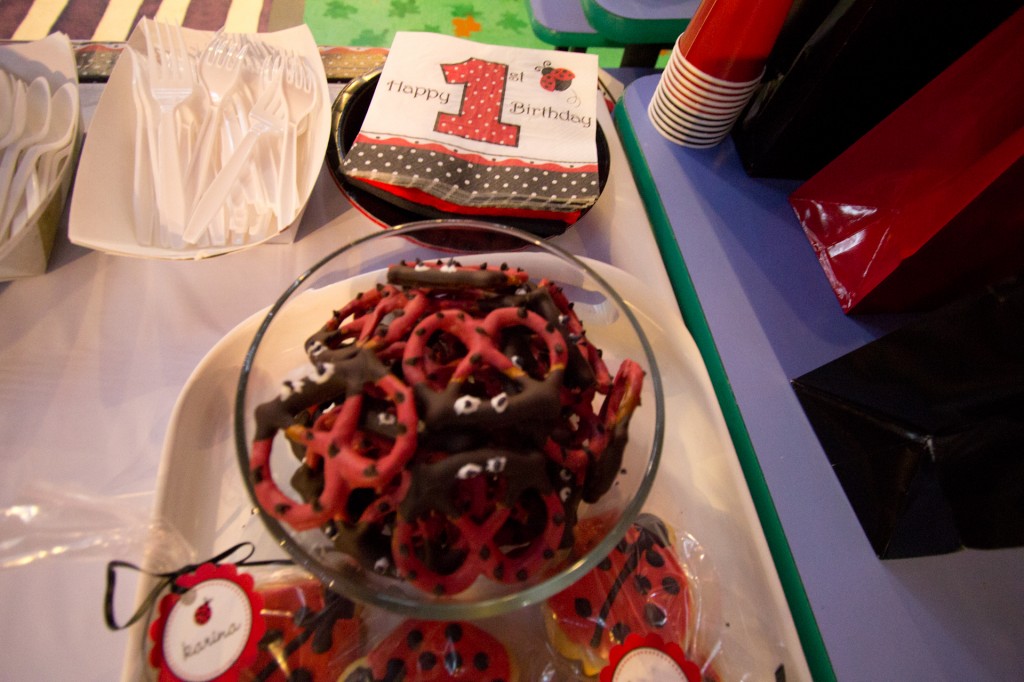 No kiddie party is complete without some fun red and black goody bags that had pencils, ladybug poppers, red and black licorice, the cookies, ladybug hair bows for the girls, plastic bugs and lizards for the boys, bottles of ladybug bubbles, stickers, hot wheels (for the boys), and polly pocket dolls for the girls.  And yes, I do realize that I'm totally enforcing gender stereotypes but oh well.  We had a couple infants on the guest list so I threw in some ladybug teethers for them.  We decorated the bags with four little customized tags designed by TomKat Studios.  The different tags had a 1, Karina's name, Happy Birthday, or a ladybug on each and were tied on with black and red with white polka dot ribbons.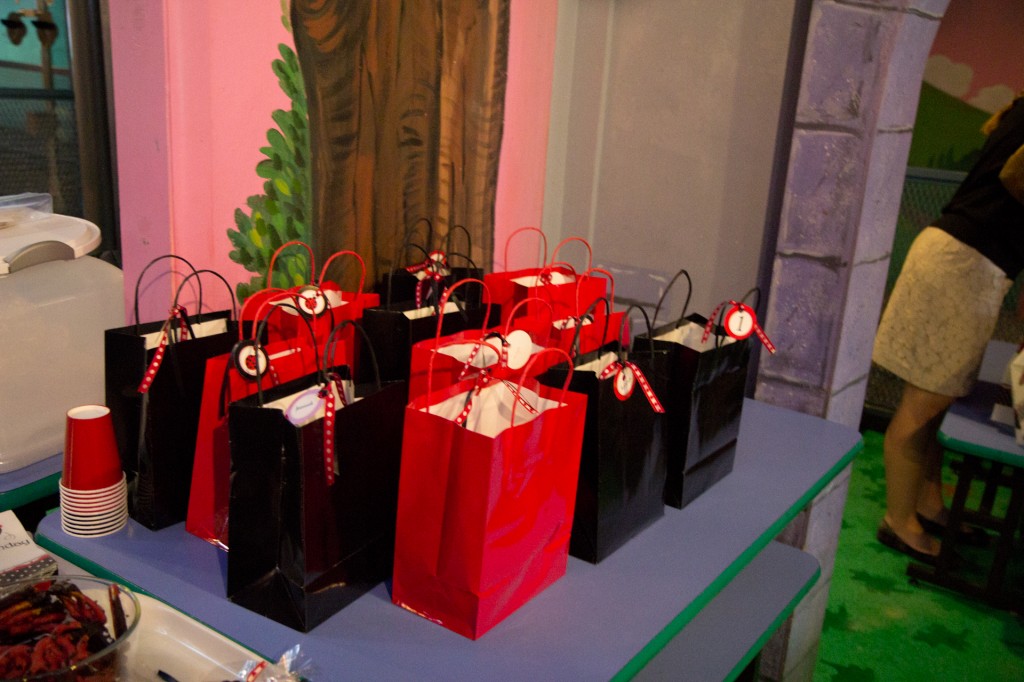 Lunch was pizza, drinks, salads, and fries, mozzarella sticks, and onion rings.  The pizza was actually pretty good!  Once we were all done eating, we gathered around and sang happy birthday.  My babe didn't cry at all.  She just looked around and smiled.  I'm so proud of her.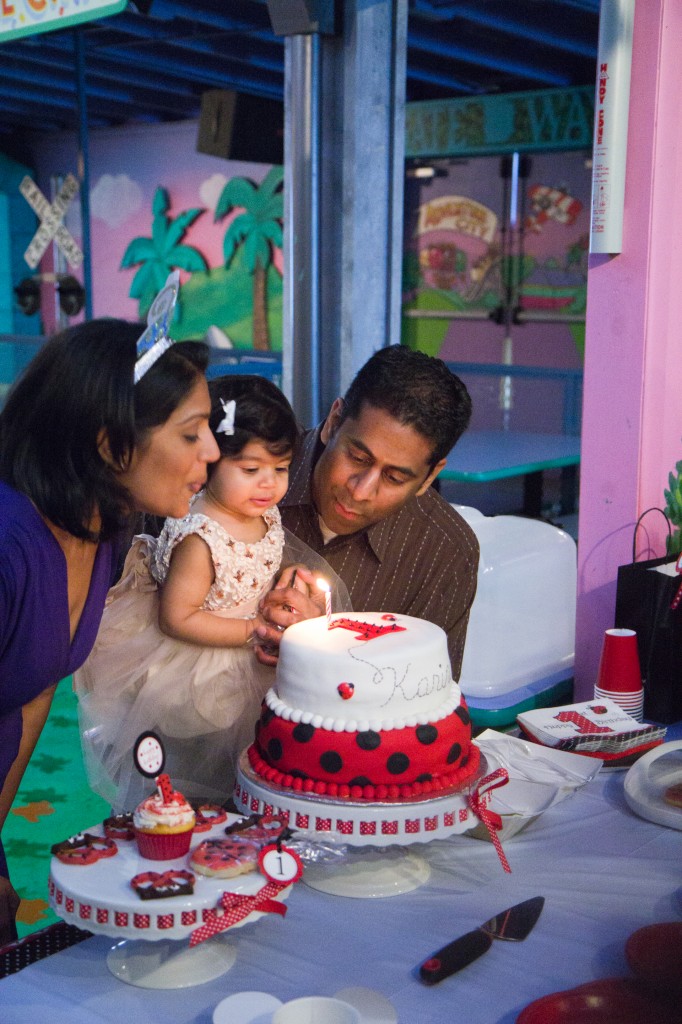 Her Monica Mammi (aunt) made her a cute little smash (cup)cake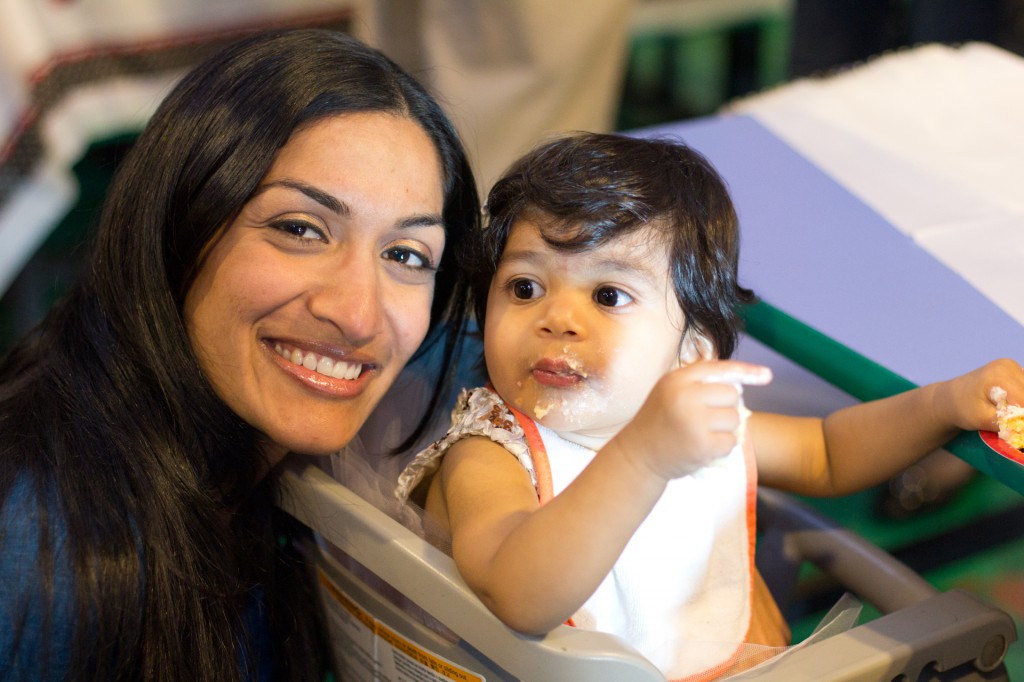 At first the little ladybug princess just looked at it.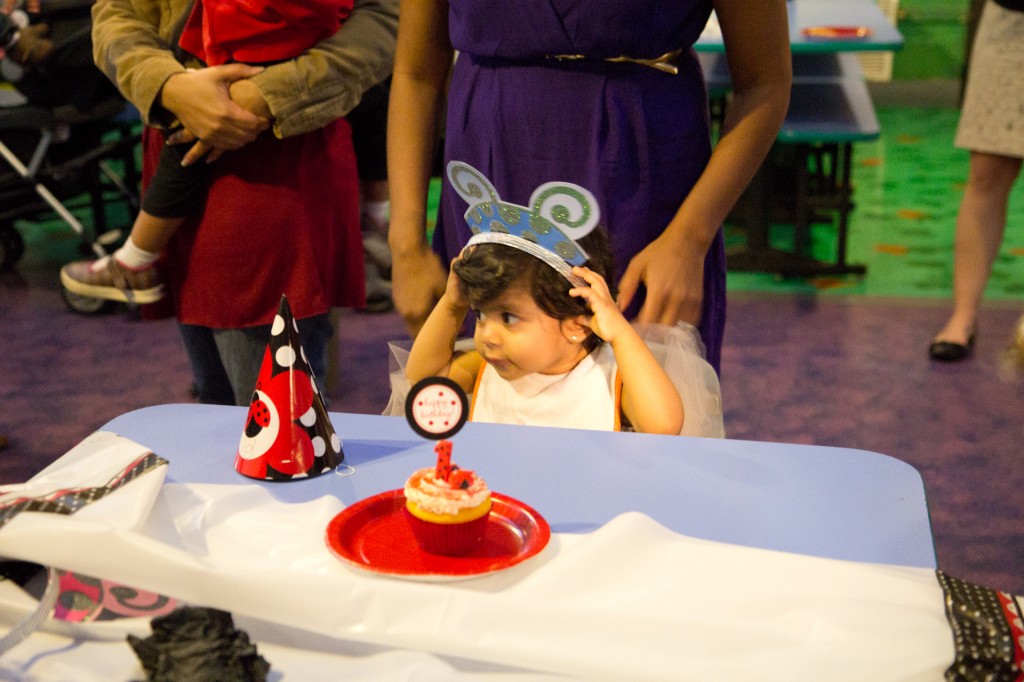 Then she started feeling it.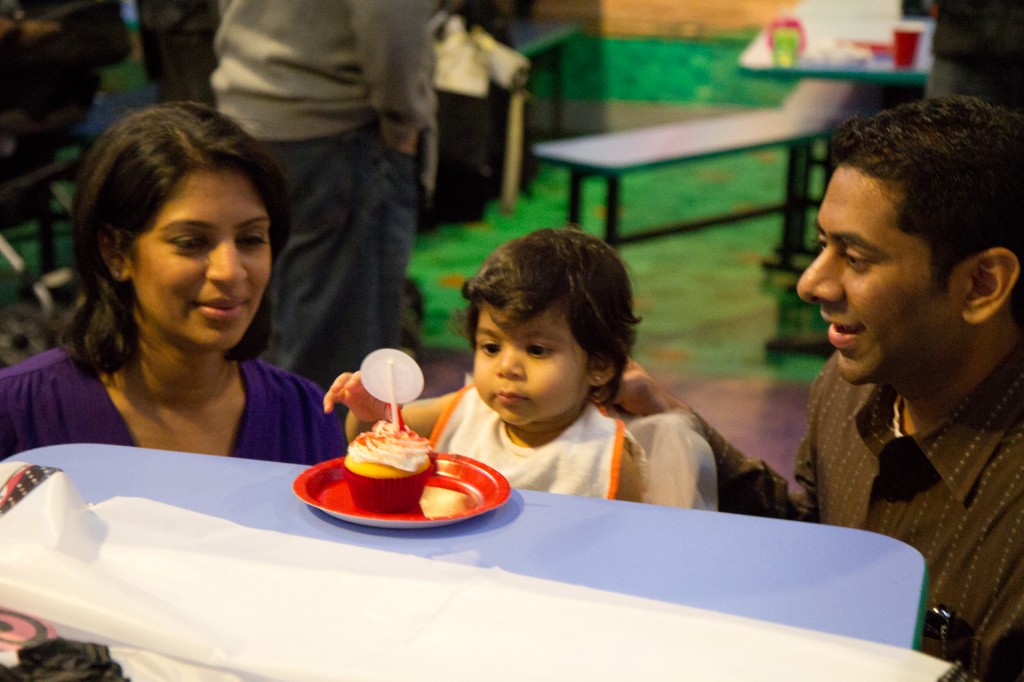 Then she realized she could eat it.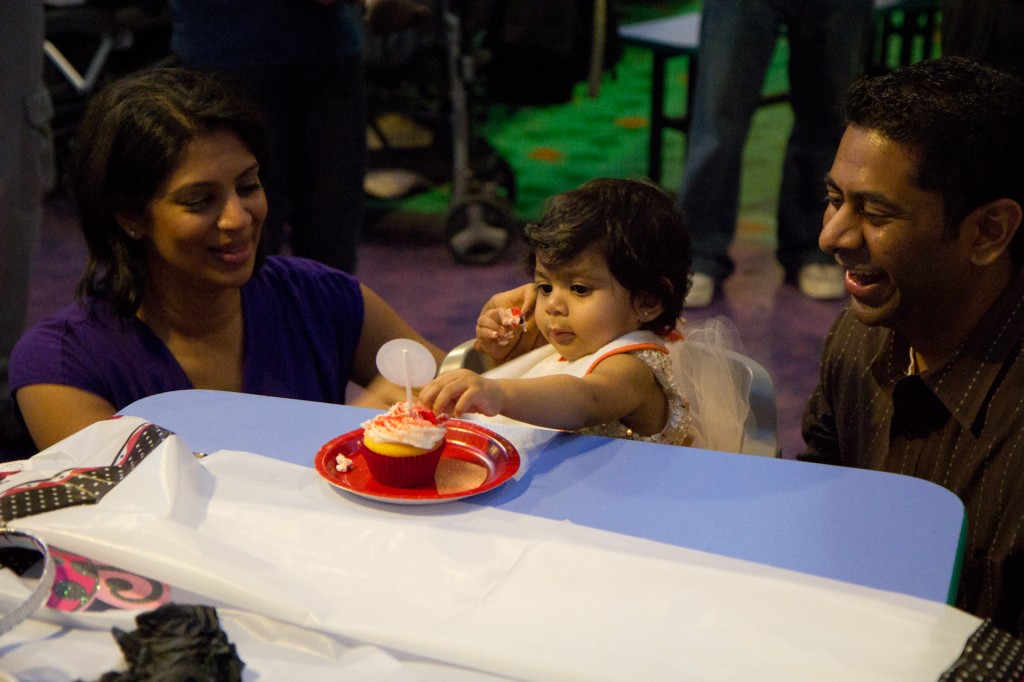 Then it was over.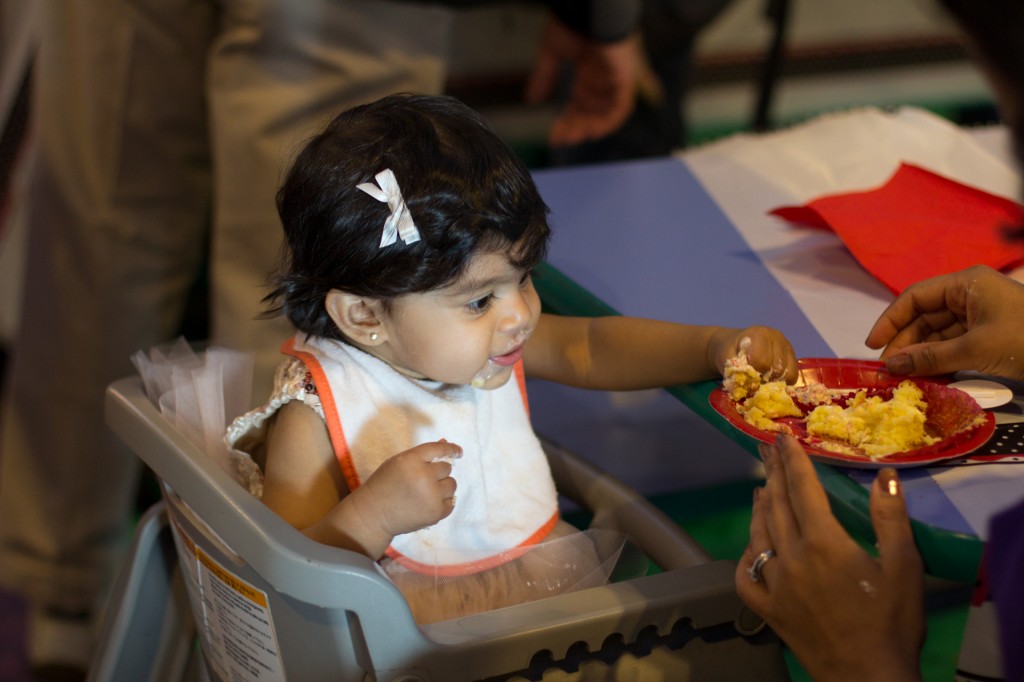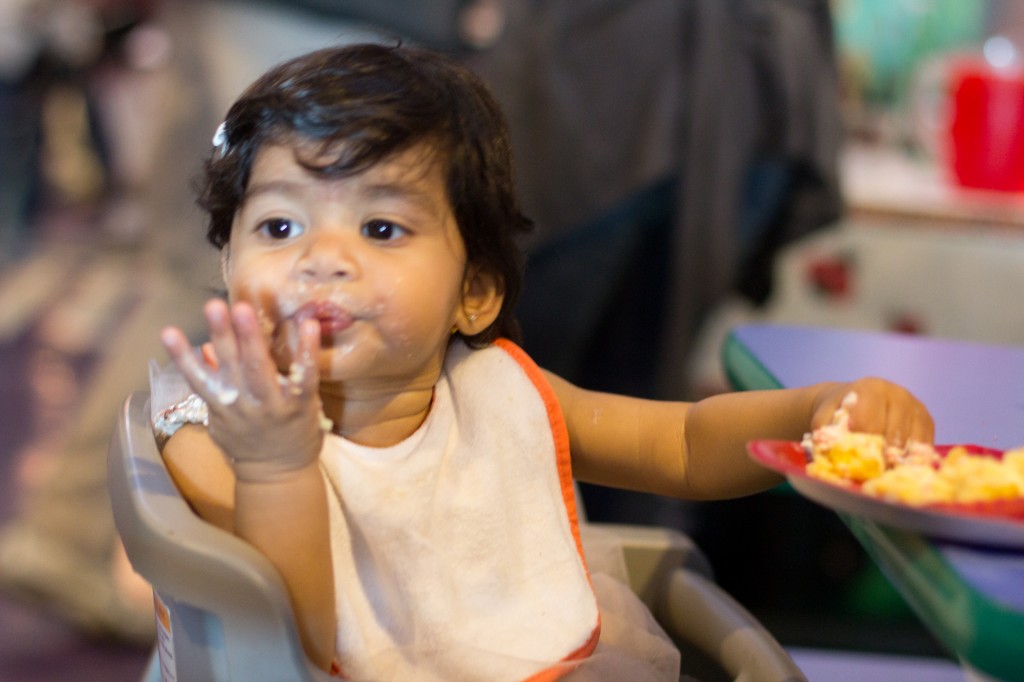 Notice how one hand is always in the cake.
"Hey Daddy, what do we gotta do to get mom to feed us this kinda food all the time?"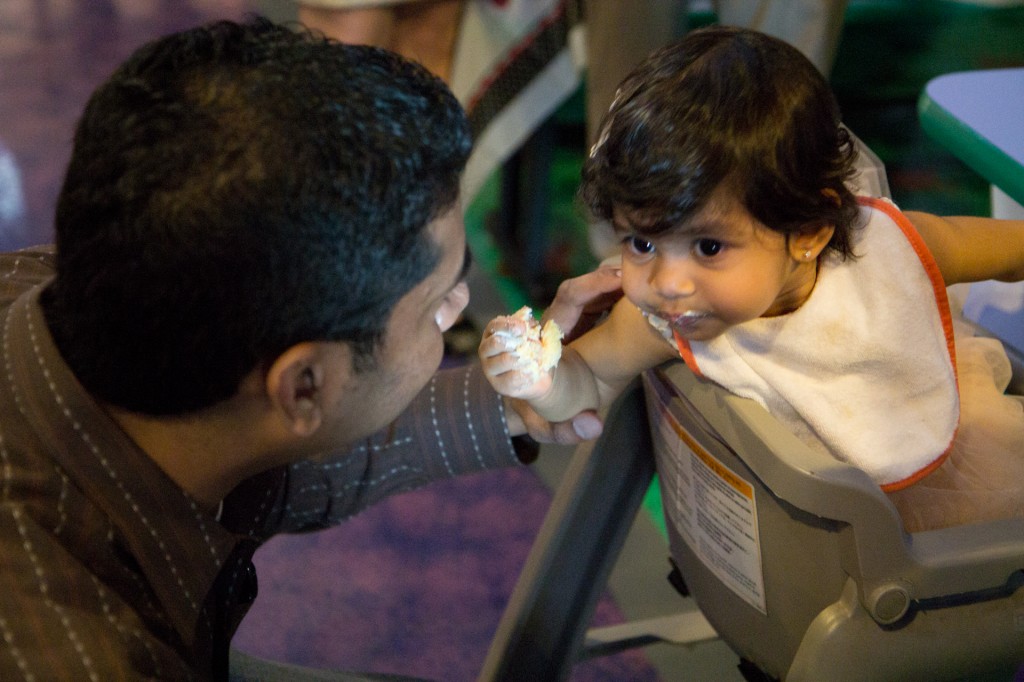 It was Miss K's first time having any kind of processed sugar and I think she takes after me – she loved it!  Weird part was she didn't get all hyper like we thought she would.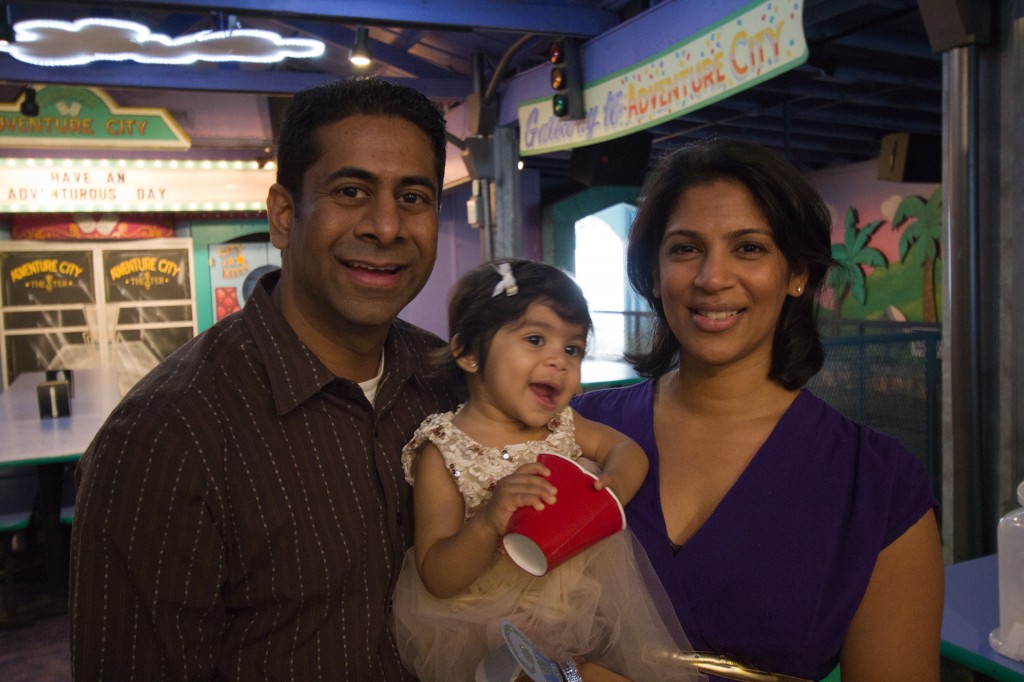 After the party station, the super cute guests were free to visit the attractions and ride the rides.  It had rained that morning so I was SUPER nervous that the weather would be crummy but we got lucky.  Intermittent cloudiness but no rain.  Phew!
All in all, I'm thrilled with the way the party went.  I know my little one won't remember it all, but she was happy that day.  And that makes me happy everyday.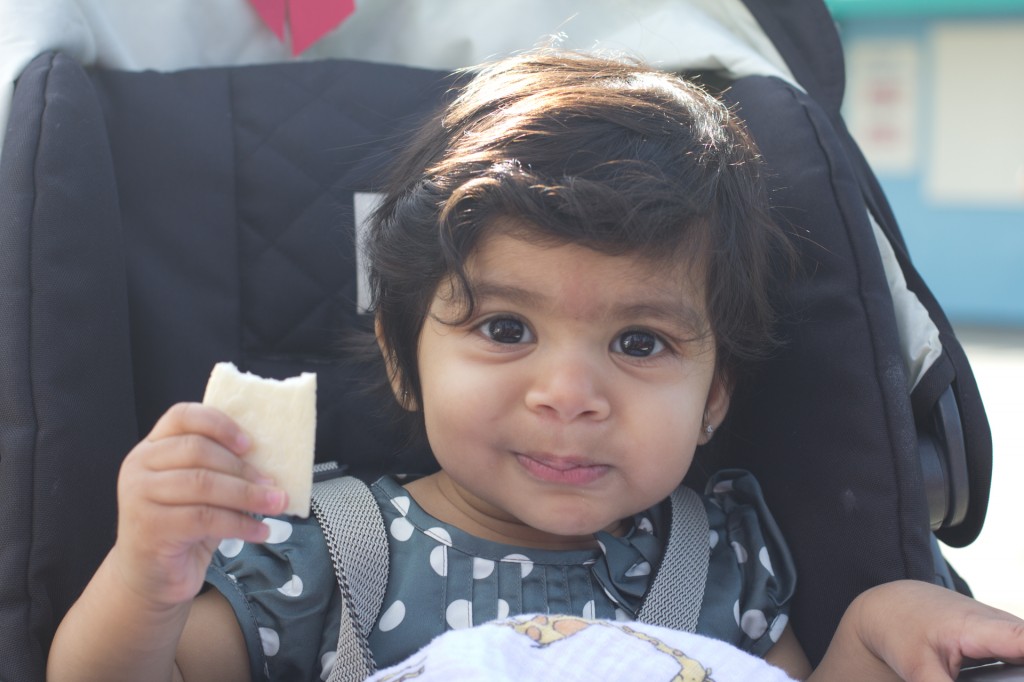 Short hair, baking cookies, kiddie parties…who am I?  I just don't know anymore.