I realize today's post may be a bit of a downer.  But sometimes I have to shine a light on what's bad in order to get to what's good.  This week I had a lot of intentions and not a lot of them came to fruition.  That's always a downer.  It's especially disheartening when it's the beginning of a new year and you really really REALLY want to be good.  Here are a few things that went awry:
1.  I was supposed to drink more water.  I didn't.  I had a few glasses here and there but nowhere near the 64 ounces per day I'd like to be at.  I think I even felt a bit light headed a few times.  Argh.  So hold on just a second while I go fill up my water bottle and take a big swig.  Ok.  At least I can now say that I've had 16 ounces of water today (a little earlier and a little just now.  Ya, I actually did go fill up my water bottle and drink some).
2.  My husband has this super duper awesome blog, www.irvinehousingblog.com.  It's going through some changes and I wanted to help him with it.  I want to be able to take some of the workload off.  But I didn't do a very good job.  I wrote a post for it.  But then my pictures sucked so he couldn't even use it.  I wanted to go take a second set of pictures to use today.  But that didn't happen.  Sucks.  He does so much for me and here's a way I can help and I failed him.  Now it's 3:35 and my baby's going to wake up soon and she will need to eat.  Maybe I can still go take a few shots but the lighting isn't usually quite right…I know the camera can compensate but I don't know to make it do that.  Darn.  Maybe tomorrow.
3.  I wanted to do a few test runs of some cookies with flooded frosting for my baby girl's birthday next week.  I did one batch that's drying right now.  So far they're ok but not great.  Had I done a few more batches, I think I'd be more confident going into next week.  And to make things worse, I ate a whole lot of cookie dough.  Now I feel like I'm made out of cookie dough.  Soft, buttery and simply sweet.  What can I do now?  Well, I know i have a cookie recipe that I like.  I need to practice baking at least one more batch to the get the thickness right.  Otherwise, I can whip up another couple batches of icing and practice.  Maybe I'll just trace the cookie cutter onto some paper and use that to practice on.  I think that'll go a long way because making the icing is one of the stressors and then using a pastry tip and doing the decorations is also up there.  I'm not throwing in the towel yet!
3.  Remember how I mentioned the crazy burrito at taco bell with spicy fritos in it?  Ya, I had a bad headache on Wednesday night and not only did I have that burrito, but I asked my husband to pick it up for us on the way home, after he had worked a long day at work, thereby cutting into his time with Karina.  He only gets a few hours a day with her and I ate into that by not being prepared.
4.  I wanted to make it to the gym a few times this week.  But I didn't.  I did a yoga video (well, it was sort of yoga but my muscles are so tight and out of shape that it was hardly recognizable!) and we went on a long walk on Monday but that was it.  On the bright side of things, though, that's two more workouts than the week before!  And there's nothing stopping me from getting in another video or time on the wii fit board tonight.
Sorry for the negativity but the nice part is that we're heading into a new week and I'm still hopeful!  I got my eyebrows threaded, I made an appointment to get a haircut, and my baby is turning one next week.  I'm gonna keep trying.  I think I can…I think I can…I think I can!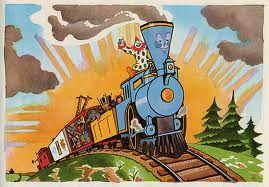 Oh ya, one last bit of humiliation I just have to get out of my system.  This morning I was diligently frosting cookies (very focused).  My daughter pulled my pants down.  Like all the way to my ankles.  That kid punks me in ways that I never imagined.