This year really was a wonderful Christmas.  Starting on Friday and lasting through Sunday evening, we had the loveliest holiday I can remember.  On Friday, we went to some friends' home for a white elephant gift exchange.  They live at L.A. Live and had this phenomenal view and they are just over the top fantastic hosts.  Check out some of the awesome shots that our other friend, Geeta, took.  Geeta is clearly talented as is our host, Payal.  We knew almost everyone there and everyone was just so nice.  Food was great, decor was outstanding and Christmas cheer was abundant.  We brought two gifts for the gift exchange and I was happy to see that one of ours was stolen twice.  The other one, not so much. AAAnd, we all found out that two of the guests is expecting a baby in July – they're a lovely couple and we're all very happy for them.
We were able to attend the party because my mom and dad watched Miss K overnight.  This was the first time I was away all night from my baby.  Ya, we've traveled so much but I've never actually been apart from her for this long.  Dropped her off at like 4:00 pm on Friday and picked her up at around 8:30 the next day.  I know 8.5 hours may not seem like a long time but I missed her.  I did.  But I knew she was in good hands.  The crazy side of me kept worrying that she felt abandoned or that she was looking for me.  When we went to pick her up, my mom heard us come in and she said to Karina "Look who's here!" and little baby crawled around the corner and came running towards us with a smile on her face.  More crazy confessions: lately I've been worried that Miss K. is bored with me because we're together all the time.  I know she loves me but she is seldom excited to see me because we're always together.  Seeing her light up like that was a nice little reminder that maybe she's not bored.
Anyhoo, we brought her back home and after she ate her second feeding and took a nap, my husband took her to go visit with her other grandparents who were visiting from Northern California.  They apparently had a great time and she was gone for another 3-4 hours!  Man, this was the most time I've spent apart from her ever!  While they were visiting, I baked cookies and made rice for our Christmas Eve family get-together.  Made macaroons for my sister-in-law and oatmeal chocolate chip cookies for my husband.  Well, not exclusively for them – we did share them amongst six families.  It took a while because I burned my cookie sheets and am only left with one.  But I was as efficient as possible by using parchment paper.  While one batch was baking, I dropped the next batch onto a piece of parchment paper cut to the size of the baking sheet.  When the batch came out of the oven, I just pulled the parchment paper off the hot pan onto the counter to cool and then slid the unbaked batch onto the cookie sheet and popped it in the oven.  Eight batches later, we were done!
Then we went back to my mom's house for a mexican food fiesta.  My daughter, husband, grandma, mom, dad, mother-in-law, father-in-law, brother, sister-in-law, niece, nephew, cousin, cousin-in-law (and her parents), other nephew, and other niece were all there.  It gets a little hectic with all the kids but it's a lot of fun. We agreed that only the kids would get presents this year but still there were a TON of gifts under the tree.  Fun.  The boys are seven and five and kept asking if it was time to open the gifts.  We kept putting them off.  Finally it was time.  But then we decided to take pictures of the kids: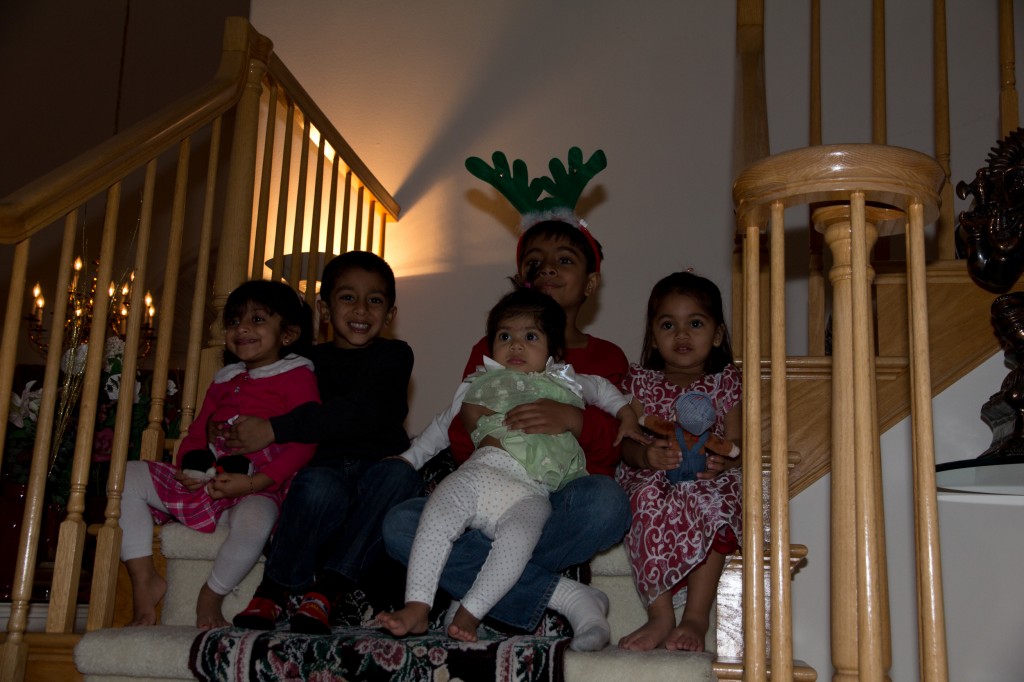 Precious!  And then this sort of thing started: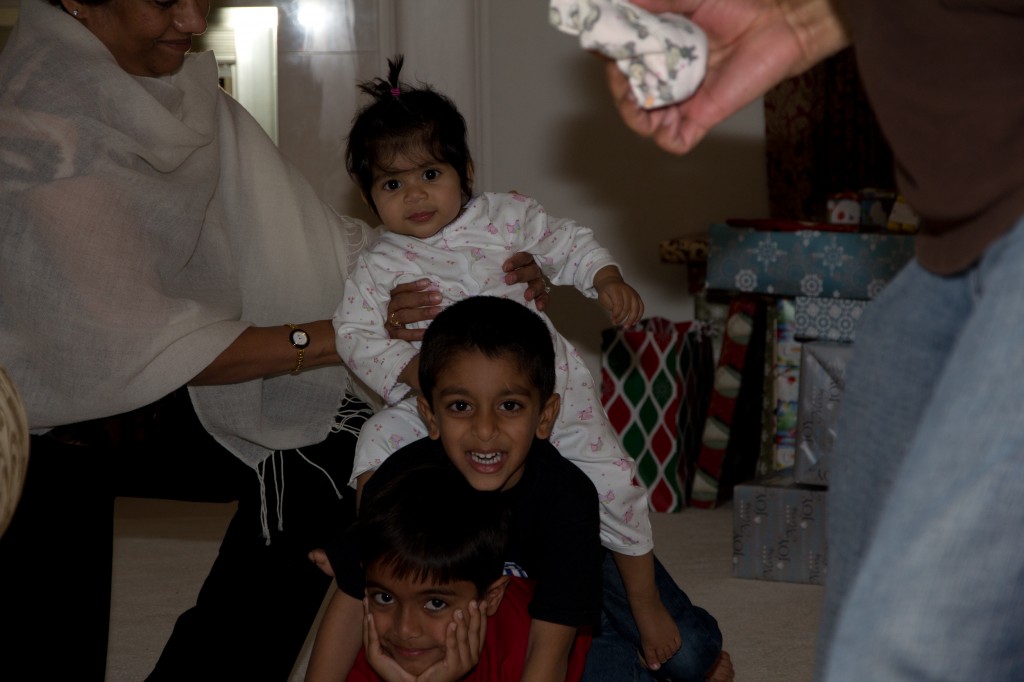 And then my sister-in-law had these cute monogram ornaments for each of the kids to put on the tree.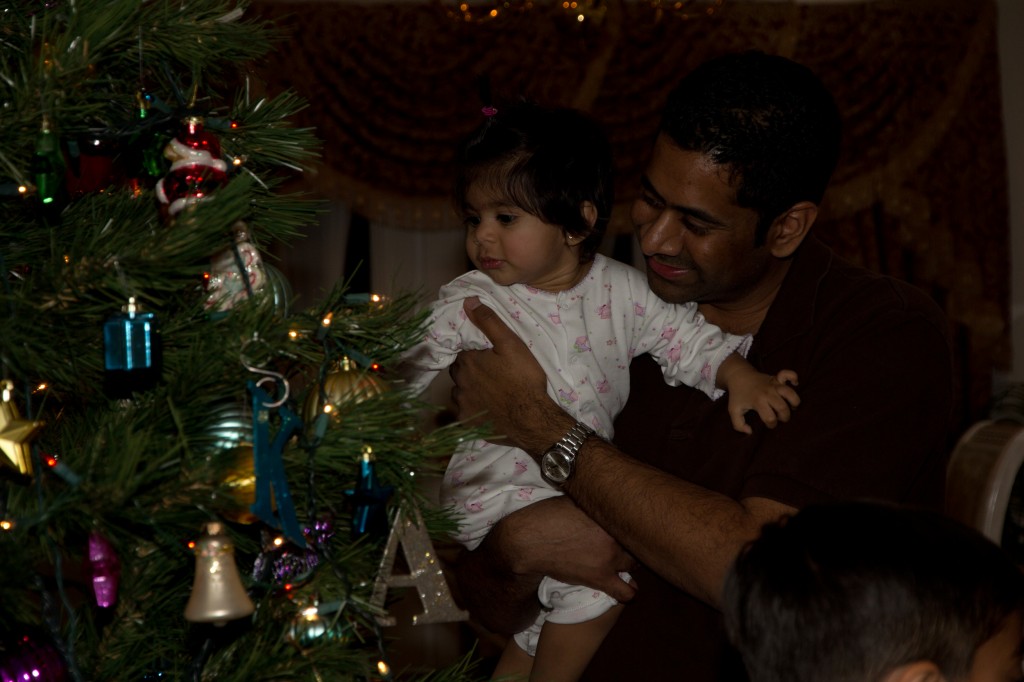 Precious!  And then I made them sing Christmas songs.  Or at least we tried…turns out the kids are still learning the words to Rudolph the Red Nosed Reindeer but they did have Jingle Bells down.  Poor kids just wanted to open their presents already!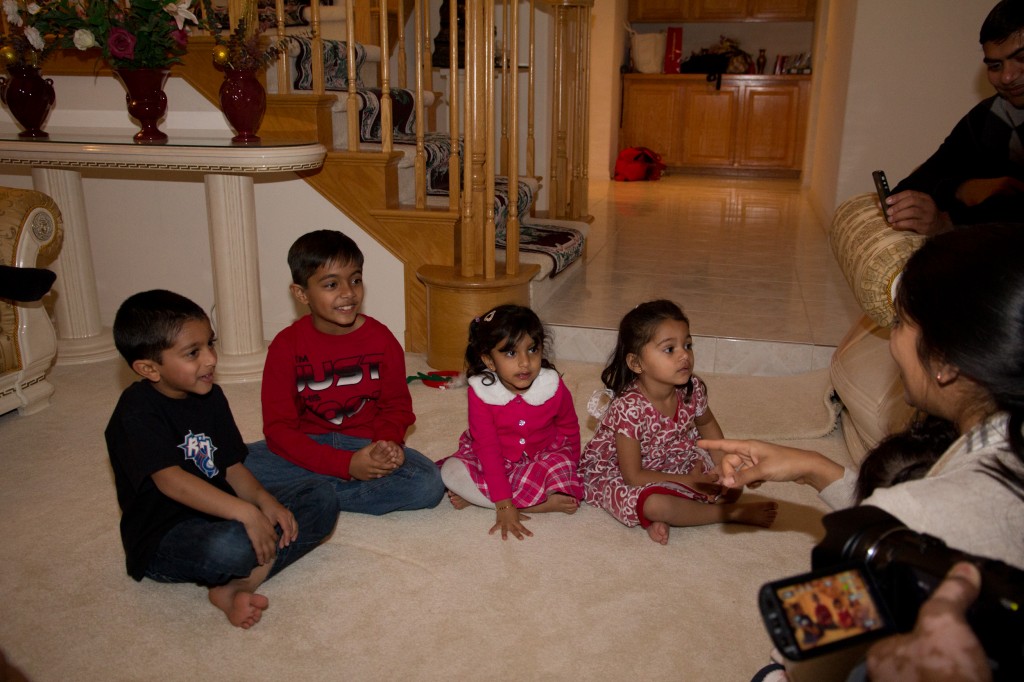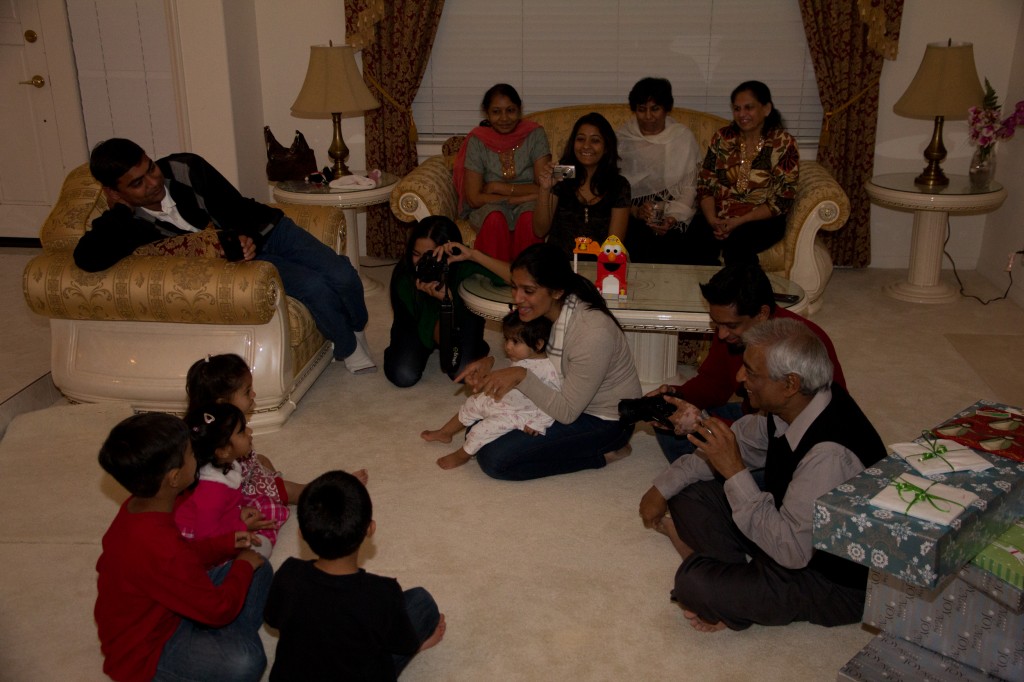 Precious!  The littlest one, Aneri, kept mocking what I was doing.  This just melted my heart.  I can't wait til next year when my little one will understand a little more and get to enjoy the season.  I think my brother attempted to start a conversation about the meaning of Christmas but there was no way that was gonna fly.  These kids NEEDED to open their presents.  It seemed like everyone liked their gifts.  SO MUCH FUN/CHAOS!
On Christmas morning, we went to my sister-in-law's house to celebrate our baby's and their baby's first Christmas.  Our little nephew Karsin is just six weeks old and is just precious.  Have I mentioned that Christmas was just precious this year????  Again, a ton of presents under the tree.  We had a good time opening presents and had a delicious brunch.  SIL made a fantastic strata and some crescent rolls, we brought over a cheesy hashbrown casserole and some fruit.  Also had mimosas and orange juice.  Deeelicious!
Since we live in Southern California, we had  GA-lorious weather on Christmas day.  Sunny, warm and clear due to the winds that had blown all the smog away on the previous few days.  We had planned to take some family pictures and although most of them are on my brother-in-law's camera, here are a few from ours:
Grandpa and his little tiger baby: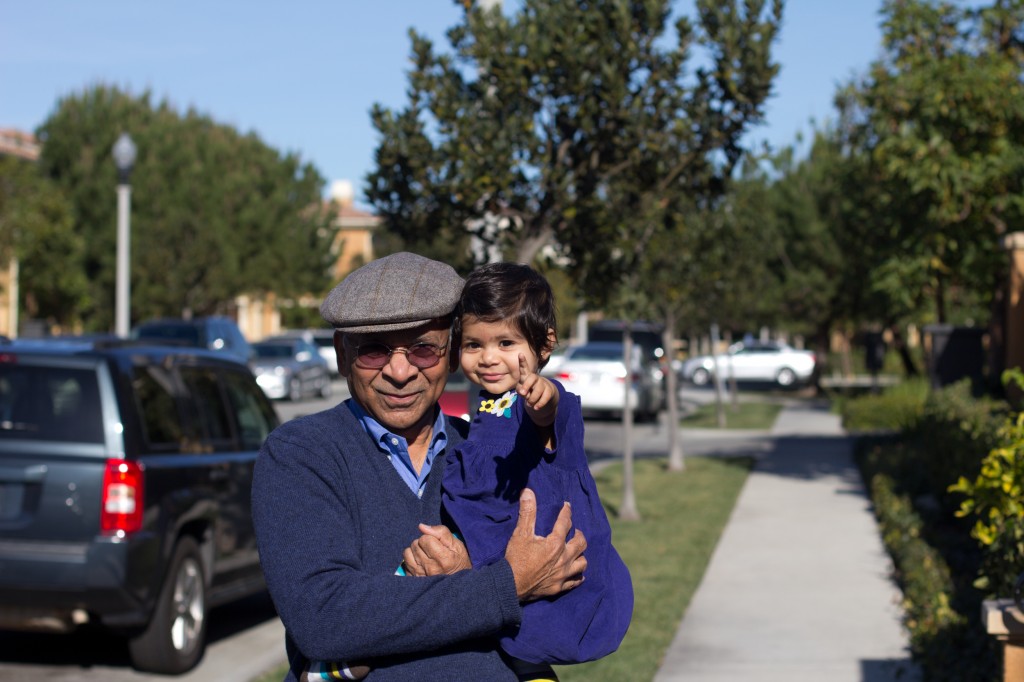 Lots of love in this one…doesn't SIL look fabulous?  Just so perfect with her little tyke.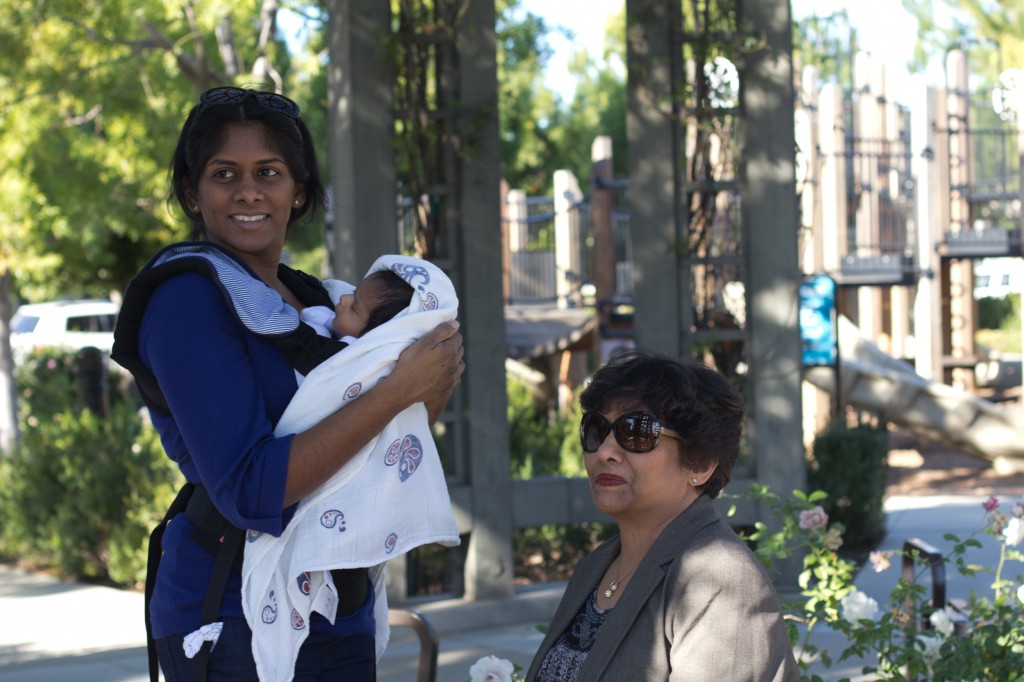 Grandma, her baby boy, and his baby girl: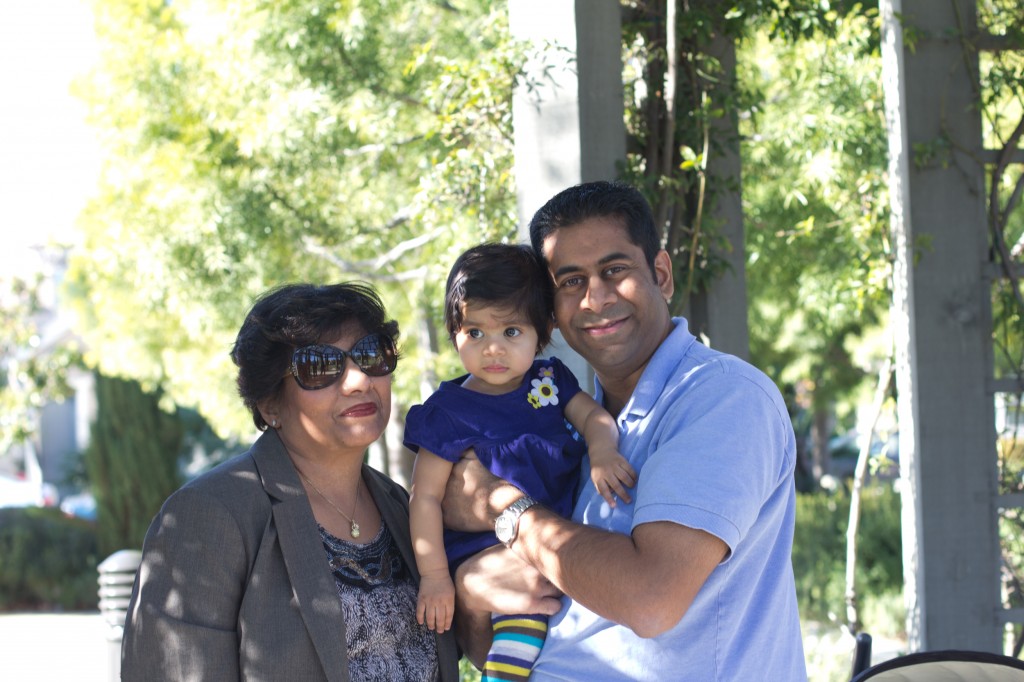 One last time….oh…so…precious: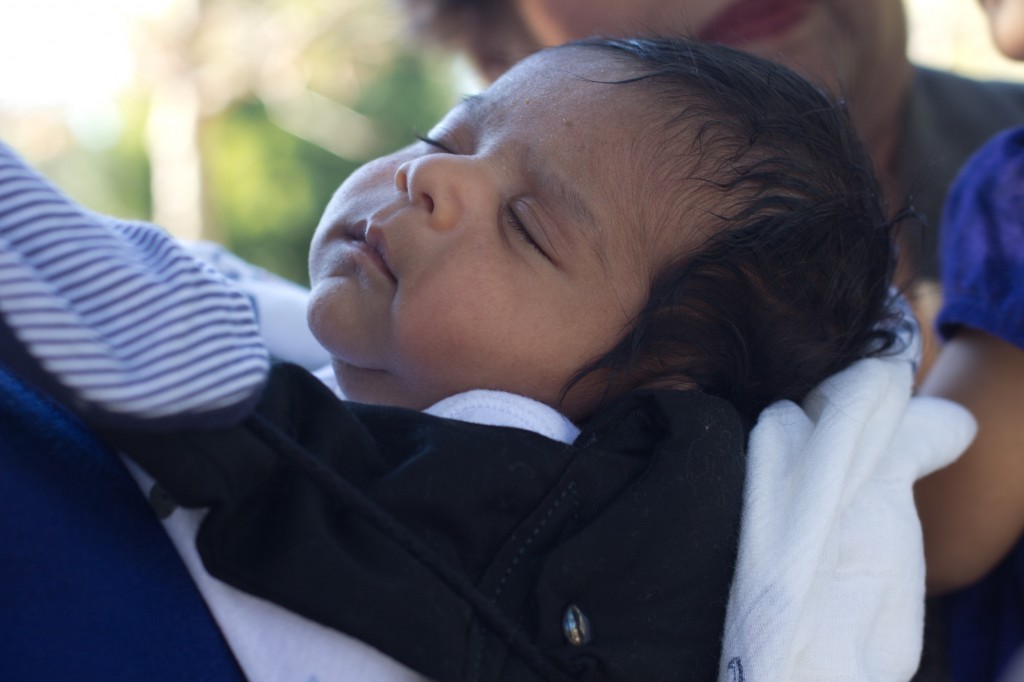 So while it might seem sacrilegious to Christians everywhere, what Christmas means to me is about celebrating warm feelings and spending quality time with loved ones.  Making memories and spreading love.  And this year was the picture of perfection for me.  My baby was so so happy all weekend long and really, outside of her health, there's nothing that matters to me more.  Gravy on top?  My husband got me Scrabble Slam and played two games with me.  I won both times but the first round wasn't really legit.