Messing up my back at the end of the week did a real number on my goals this week, unfortunately.  Here's a rundown:
I'm not 100% sure but I think I only cooked twice this week.  I made the Spicy Sausage Broccoli Rabe Parmesan.  Hubby thought it was ok but I really liked it.  Then when I ate some left overs the next day I loved it.  THEN when I polished off the left overs on the third day, I wished we had more.  I liked the slight bite of the broccoli rabe along with the hint of spiciness.  I think I'll add this to the list of meals we'll have "every once in a while" since my husband thought it was just ok.  On Tuesday (I think it was Tuesday), I made the Spanikopita with a side of some couscous (Ya!  I used some of the couscous at long last!).  Again, I liked these better than my husband did.  We both agreed that these would be better as appetizers than dinner.  Maybe Spanikopita is never meant to be a meal.  I dunno.  I can't for the life of me remember what we had on Wednesday.  I know my husband picked up dinner on Thursday because that's when I pulled the muscle.  We picked up some dinner and took it to a friend's house to see their new baby (oh, how I love newborns) on Friday and went to another friend's home for a dinner party on Saturday.  Not great.
#10 on the LIST: Limit Fast Food
Not good this week.  REALLY not good.  Had fast food THREE times this week, twice for lunch and once for a snack that I probably didn't really need.  And it was all pretty bad stuff – Taco Bell, Chick-Fil-e and McDonalds.  And of course along with it, I blew my goals for…
#11 on the LIST: Limit Soda to once a month
Ya, every time we got fast food, I had a soda.  Sigh.  One sweet tea and two Dr. Peppers.  Damn it.
So clearly, I get a sad face for performance against my goals this week.  Wop wop wop.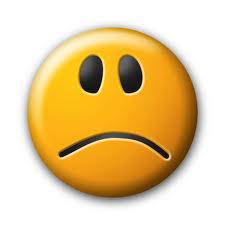 But really, I feel like this guy, sad and embarrassed: