We use a few different inserts inside our beloved gDiapers (one of the reasons they are beloved – they are so versatile).  When traveling, we use flushies.  At night, we double up on gCloths with the hemp sides together.  During the day, we use either a gcloth boosted with a homemade insert or just a homemade insert.  I don't really sew but my mom does and she has a sewing machine so we just went for it and made our own.  In a couple hours, we had eight lovely inserts.  The most time consuming part was figuring out the first one.  After that, it was pretty quick.  Because I don't sew, I'll do my best to describe in layman's terms what we did but I don't know how to correctly use terms like serge or zigzag stitch.  Oh and the inserts I made were for the medium/large/xl size gPants.  You could do the same thing for the smalls but I don't know the dimensions.
Step 1: Select and collect your materials
Based on the limited research I did on what to make these inserts out of, I decided to keep it simple.  Something soft on the outside, something absorbent on the inside.  Mine are made out of microfiber towels stuffed into old flannel receiving blankets.  Others have used combinations of zorb, terry cloth, fleece, micro-fleece, hemp and bamboo.  I found the microfiber towels in the auto section at Wal-Mart, but you can also get them at Target or Costco.  You should not put the microfiber directly next to baby's skin.  It will pull too much moisture away and will irritate your little one.  I wanted a natural fiber next to her skin and looked for a cotton/bamboo blend but couldn't find one.  I had read that people used old receiving blankets so I gave it a try.  Mine were made of a flannel material; just a basic Carter's receiving blanket.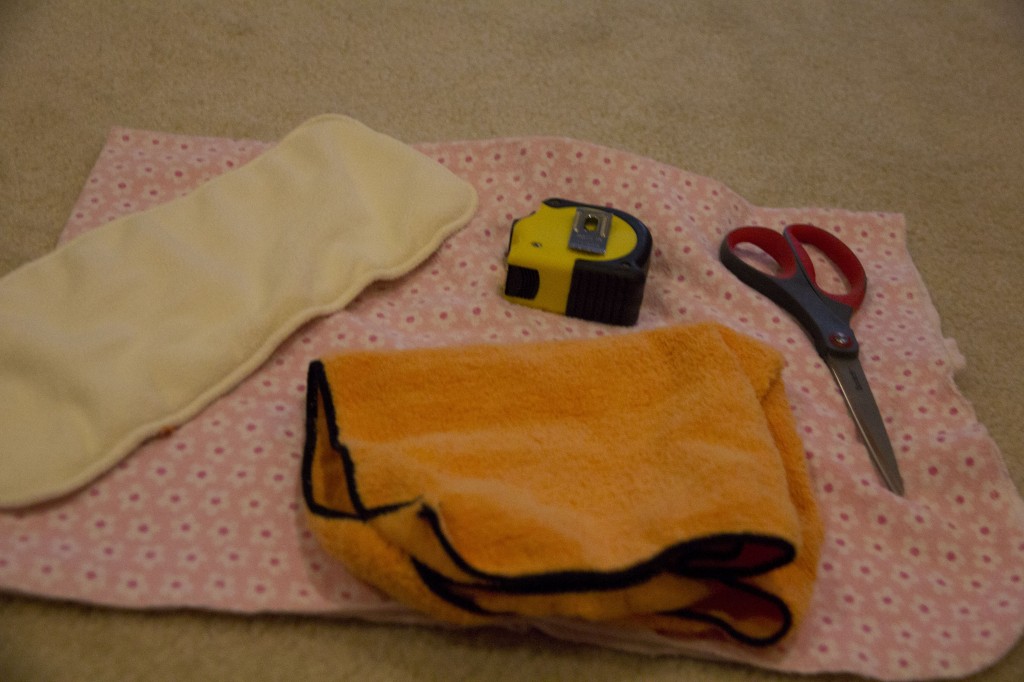 If I make more, I may try out a fleece or super-fleece type of material to keep her a little drier.  That is one thing that my homemade inserts can't stand up to in comparison with gCloths.  The top of gCloths feel almost dry to the touch after a wetting and are softer than the homemade inserts.  The homemade inserts seem to do a better job of absorbing moisture to prevent leaks.
Step 2:  Measure the gcloth to get the approximate size. 
The dimensions of my gCloth are approximately 13 inches by 5.5 inches.  Strangely, I bought my gcloth from two different places and they're different sizes.  One set I bought new from BRU and the second I bought from someone who said they had not used them but had prepped them by washing and drying six times.  The second set is slightly smaller than the first.  There will be variations also due to the way you prep and use your cloth.  I decided that longer would be better so I went with the 13 inch size.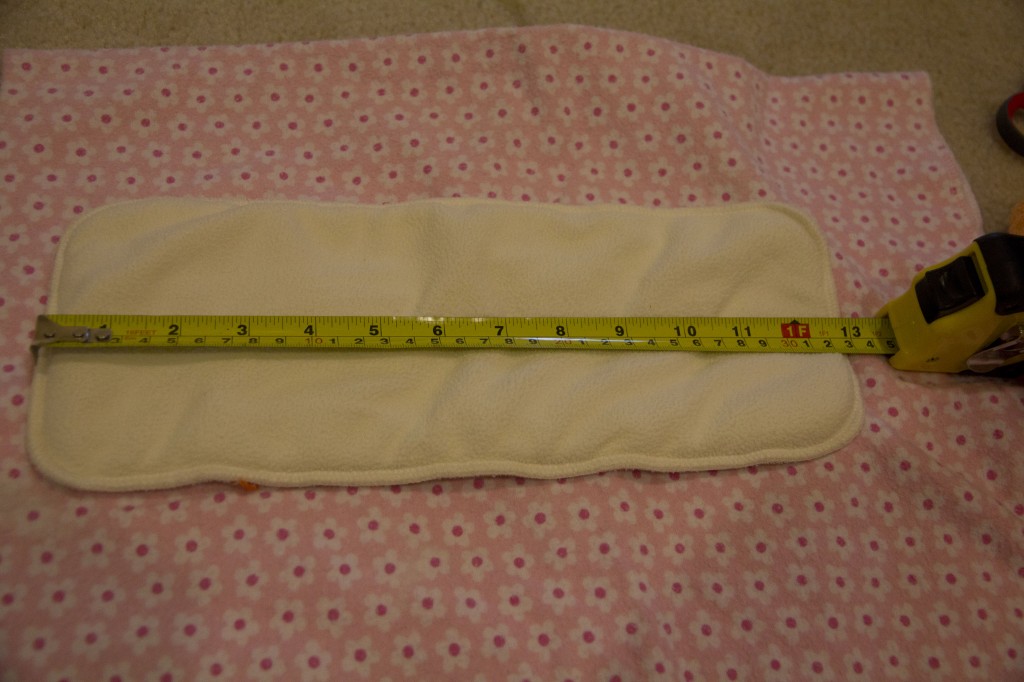 Step 3:  Prep the microfiber towels
First I washed the towels so that any shrinking would be done by the time I made the inserts.  If your outer cover is new, do the same with that material.  My receiving blankets were actually sitting a drawer clean, so they were ready to go.  The towels that I bought had a border stitched around them that I trimmed off because otherwise there would be a ridge that would jut out of the cloth.  No bueno.  Then I folded the cloths in a couple ways to see if I could get them to fold up to approximately the 13 x 5.5 inch size of the gCloth.  I was able to fold mine into thirds, which gave me three layers; they were pretty close to the right size but still needed to be trimmed on one side slightly.
So I trimmed them.  These particular towels were fuzzy and made a bit of a mess.
Step 4: Measure twice and cut the receiving blanket cover
The receiving blanket needed to be slightly bigger than the center so I gave it about an extra half inch in length and width.  The extra material will be needed because the microfiber inside will add height and also because we'll be turning these inside out.  The receiving blanket I had was 36 in x 28 inches.  I figured out that I could make five inserts with each blanket.  Rather than cut ten pieces, I measured and cut five pieces that  could be fold in half along one axis.  So I cut five pieces, each about 7.2 inches wide and all the way across the blanket.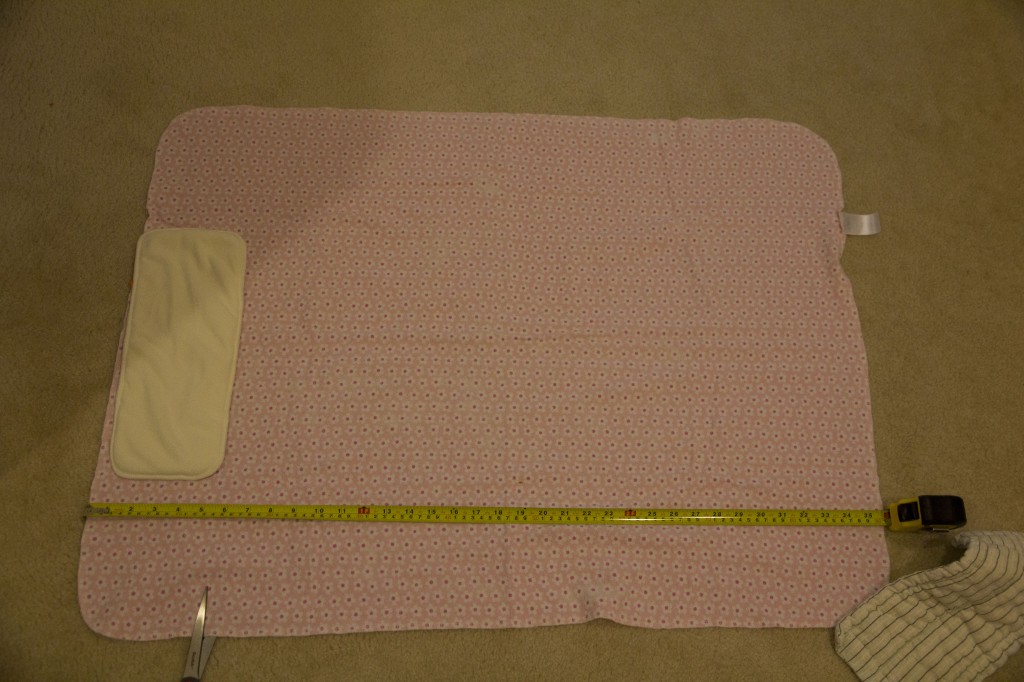 Step 5:  Create and Stuff pockets
With the non-printed side up, we folded the insert over to make the 13 x 5.5 inch shape and sewed up two more sides to make a pocket.  We flipped the pocket back out so now the printed side is facing outwards and stuffed the folded microfiber towel inside the pocket, making sure it was flat and even throughout the pocket.  I don't have a picture of this because I'm not actually making inserts today.  I'll add a picture the next time I make 'em.
Step 6: Sew it shut!
The open side was then sewn shut after folding the edges down.  The shape of the inserts we made are square while the gCloths have rounded edges.  I haven't found this to be a problem but for those of you with better sewing skills, you might want to try that instead.  I just don't know how.  Clearly, the inserts don't have to be perfect to work 🙂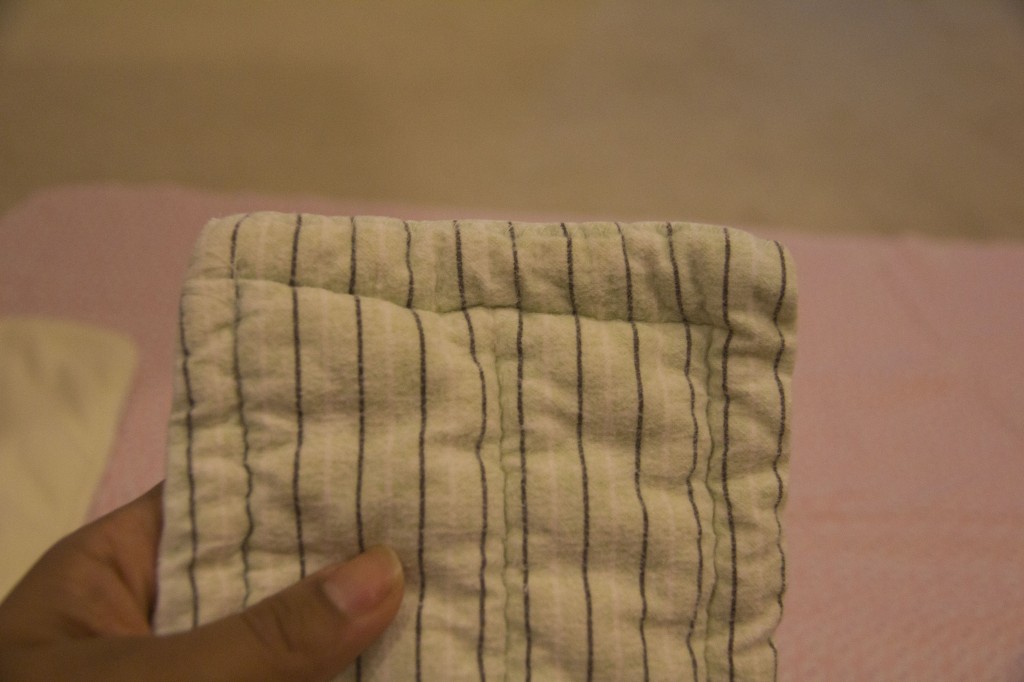 Step 7: Reinforce and finish
To help ensure that the sides wouldn't start coming open in the wash, we did an extra seam along the border.  Also sewed a line up the middle to prevent the microfiber towel from bunching up.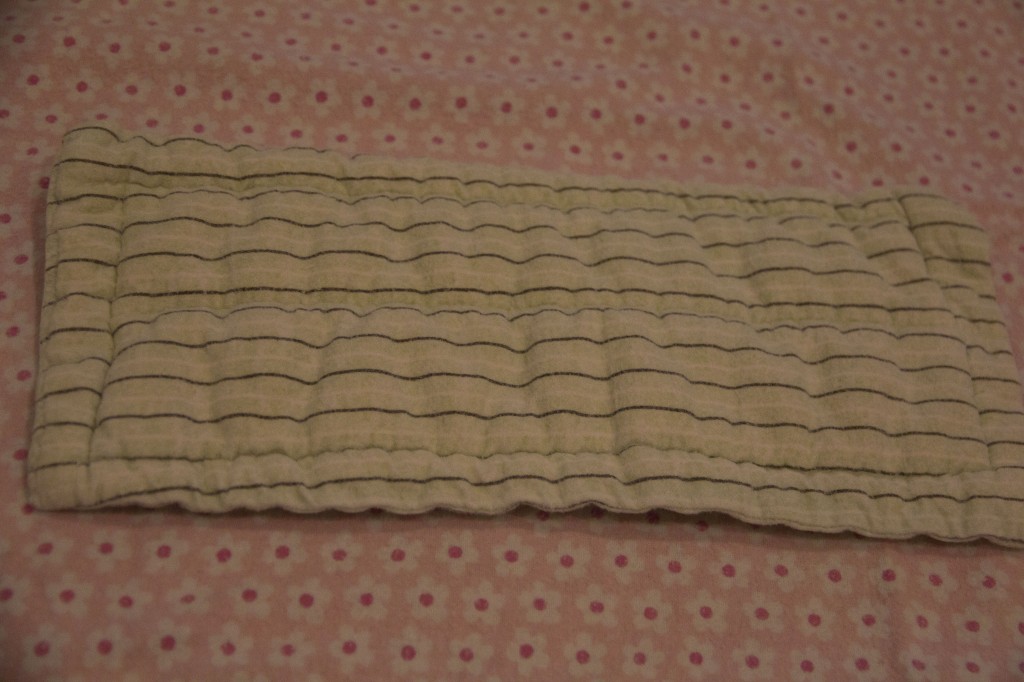 Voila!  Done and done.  Inserts that work great, aren't too bulky and are very cost effective!