Update: March 10, 2012: So I've been using gDiapers about a year now and it's been six months since I wrote this post.  I've changed a few things in my routine so I thought it would be a good time to update my post.  Updates are in green below.
When I first started looking into cloth diapering and gDiapers in particular, the thing I found most confusing was how to care for them.  I found this blog and the gal did a fantastic job explaining what she did and I found it so so helpful.  I referred to it over and over again.  Since I've been cloth diapering my baby for six months now, I thought it might be helpful to explain my routine.
The setup
Everyone stores their g's differently.  I keep my g's in my daughter's dresser.  Our drawers are quite large and are pretty deep so I bought two sets of these baskets from Ikea for about $7 to keep my stash corralled.  Each set comes with one long basket that fits in the drawer perfectly and two smaller baskets that line up nicely too.  I use the old two pack gPants packaging to organize all the little stuff that little people need.  I keep the pants, liners, and pouches each in their own basket.  I fold the cloths in half and line them up (right now the basket is not completely full):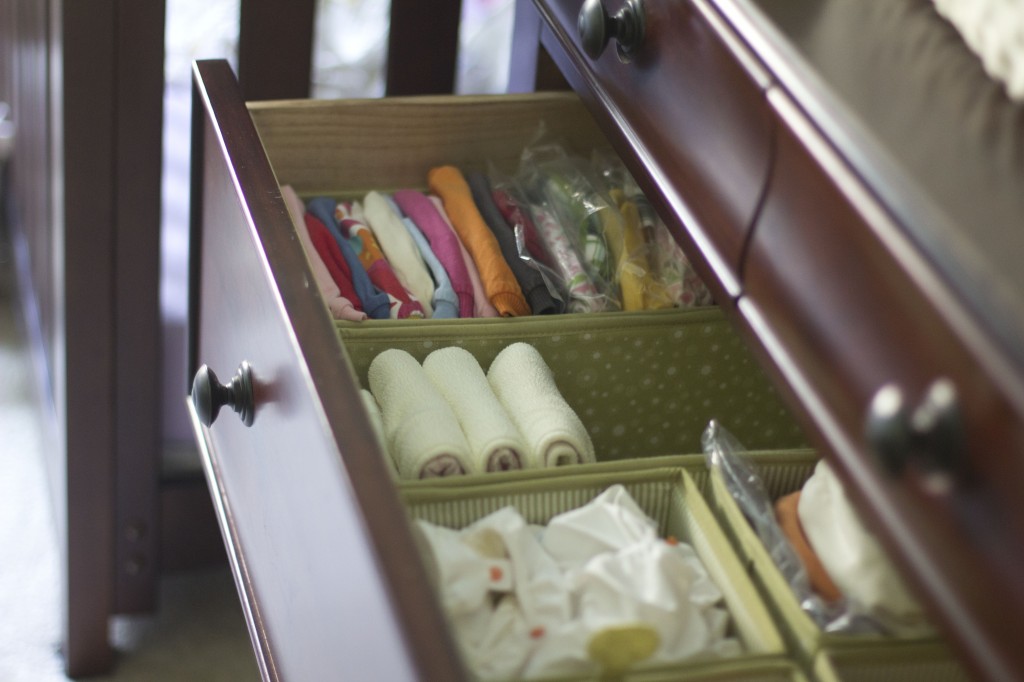 On top of the dresser, I have her changing pad and wipes.  I store the gRefills and some emergency disposables in the diaper stacker.  I bought a case of disposables back in March and haven't needed to restock (it's now end of September) because I use g's most of the time.  How awesome.  Before I started g's, we would have blown through a case of diapers in like two weeks.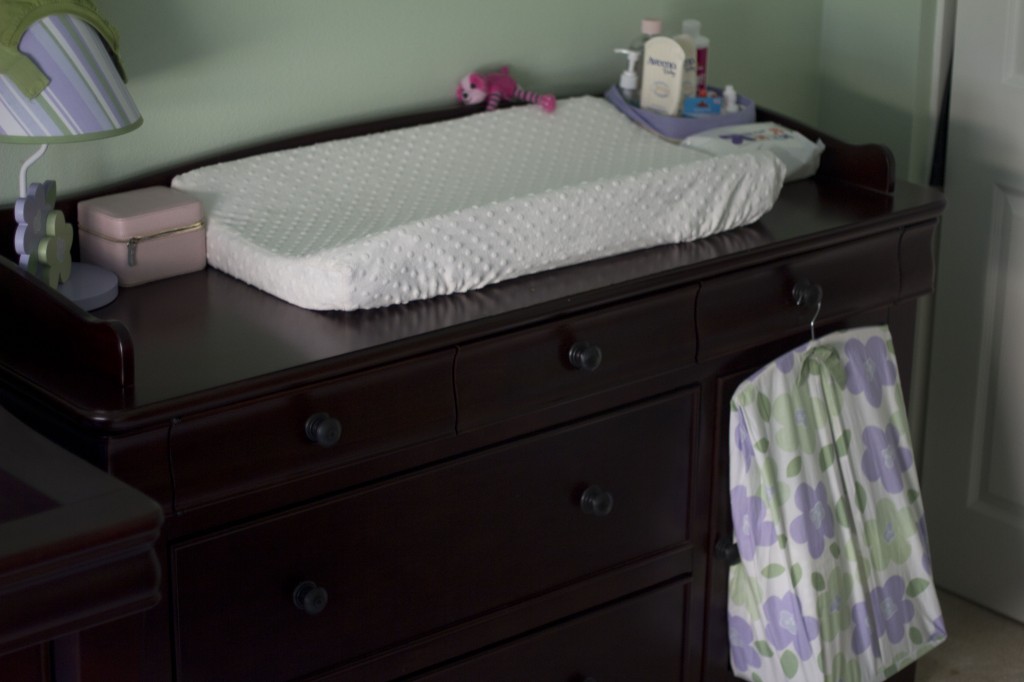 Once I've changed Miss K, I drop any baby wipes I used into a step top garbage can to the right of the dresser that seals (keeps the stink out when I use the wipes with dirty diapers) and take wet inserts into the bathroom.  They get dropped in my dry diaper pail, no rinsing or drying before dropping them in.  After a quick rinse in the sink, I drop them into my dry diaper pail.  My dry pail is a $7 swing top garbage can that I bought from Wal-Mart lined with a planet wise pail liner.
The pail liner has a nylon-type waterproof inside (I think it's made out of PUL) to keep the moisture of the wet liners in.  A lot of people buy two so that you have a second one while the first is being washed but I just have one.  I temporarily throw wet inserts in the sink if the pail liner is in the washer/dryer.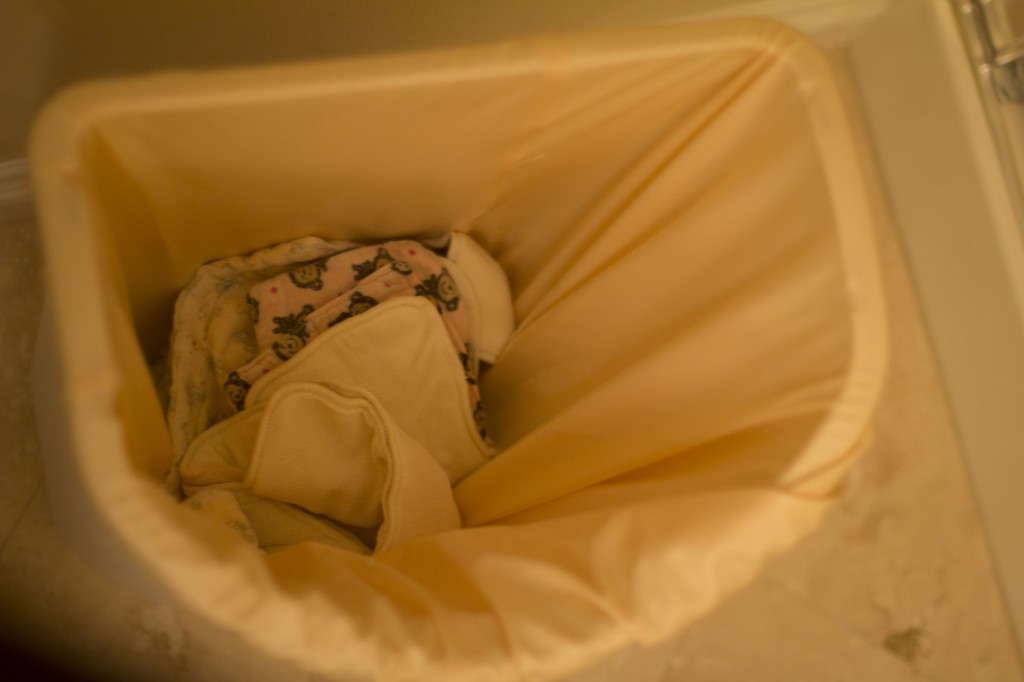 I filled an empty spice bottle with baking soda, and I periodically sprinkle some into both the can and the liner to keep the stinkies at bay.  You can get prettier shakers but sometimes frugality trumps aesthetics for me.  I also occassionally drop a few drops of tea tree oil into the pail liner.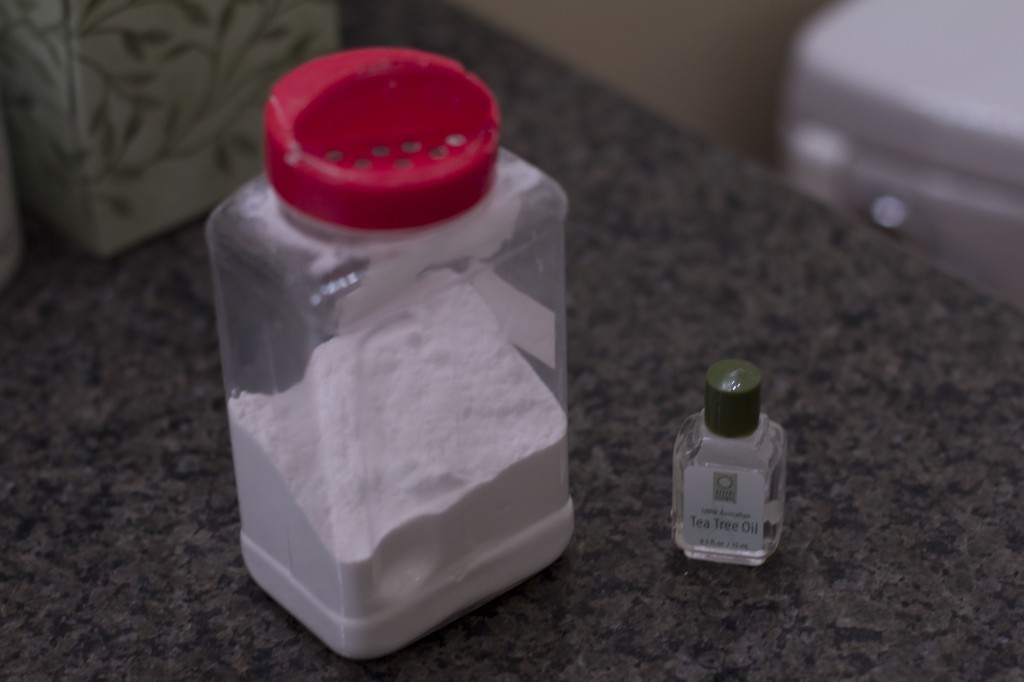 If it's a dirty diaper, I unsnap the pouch from the pant and bring it, with the cloth inside, to the bathroom.  I spray the mess into the toilet with a diaper sprayer that my husband installed.  We have this one and it works great for us.  Now that Miss K is on solids, the clean up for dirty diapers is a lot easier.  Just spray and flush.  If I didn't have a diaper sprayer, I would shake the mess into the toilet and then dunk and swish the insert in the water to clean it off a little.  If your baby is exclusively breast fed, you can toss the cloth inserts directly into the wash, no rinsing off required because EBF poo is water soluble.  Although when Miss K was EBF, I still washed them off – it just didn't seem right to me not to.  Once the insert is cleaned up a little, I just toss it into the pail with its wet comrades.
So that's what happens with the inserts while they anxiously await washing (do you like how I personify diapers?).  What about the little gPants?  I usually alternate between two little gPants each day because they do get a little moist due to the liquid that the pants and the pouches wick away from baby's bum.  At the end of the day, I fasten the laundry tabs on the pants and turn them inside out and toss them into a mesh lingerie bag in the dirty laundry pile (I use a basket but I won't post a picture because really do you need to see a basket of dirty laundry?  If it makes you feel better, the basket is a white rectangle).  I do what's on the left, others just fold in the laundry tabs and wash, as seen on the right.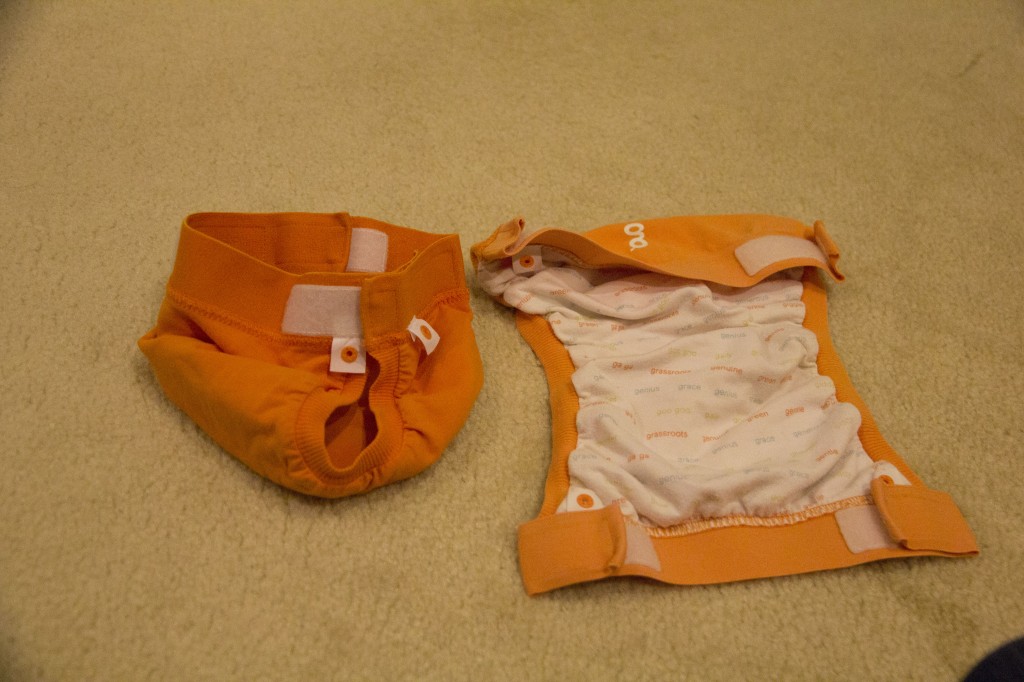 Like little gPants, pouches can be reused throughout the day.  If it's a wet diaper, I just use a baby wipe to wipe out the inside of the pouch and lay the gpant and pouch to air out a little until the next change.  This is why I rotate between two pants.  If it's a dirty diaper, there will likely be some mess in the pouch (it's doing its job – it's supposed to catch all the mess).  I take that with me to the bathroom and spray that with the cloth liner.  Then the pouch gets put into a mesh lingerie bag and is tossed in the dirty laundry basket as well.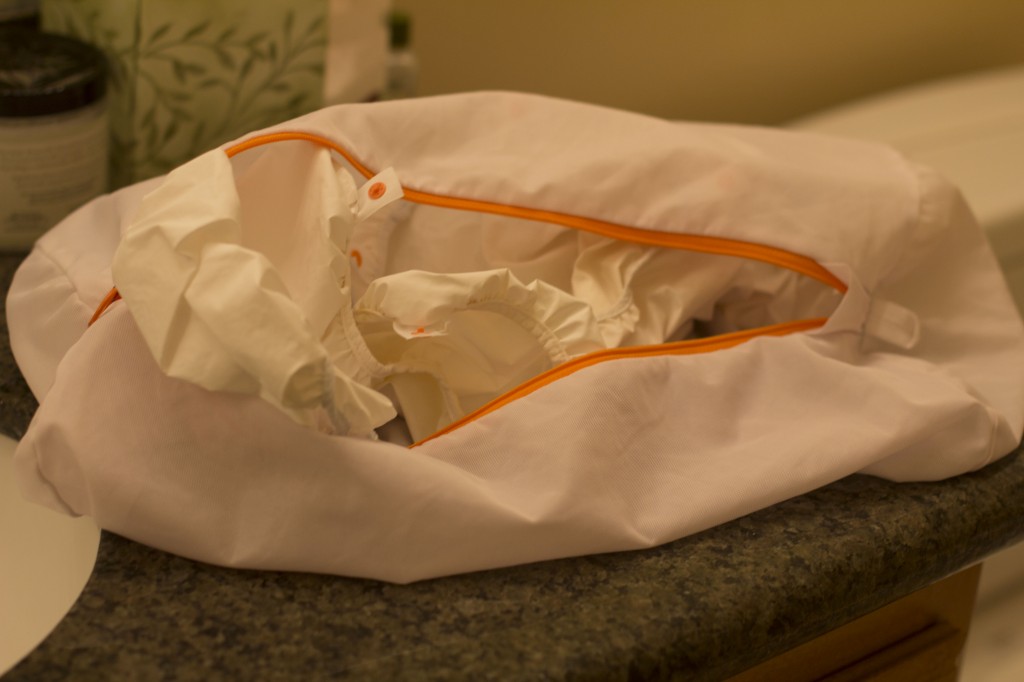 I love that the one I bought happens to match gDiapers branding.  Tee hee.  I fasten a new pouch into the gPant and it's ready to go for the next change.
That's how the diapers are stored for wash day.  I usually wash the inserts every 2.5-3 days and they are washed independently of the other parts.  All I do is pull the pail liner out of the can and turn it inside out into the washing machine.  We have a very low-tech washing machine and everything still works great!
I do a cold rinse with no detergent, followed by a hot wash with  just a little bit (maybe a couple tablespoons) of All Free and Clear along with a quarter cup of Calgon water softener because we have hard water here in Southern California.  Just make sure that the detergent you use is cloth diaper safe (here's a link that will help you find one).  You can use vinegar in the wash but no bleach or fabric softener.  Note: due to our hard water, I've found that vinegar isn't a good thing to add to our wash.  Others use it with great success.  Some people add towels and other laundry to the wash after the initial rinse but I haven't been comfortable with that.  Once the load is done, I put the inserts in the dryer with a large dry towel and some wool dryer balls to help speed up the drying.  I dry on high and then fold and put them away.  Just make sure you don't use any dryer sheets in the dryer.
Little gPants and pouches are washed with all the other baby laundry.  When I first started out, I didn't have too many pouches so I washed them more frequently with any load I was doing, like our regular laundry.  All the gPants' laundry tabs are fastened and ready to go in one mesh laundry bag and the pouches are in their mesh lingerie bag.  I toss them, along with all of baby's other laundry into the machine and wash on permanent press (medium agitation) with warm water, no extra rinse before or after.  You can use whatever laundry detergent you want for these parts.  The pouches should not be washed with hot water, it will eat away at the waterproof-y-ness (Yes, I use technical terms).  Once the load is done, I pull out the mesh lingerie bags and the little gPants and throw the rest into the dryer.  The mesh lingerie bags make it easy to quickly fish out the gPants and the pouches.  Little gPants can be dried in the dryer but in general, you want to keep the pouches out.
I dump the pouches out to air dry flat.  If I had a normal side-by-side laundry set up, I would just throw them on top but I don't so I use the bathroom counter.  They don't take too long to dry.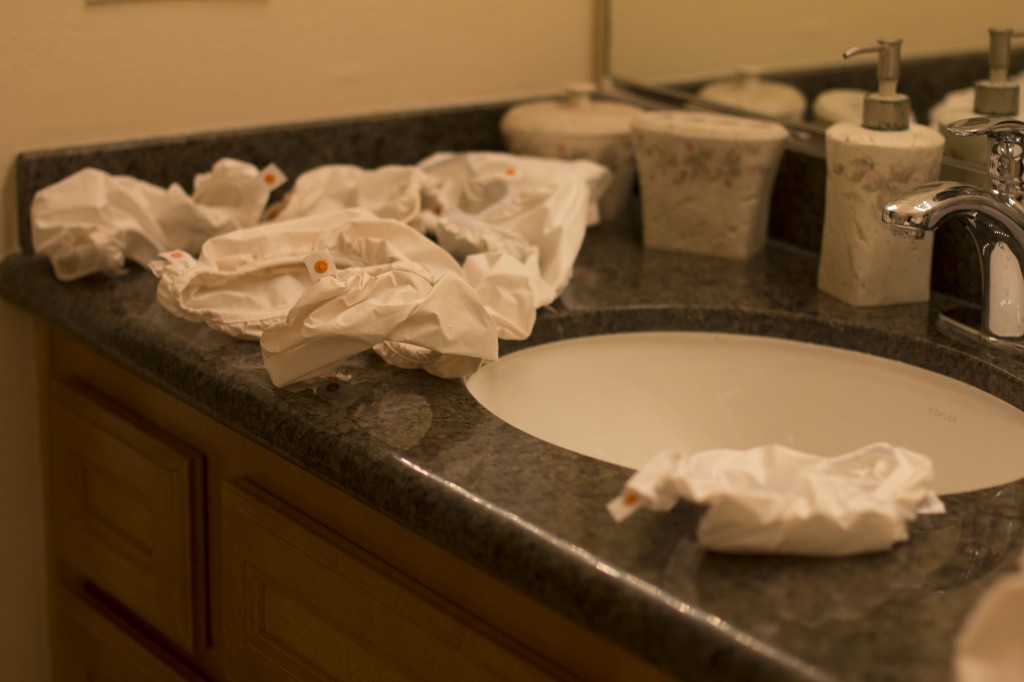 I unfasten the little gPants and hang them on this handy dandy little octopus I picked up from Ikea.  I don't have a yard otherwise I'd hang them up outside.  We're a little strapped for space so this guy works great.  I actually hang it on the curtain rod in my daughter's room but it could easily just hang in the closet.  If the gPants feel crunchy, you can always throw them in the dryer for a few minutes.
And that's it!  It seems complicated but it's really not.  Hope it helps someone!  Here's a quick summary of what I do.  What's your wash routine?
| | | | | | |
| --- | --- | --- | --- | --- | --- |
| Item | Washed | Setting | Detergent | Dried | No-No's |
| Cloth Inserts | With pail liner | Hot wash | All Free & Clear | On high with a dry towel | Cloth Diaper Unsafe detergent, dryer sheets, fabric softener, bleach |
| Little gPants | With other laundry, inside out in a mesh lingerie bag | Warm on Permanent Press | Any detergent | Hung dry or dried in dryer | Bleach |
| Pouches | With other laundry, in a mesh lingerie bag | Warm on Permanent Press | Any detergent | Laid flat to dry | Bleach, Dryer for more than a few minutes |
Updated Version 2.0 of the gDiapers Wash Routine is posted here