Whines together?  This morning while I was making Miss K's breakfast, she was a little whiny.  Don't know why but she just couldn't be occupied with her stacking rings or balls or anything. Just wanted to be held.  So I finally finished her breakfast (and mine) and sat her down and decided to join her in a Whine and Food Fest.  See what I did there?  Whine and Wine are homonyms.  Get it?  Get it?
We both had oatmeal.  The only thing missing was Papa Bear.  Here's how they look together: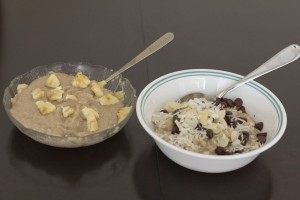 She lamented about the woes of being 8 months old; how her mom just won't give her any space – apparently her mom follows her everywhere – in the bathroom, the shower, in the car…she also shared how humiliating it is to wear a onesie.  I mean, really, who (besides Beyonce) can pull that look off? Bahahahaha.  Beyonce wears onesies.
I talked about how I wish my daughter helped out more around the house and how I wish my flat butt was rounder and my round tummy was flatter.  All in all it was somewhat therapeutic.  Then she passed gas and the whining stopped.  It was just a food fest now.
Believe it or not, she did finish off all that oatmeal.  It's basic, but here's how I make it:
1/4 cup oatmeal (for best nutrition, use whole, steel cut oats, not quick cooking)
1 cup water
Healthy dash of cinnamon
1/2 banana
Take the oatmeal (Plain old Quaker oats) and pulverize it into a powder with a coffee grinder, food processor, or blender.  I used my magic bullet wannabe.  Combine water and oatmeal flour in a small pan and heat over medium heat.  Add cinnamon and whisk for 8-10 minutes until oatmeal is cooked.  Whisking prevents lumps from forming.  You'll know the oatmeal is ready when it thickens up and starts pulling away from the edge of the pan.  Mash or cut banana into small chunks and mix into oatmeal.  Serve when cooled.
Oatmeal is high in soluble fiber, which helps to lower unhealthy cholesterol, it may help reduce the risk for Type II Diabetes, contains healthy amounts of Phospherous, Selenium and Manganese, and has a decent amount of protein.  Cinnamon has anti-inflammatory properties, helps to prevent yeast infections (which are common in babies), and it too may help with Type II Diabetes.  Bananas are high in potassium, high in iron, and can help with constipation.  All in all, I think it's a good combo and feel good about feeding it to my bub.
My oatmeal, on the other hand, was tainted and maybe it's not exactly accurate to call it healthy.  I took 1/2 a cup of whole oats and cooked them with 1 cup of water and a dash of cinnamon.  Topped it with chocolate chips, coconut flakes, and almond slivers.  Yum.  Or as my hispanic friends would say, Jum.  I often wonder if I'm just completely negating all the health benefits of the oatmeal by adding all that other stuff.  I certainly killed the caloric benefit of oatmeal – getting something so filling with so few calories.  I think it's important to stay positive…almonds are high in protein, rich in folic acid and vitamin B; I use dark chocolate chips, which have valuable anti-oxidants, and the coconut is rich in fiber.  And cholesterol and sugar…