This week is not off to the best start…we had take-out for dinner last night and I've already used up my fast food and soda ticket for the week…and it's not even noon on Monday yet.  Eeeks.  I still have hope, though; we have a good plan for the week and you should see the bounty I just got from the market.  Actually, I'm going to take a picture and post it when I get the chance.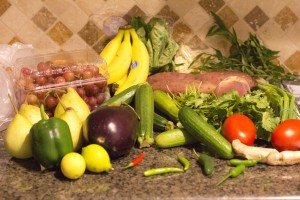 As silly as it sounds, it still makes me happy to be buying and using so much produce.  It wasn't always this way.  Here's the plan this week:
Sunday: Had take-out.
Monday: Was able to find some lemongrass so I'm going to try that Tom Ka Gai soup from a couple weeks ago.  Despite it being from Tyler Florence's show instead of an authentic Thai source, I'm really kinda looking forward to making this.  I figure a 5 star rating after 56 reviews must be pretty good.  Well, I hope it's good!  We'll couple it with a bok choy salad.  Actually we won't…I forgot to pick up bok choy.  So we'll couple it with an asian salad that is usually made with bok choy but this time is made with spinach…cuz that's what I gots.  Learning to improvise!
Tuesday: Eggplant Parmesan.  Haven't made this in a long while.
Wednesday:  Chipotle Enchiladas.  I'm hoping to make some extras for a friend who just had a baby.  Hopefully our husbands will see each other on Thursday.
Thursday: Mr. Crunchycake (I wonder how he'll feel about taking on my name this time) is at poker night, so I'll work with left overs or piece together a meal
Friday: Soup and Sandwiches.  My husband loves the combination of tapenade, avocado, spinach, onion, cucumbers, sourdough, and pepper jack cheese for his sandwich.  Not sure about what kind of soup.  Might just pick something up from the market or try making a lentil soup since it's feeling a bit like fall.
Saturday: Mr. Crunchycake is out of town, running a half marathon!  It's his 15th race or something crazy like that, he's amazing.  Not sure what I'll be up to so we're gonna plan on not planning.
Miss K will be having zucchini, apples and avocado, pears, quinoa, sweet potatoes, oatmeal, mixed grain cereal, pumpkin and yams.  I have apples, quinoa, sweet potatoes, and pumpkin prepared.  I'll just need to make zucchini, pears, yams, oatmeal and cereal.  If there's space and I'm inspired, I might make her some khichadi too.  Go us!
Update: How did we do?
Despite getting the week off to a rough start, we did ok!  I made the Thai soup that I've been wanting to make.  It wasn't as good as the restaurant's but it was still mighty tasty.  Next time I would cut back on the lime juice, up the spiciness, and maybe add some tofu (instead of chicken) and tomatoes to make the soup a little bulkier.  It seemed to need more "stuff" in it.  This soup is not attractive as left overs so we ended up tossing it at the end of the week.  The broth separated from the coconut milk, which made it pretty gross looking.  When it was emulsified in the soup on the first day, however – delicioso!  Made eggplant parmesan on Tuesday and Chipotle enchiladas on Wedenesday.  I don't know what I did but the enchiladas came out super spicy.  But the good news is that we used some chipotle peppers I had frozen a while back.  AND the "it-woulda-gotten-thrown-out-but-I saved-it" award goes to some watermelon I had cut up a few days prior!  I blended it up with a little lime and sugar (oh and a splash of rum!) and then strained it to make some refreshing agua fresca!  It was sooo good; that's my proudest moment of the week.  I ended up only making one pan for us and didn't make extra for my friend because I realized that her hubby is allergic to corn and these are made with corn tortillas.  Had the quickie soup and sandwiches dinner on Friday and my moms came over with some food on Saturday (plus some extras that will serve as lunch throughout the week).  All in all, not bad!
I didn't get around to making the yams, khichadi, or pears for Miss K. but she's been eating well – I'm proud of her.  Will probably make those this week – don't want them to go bad.  Yesterday she ate almost half a cup of pumpkin!  And she's been eating a quarter cup of oatmeal with a good amount of fruit mixed in regularly.  She might be hitting a growth spurt.  She's been loving the fruit in the mesh feeder.