My husband is cool in a lot of ways.  One of the things that makes him so interesting is the number of things he takes interest in and how quickly he learns more.  In Geoffrey Moore speak, he is definitely an innovator.  This is the kind of person who seeks out and sees the value in novel ideas, products, etc. and is willing to try new things.  It's this line of thinking that got him interested in electric vehicles.  Over a year ago he said "I think we should get one," I didn't take him seriously.  He talks about a lot of things (refer above to "the number of things he takes interest in") and I just thought – sure, one day.  Then he said, "I put us on a wait list,"  Since I'm non-commital, I thought "eh, whatevers."  Then we received notice of the delivery date.  Oh wait.  We're really getting one?  Then notice that it had arrived and was ready for us to pick up.  And that we were going to be the first non-ceremonial recipients of this new model in the entire US.  Whaaaaat?  He had been working hard to get this car and I really wasn't paying much attention (honestly, I was much more excited about the bun I was happily toasting in my oven).  So on January 1, 2011, we went to the dealership to pick up our brand new Nissan Leaf.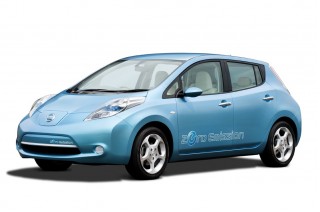 It's a cool car.  A really cool car.  It makes virtually no noise, it's much more roomy than I thought it would be, and it actually has serious giddy up, which would have otherwise been a deal breaker for us.  What I love MOST about it is the fact that it produces zero emissions – clean air ftw.  It's nice to not have to buy gasoline, too.  The car is just clean.  It has changed our way of thinking.  One night we were driving our other car (more on that one later), the carseat in the back seemed to be slipping so we pulled over to fix it.  I was waiting with our newborn behind the car with it idling while my husband fixed the carseat.  I moved because of the exhaust.  Eww. This is something we never would have thought twice about before the Leaf.
We have people looking at our car when it's parked in a parking lot, have had people knock on the window to ask us about it when we're sitting in it and get crazy looks from people when we tell them we drive electric.  Here are the most common questions we get:
So it doesn't take any gas, AT ALL?
Nope, it runs on electricity only.
How far can it go?
It depends on the terrain, the speeds we're traveling and the driving style.  Typically we can get about 75 miles on one charge.  The manufacturer says about 100.
How do you charge it?
Right now we just plug it into the outlet in the garage.  The same basic outlet that you'd plug your hair dryer into.
How much does it cost to fill up?
We're not 100% sure about the answer on that one but basically it depends on how much electricity costs.  At 15 cents per kilowatt hour, it costs about $3.60 to "fill up."
How long does it take to charge up?
Depends on what kind of charger you use.  We use the slowest charge (Level 1) and if the car was completely on empty, it would take about 22 hours.
There are a lot of perks to driving this car.  You never have to go to a gas station, which also means no weirdo coming and talking you while you pump.  Living in California, we were eligible for both state and federal incentives and we were able to get a carpool lane sticker that allows us to drive in the carpool lane with only one driver.  You feel like you're doing something good (or at least better) for the earth.  Less dependency on foreign oil.  There are charge stations popping up all over the place and right now we're able to charge up for free at many.  This often means better parking too.  Hooray.  And best of all, sometimes we get free parking – like at LAX!  What would have cost us $65 for a weekend of parking is free!  Hell to the yes.
This car is my husband's daily driver so he's much more used to it than I am and is able to better gauge how much juice we'll need, how much we have left, etc.  That is definitely something you have to consider with this car – you can't just jump in and drive.  We have taken it on longer distances, but it takes planning.  We once drove it to Pasadena, which is about 55 miles each way and let it charge up while we explored the Huntington Gardens and we were fine.  Because there aren't a ton of super fast charging stations, we do feel the need to keep one regular old gas guzzler.  So we do.  Let's compare.
My husband's car:
My car:
My husband's car:
My car:
My husband's car:
My car:
So his is actually maroon but I'm too lazy and untalented to go take pictures of our actual cars so I pulled these off the internet.  We love both cars for very different reasons.  The black car is slick and fast and luxurious and eats the road like a hungry cheetah chasing its prey.  The maroon car is almost futuristic, smooth and clean, like a spaceship from Star Wars, gliding over the road. The black car costs about $65 to fill up.  The maroon car is less than $5.  The black car does zero to sixty in 5.7 seconds.  The maroon car does zero to sixty in 9-10 seconds.  The black car needs to get serviced in regular intervals.  The maroon car needs to get its tires changed.  The black car seats five.  So does the maroon.  The black car has nav.  So does the maroon.  The black car has a high safety rating.  So does the maroon (this was the only question mark at the time of purchase.  Much to our relief, it's highly rated.  We take our baby in there – it matters!!!).  We can integrate our iPod in the maroon car.  Can't in the black car.  The black car has air conditioned leather seats and a Mark Levinson sound system.  The maroon car has cloth seats and a radio.  I'm actually able to comfortably breastfeed my baby in the front seat (in a bind) in the maroon car.  Not so comfy in the black car.  The black car has a bunch of cup holders.  The maroon car has fewer.  I feel cool driving the black car sometimes.  I feel cool driving the maroon car all the time.
It's been encouraging seeing the number of electric vehicles increase on the road.  I saw one at the grocery store yesterday.  We pulled up to charge our car at Fashion Island and there was a Volt (not fully electric, by the way), charging up too.  It turns out my husband's cousin got one too, completely independently from us.  We may be the Leafiest family around.  It's exciting!  We love this car and hope that it's the first of many electric vehicles for our family.